Microsoft is discontinuing Internet Explorer after 25 years. They have adequate reasons to do this as IE had its fair share of problems. It is time for businesses to migrate to Microsoft Edge, and so in this article, we are going to see how to disable Internet Explorer 11 as a standalone browser in Windows 10 using the Group Policy Editor. When you do this, users will see a message: Internet Explorer – This action is restricted.
Use Disable IE Policy to Control IE retirement
Disable Internet Explorer 11 as a standalone browser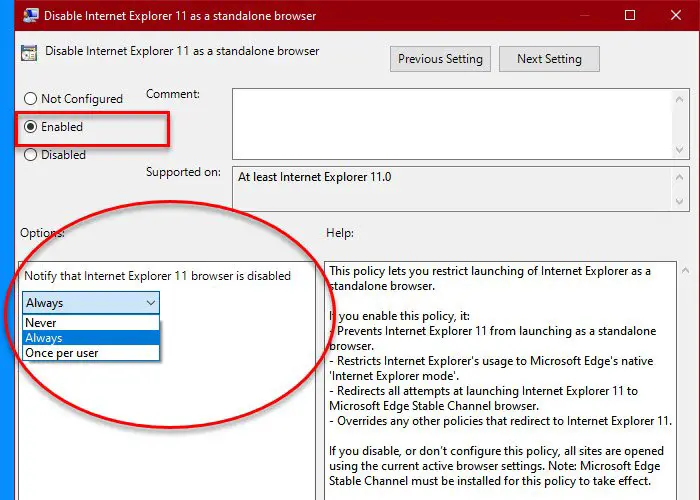 Before moving further, make sure that you are on the latest version of Windows 11/10. So, check for updates, and install it if available.
If you disable IE 11 as a standalone browser, the following is what the end-user experience will be.
Internet Explorer's icon will be absent from the Start Menu but will be present in the Taskbar.
When you open Internet Explorer or file associated with it, you may see the message that says, "This action is restricted. For more information, please contact your system administrator." or may see nothing, depending on how you configure the policy
But once you click OK, the same file will open with Microsoft Edge.
Launch Group Policy Editor from the Start Menu. Now, navigate to the following location.
Computer Configuration > Administrative Templates > Windows Components > Internet Explorer
Look for Disable Internet Explorer 11 as a standalone browser.
Double-click on it, select Enabled, and to configure how to notify users about this action, select one of the following options, from "Notify that Internet Explorer 11 is disabled".
Never: to never inform users ever about this action.
Always: to inform users whenever they launch IE 11
Once per user: to inform users the first time they launch IE 11
After selecting one, click Apply > Ok and you will be good to go.
This way, you will be able to disable this Internet Explorer as a standalone browser.
Related reads: