When you think about Microsoft, the first thing that comes to your mind is maybe Windows and Office. But the company has been working hard to gain popularity on other platforms like Android and iOS. In this post, we've listed the applications developed by Microsoft for Android.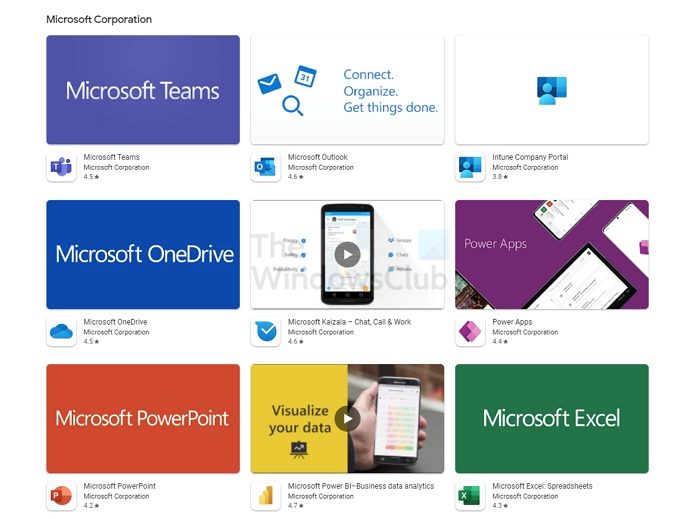 Microsoft Apps for Android
As of date, there are 96 apps that Microsoft has developed for the Android platform. Some of them have been listed below:
Microsoft Apps: A hub to view and download all other Android applications released by Microsoft.
Arrow Launcher: A productivity-focused free launcher application with a beautiful design.
Microsoft Word: This application lets you view, edit and create new Word documents. It has a beautiful interface and is Microsoft's most widely used Android application.
Microsoft Excel: An application to manage Excel spreadsheets on your phone.
Microsoft PowerPoint: Create, Edit, and View PPTs on the go with this application.
Microsoft Outlook is an official Microsoft-backed email client that works with all major email providers.
Skype for Business: Extends the functionality of Lync and Skype for your business accounts.
Microsoft Office Mobile: Office application for Android OS before version 4.4.
Microsoft OneDrive: Android client to view, upload and modify your files from your OneDrive storage account.
Cortana for Android(Early-Access): This application brings Microsoft's digital assistant Cortana to Android devices.
Office Lens: A document scanning utility that links with your Microsoft Account.
OneNote: Part of the office suite, a note-taking application linked to your Microsoft account so that you can work anywhere.
Intune Company Portal: Mobile client for installing company apps and remotely managing the device enrolled to Microsoft Intune.
Microsoft Bing Search: The Bing search engine client for Android devices. Works with voice commands and quick actions.
OWA for Android(Pre-Release): Email client for mailboxes on Office 365 for Business.
Next Lock Screen: A lock screen application intended to save time and quickly take actions through the lock screen.
Microsoft Translator: Translates text, voice, and images into more than 60 languages on your phone.
Microsoft Hyperlapse Mobile: Create stunning time-lapse videos easily.
Microsoft Authenticator: A helper Android application to facilitate two-step authentication.
Microsoft Remote Desktop: Remotely access your Windows computers from anywhere.
Kaizala: One of Microsoft's garage projects. It is a beautiful group and individual chat application that focuses on productivity.
MSN Money: Get stock quotes, prices, market data, and news from MSN.
Xbox: Connect with your Xbox friends and see what they are playing. A complete application for the Xbox community.
Age of Empires: Castle Siege: A fun strategy game where you can create your kingdom and defeat your enemies.
Lync 2010: Mobile client for Lync Server.
Microsoft To-Do: A great cross-platform cloud-based task manager linked to your Microsoft Account.
Face Swap: A fun application lets you swap your face with other people.
Microsoft Teams: A chat-centered productivity application for companies using Office 365.
Microsoft Solitaire Collection: Bring the world's #1 classic solitaire game back to your Android device.
MSN Weather: A weather application to view daily weather forecasts and other conditions.
SMS Organizer: A smart SMS inbox decluttering tool. Comes with features like SMS reminders and more.
Wordament: A free online fun word game that can be played with friends and other people online.
MSN News: Read breaking news and stories from around the world provided by MSN.
Keyboard for Excel: A garage project that provides an awesome keyboard to enter numeric and other data into an Excel application.
Microsoft Selfie: An intelligent selfie image enhancement tool available on all platforms.
Picturesque Lock Screen: Another lock screen app provides notifications, contacts, and Bing images right on your lock screen.
Xbox 360 SmartGlass: An Xbox 360 companion application that lets you control your console using your mobile.
Switch to Windows: An application that lets you transfer contacts and other data if you move to Windows Phone.
Microsoft SharePoint: Connect to your Office 365 SharePoint websites using this app.
Office 365 Admin: An account manager of Office 365 administrator accounts.
Intune Managed
Microsoft Planner: A free task manager and teamwork organizer for Office 365 users.
Office Remote: Turn your phone into a wireless remote that can control Microsoft Office on your computer.
Microsoft Power BI: Monitor and access your business data anywhere and interact with your Power BI dashboards.
Outlook Group: Collaborate with your team and do more with your Office 365 work or school account.
Xbox Beta: The public beta release of the upcoming Xbox app with new functionality.
Xbox One SmartGlass: This app allows users to gain remote access to their Xbox One.
Microsoft Azure: Manage your Azure account from anywhere. Monitor resources and resolve issues in no time.
Dynamics 365: Provides professionals with the best tools for engaging customers and maintaining their data.
Microsoft Remote Desktop Beta: Remotely manage your Windows Computers.
My Apps: Connect to the apps you already use at work or school.
Microsoft Channel 9: Browse and watch various developer videos from the MSDN's Channel 9 website.
Microsoft Flow: Automate Tasks and design your workflows to do more.
Azure Information Protection: Let's view protected files that other people have shared with you.
Mimicker Alarm: Another Garage Project app, an alarm clock application that wakes you up by playing a small game.
Office Delve for Office 365: Connect with your workmate and see what they are working on across Office 365.
MSN Sport: Get sports news, score, and watch sports-related videos provided by MSN.
PowerApps: For business users, get the custom apps shared with you.
Bing Ads: Monitor and edit your Bing ad campaigns directly from your phone.
Dynamics CRM: Manage customer information and prepare well for your appointments.
Snap Attacks: A fast-paced word-building game that can be played online.
Microsoft Classroom: For Office 365 Education users, this app helps you manage your assignments and notes easily.
Microsoft Wi-Fi: A Wi-Fi companion application for people visiting Seattle Center.
Sprightly: Scan documents, and create professional catalogs and videos for your business.
O365 Message Encryption Viewer: View and reply to encrypted OME messages from your phone.
Microsoft IT Showcase:
Clip Layer: A garage project application lets you select, copy and save snippets from any screen.
Microsoft Startup Directory: Learn and connect with startups that Microsoft is currently working with.
Citizen Next: An application attempt to make submitting problems to municipal corporations easier.
Microsoft Tech: Get updates and news about the latest Microsoft technology and events.
News Pro: Get in-depth news curated to your interests.
Microsoft StaffHub: Manage your staff and schedule shifts easily.
Microsoft IT Showcase: Read about the technology used inside Microsoft.
Hub Keyboard: This keyboard brings information from different services to your fingertips.
The list is pretty extensive, and most applications are pretty helpful. Some are garage projects, and some are in the beta stage. We have not covered a few not-so-popular applications, so you may want to check out the Play Store for a complete list of applications.
Can you run Android apps on Windows?
One way to use the Android apps on Windows is using the Phone Link App, but it is limited to a few devices. The second way is to use Windows Insider and install the files available on Amazon Store. It is still in the development stage but works.
Can Windows 10 run Google apps?
Microsoft has no direct support to run the Google or Android apps on Windows, but you can use an emulator to experience it. However, since they are not officially supported and run on the emulator, the experience can differ.