We have seen how to turn your Windows computer into a DLNA streaming server, but if Media streaming is not working for you, here are a few things you may want to take a look at.
Media streaming not working in Windows 11/10
When you go on to click the Turn on media streaming button, either nothing happens, or it gets grayed out. If you face this issue, do the following:
Clear Media Player cache
Allow the device to play media
Check Services
Check Search Indexing status
Check this Group Policy setting
Run Hardware Troubleshooter
Troubleshoot in Clean Boot State.
1] Clear Media Player cache
Open Windows File Explorer and navigate to the following location:
%userprofile%\Local Settings\Application Data\Microsoft\Media Player
In this folder, delete all the files with file extension .wmdb. You may have to make Explorer show file extensions first. If you cannot delete those files, rename the Media Player folder itself to say, Media Player Old.
If you do not see the files with the .wmdb file extension in that location, see if you find them here, and delete the files or rename the folder as explained above:
%userprofile%\AppData\Local\Microsoft\Media Player
Restart your computer. Once you run Media Player, these deleted files or the renamed folder will be automatically created.
2] Allow the device to play media
Open Windows Media Player and from the Stream drop-down menu, select Automatically allow devices to play my media.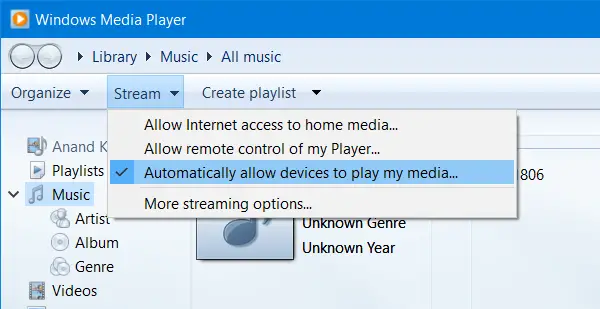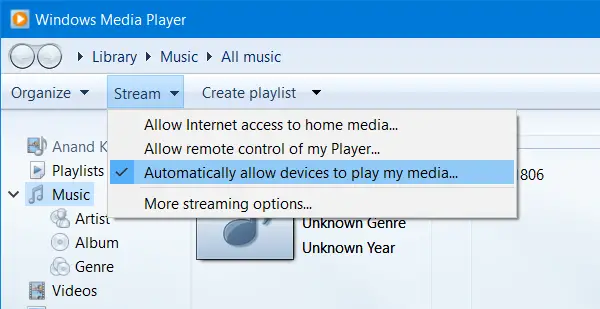 In the next box which opens, select Automatically allow all computers and media devices. Now try and see.
3] Check Services
Run services.msc to open the Services Manager and ensure that the status of the following Services is as follows:
Windows Media Player Network Sharing Service – Automatic (Delayed Start)
Computer Browser – Manual (Trigger Start)
UPNP Device Host – Manual
Workstation – Automatic
SSDP discovery Sevices – Manual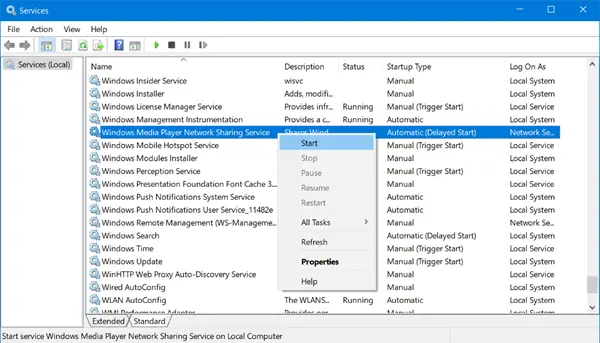 Having done this, right-click on all of these and select Start to start these Services. Now go back and try to turn on media streaming and see if it works.
4] Check Search Indexing status
If Windows Search Indexing is turned off, you might not be able to activate media streaming. So ensure that Search Indexing is enabled.
5] Check this Group Policy setting
Run gpedit.msc to open the Local Group Policy Editor and navigate to the following setting:
Computer Configuration > Administrative Templates > Windows Components > Windows Media Player.
Here ensure that the Prevent Media Sharing setting is Not configured or Disabled.
6] Run Hardware Troubleshooter
Run the Hardware and Devices Troubleshooter and see if it helps.
7] Troubleshoot in Clean Boot State
If nothing helps, you may need to perform a Clean Boot and then try to troubleshoot the problem manually.
Hope something helps!