The Control Panel's User Account applet helps you manage your User Accounts. You can create a new User Account, change the User Account name and do more. But it doesn't help you much when you need to quickly perform operations like deactivating accounts, changing user benefits, and adding multiple users at once. If you want to manage your Users quickly, you can use Quick User Manager, free portable software for Windows 11/10/8/7.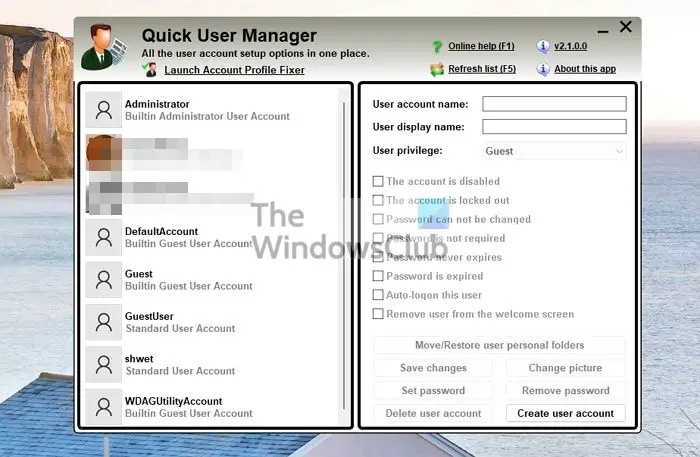 Manage Users in Windows PC
Quick User Manager enhances the use of your user accounts as you can manage multiple features together. You can see all the features on the home page, including inbuilt Administrator or Guest accounts.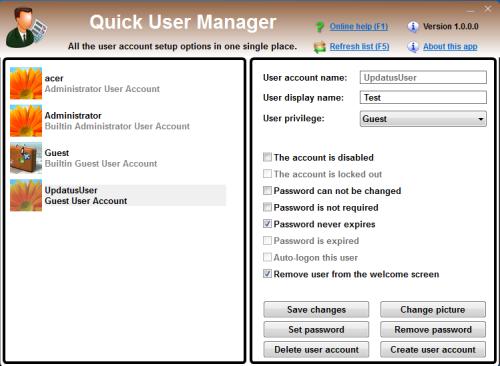 Using this freeware, you can change user account settings, create, disable, enable, remove user accounts, clear the lockout state, auto-login a user, set a picture to be associated with a user account, set or remove its password, and more!
In the left section, click on any account you wish to modify. A detailed description will be automatically displayed on the right panel of the home screen, which includes:
User account name – This contains the account name saved in the Security Account Manager and cannot be changed.
User display name – The display name is on the user control panel, welcome screen, and start menu. It can be edited by clicking on the text box.
User privilege – This includes Guest, Standard user, and Administrator options.
The account is disabled- You can disable the selected administrator account. This option is not available for inbuilt and current user accounts.
The account is locked – This option is to check if your account is locked.
Whether the user account password can be changed, is required, or the password has an expiry.
Whether the password is expired of the selected user account.
Auto logon – Only a single user account can be set to log on automatically.
Remove user from the welcome screen- By selecting this user account will be removed from the welcome screen.
You can make all these changes with a click in the checkboxes available. To apply and confirm these settings, press Save changes. Once you click, a successful pop-up message box will show as confirmation.
You can also change the user account picture by clicking the Change picture button on the interface itself. After selecting, a pop-up will be displayed from where you can browse your favorite picture and set the new picture to center, crop, or stretch.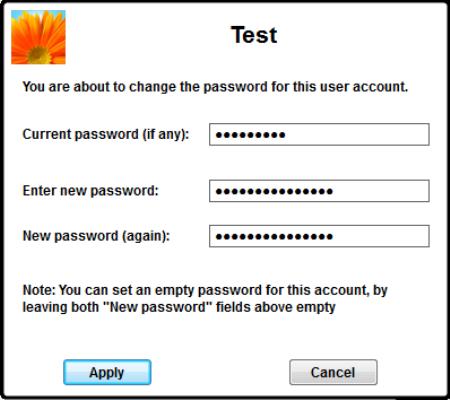 The Quick user manager lets you easily change the password to manage your user accounts. By pressing the Set Password button, it will show a box from where you can change the password by entering the current and new passwords. This application also lets you create or delete new existing accounts.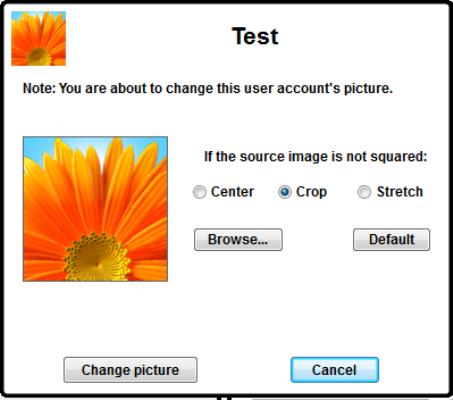 To create multiple user accounts or modify existing accounts, this program will be beneficial for you.
Quick User Manager free download
Click here to download and manage your user accounts easily and quickly.
How do I open the built-in user Manager in Windows?
Windows offers a basic user manager at Settings > Accounts >  Email and accounts. It should be more than enough for most of the customization an admin will need. However, if you want more advanced features, you can open the lusrmgr.msc or the Local Users and Groups in Computer Management. It offers extra features such as restriction to password change, the option to disable an account or unlock a locked account, and so on.  You can also create a group if you need to apply the same set of settings to a set of users.
What command is used to manage users?
NetUser is a command-line tool that allows you to manage your local and domain user accounts. With Net User, you can quickly add, delete, or disable user accounts from the command line. Additionally, NetUser provides more advanced functionality, such as changing user account attributes and resetting passwords.