Web browsers are growing to be smarter. With each release, the developers are adding new features to the modern web browsers to help users in getting their work done faster and in an easier manner on the Internet. One such feature was the Credit Card info and Addresses storage given to web browsers. Under this, the browser will detect if the text field you selected is asking to enter your credit card or debit card's details and will automatically provide you with an autocomplete drop-down to automatically fill in your details. The same goes for the addresses. The new Microsoft Edge Chromium browser carries this feature too.
Microsoft Edge on Windows 11/10 lets you manage your credit cards, debit cards, and  PayPal info, to make payment easier. It is very similar to how you save passwords in any browser. The idea is to make payments seamless. However, unlike autofill, it's more secure and uses Microsoft Pay.  That said, Microsoft has expanded "Microsoft Pay"  to work over Outlook, Skype, Facebook Messenger, Windows Store, and so on. The system goes beyond this, Microsoft can also pull your shipping address as well, making shopping seamless.
Manage Credit Card info & Addresses on Edge
The best thing about this is that both Payment info and Addresses and more settings are available on the same page.
You can either select the main menu denoted by three horizontal dots on the top right corner and select Settings. Or, you can just type the following in the address bar: edge://settings
On the right side panel, you will find a number of options – but we will be discussing Payment info and Addresses and more.
Add, Remove, Manage Credit Cards in Microsoft Edge
1] Payment Info
Firstly, select Payment info.
It will open the following location: edge://settings/payments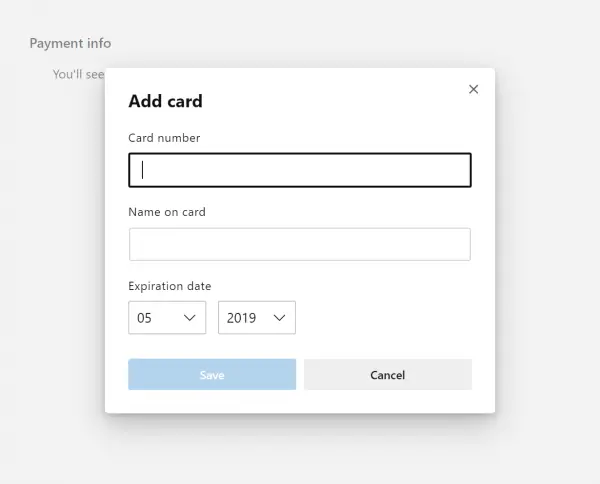 You will see all your saved cards over there which you can edit using the menu button for each one of them.
Also, a card can be added manually using the Add card button.
The card number, Name on the card and the expiration date of the card will be required.
Select Save after entering your details and your suggestion will be ready for the next time you are making any payments.
If you wish, you can even toggle to either enable or disable the options for:
Save and fill payment info.
2] Addresses and more
When you select Addresses and more, you can manage the addresses stored on your browser.
You will get a page like this:
You can toggle the option if you want to Save and fill addresses. It is enabled by default.
The saved addresses can be seen on the same page and can be managed.
You can also use the Add address button to add a new address listing to your saved list.
When you add an address, you have to enter the name of the location, street name, city name, pin code, state and more.
Finally, select Save to save the address to your browser.
Using Microsoft Account
Incidentally, if you been using Windows for a long time, you already know about Microsoft Account. Follow this link, and sign-in with your credentials. It will list all your payment methods including address, option to redeem codes for both Windows Store and Xbox.
Here, you can edit, and update card info, and also remove your card. Once it's removed from here, it will disappear from Microsoft Edge as well.
Privacy concerns
Microsoft takes responsibility for their users' data and even though they enable syncing of this data across devices, they secure this data in encrypted form to keep it from being stolen away.
If you are using Edge on Android, check out how you can set up autofill for Credit Cards in Edge for Android.
Hope this helps you.