When you turn on your PC, a lot goes behind the scene, starting with the detection of connected hardware. When you have multiple external drives or USB HDD connected to a PC, the UEFI or BIOS will wait for the drives to boot up and check if it needs to boot up from which of the connected storage.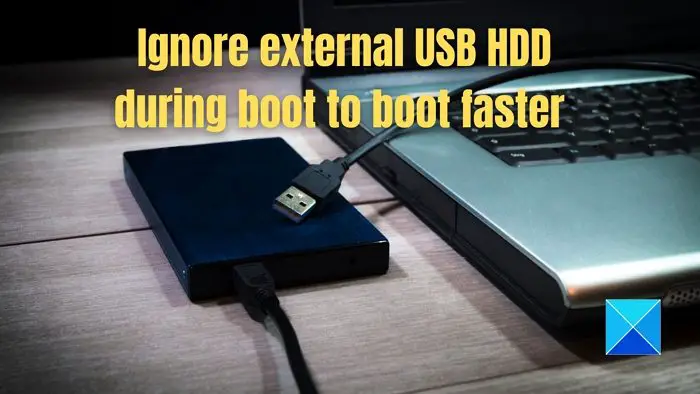 Why does the External HDD make the boot slow?
These are a few possible reasons why your boot experience with external storage is slow:
UEFI or BIOS waits to figure out from where to boot the PC
Presence of multiple active partitions
Slow HDD start
Outdated BIOS/UEFI version
Make Windows ignore external USB HDD during boot
Use these suggestions to figure out how you can avoid a slow boot of the PC, by making Windows OS ignore an external USB HDD during boot.
Remove External HDD from Boot List or Change Order
Disable Handshake or similar setting in BIOS.
Update BIOS or UEFI
Re-Enable Fast Boot
Make sure to use an admin account, and you have a clear understanding of the technicality. Also, these suggestions assume that you must keep the devices on every time you turn on the PC.
1] Remove External HDD from Boot List or Change Order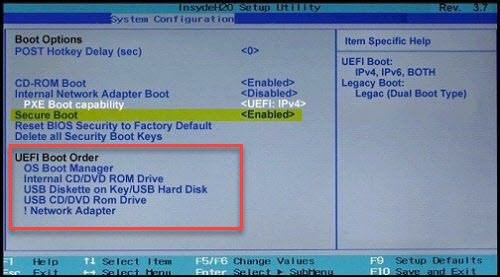 If the BIOS/UEFI allows, check if you can remove the external HDD from the Boot list. If not, ensure the storage on which the Windows is available is the first in the boot order. It will ensure no other drive or USB drives are checked for boot records.
While you can, disabling POST or any hardware check that BIOS/UEFI offers should not be disabled, these checks are there for a reason, and they should be there.
2] Check for Active partition on external HDD
An active partition on HDD means the BIOS/UEFI will check on it to determine if there is a bootable OS. So the best approach to this is to set it as inactive using the disk tool, which is available in Windows
3] Re-Enable Fast Boot or Fast Startup
If you are using Fast Boot, it could have some settings stored that are confusing things. Especially if you are sometimes booting with the drive plugged in and sometimes not. When you reenable fast boot, Windows will remove the fastboot file, and any configuration or data stored in it will also be removed. Later, when you enable it, it will recreate the file. Make sure that HDD is connected when doing so.
To make sure, follow these steps.
Go to Windows Control Panel, and go to Power Options.
Click on Choose what power buttons do link.
Then click on Change settings that are currently unavailable
Uncheck Turn on Fast Startup
Turn off Fast Boot and shutdown (not restart).
Then boot normally and ensure that external drives are plugged in.
Reenable fastboot
Shutdown so it writes a new fastboot file.
Start it up and see if the boot time improves.
4] Update BIOS or UEFI
Check if there is an update to your BIOS or UEFI. One of the recent updates to the motherboard hardware may have fixed these kinds of problems. It's a long shot, but this is worth a try if nothing works.
Note: Updating firmware can be tricky. Ensure you are following the guidelines offered by the OEM to upgrade.
What if nothing else works?
If none of these solutions work, and you need to keep the devices connected all the time, then maybe you can plug them through a hub that can be timed to turn on a few seconds later. Devices such as timed relay/transistor can be helpful.
I hope the post was easy to follow, and you could ignore the external USB HDD during boot to boot faster using these suggestions.
Can I use an external HDD as a bootable USB?
Yes, it is possible to use external storage or HDD or SSD as a bootable drive as long as it has an active partition and Windows installed. However, if you connect to another PC, not only will you need to install all hardware-related software, but also Windows activation can become questionable.
How do I boot from USB in BIOS?
You need to change the boot order in the BIOS/UEFI to boot from a bootable USB. It will ensure that the motherboard looks for a bootable partition in the USB drives first and then at the internal storage device.