If you have vision problems you can make the text bigger on your Windows 10 PC via Windows 10 Ease of Access Settings easily. You do not even have to use any 3rd-party software to do this. Let us see how to do it.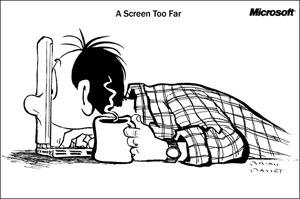 If you have difficulty reading the text on your screen, you can always use the Windows Magnifier to enlarge parts of the screen. But if you are looking to make the change permanent, you can do that too.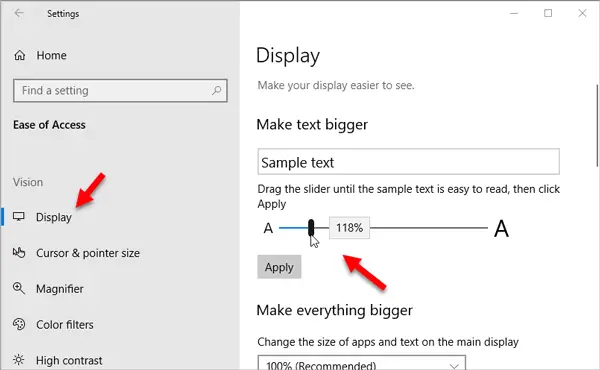 Make Text bigger on Windows 10
You can increase the Font size and make Text bigger and easier to read.
To make it big or small or to change the Font size you have to access Windows 10 Ease of Access Settings.
Open Windows 10 Settings panel. You can press Win + I button together to open that on your machine.
Following that, go to Ease of Access > Display.
On your right-hand side, you will find a slider with a label called Make text bigger.
You can move the slider from left to right to make the text bigger. You can find the preview right above the bar.
After choosing a particular size, hit the Apply button. It will change the text size immediately.
In Windows 8.1/8/7, open Control Panel > Appearance and Personalization > Display > Make text and other items larger or smaller.
Here you can increase the font size by 125% or 150%. make your selection. This works as follows:
Smaller – 100% (default). This keeps text and other items at normal size.
Medium – 125%. This sets text and other items to 125% of normal size.
Larger – 150%. This sets text and other items to 150% of normal size. This option appears only if your monitor supports a resolution of at least 1200 x 900 pixels.
Click Apply and Logoff.
You will see that all text, including your Start Menu appears bigger now in Windows 10/8/7/Vista.
Please note that this option will not make the icons and other items bigger.
It will make only text bigger than the default. If you use a very high value, it could distort things.