When accessing your files, File Explorer is your go-to option. When you click on File Explorer, it opens up a default view that gives you access to the default folders, like desktop and pictures, along with your recently accessed folders and files. But what if you want to change this view to open File Explorer to OneDrive in Windows 11?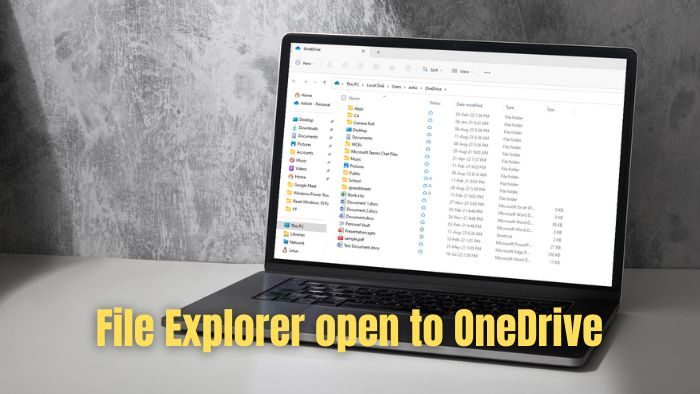 OneDrive has become a de facto location to save files thanks to its solid integration with Windows and Office or Microsoft 365 Apps. If you use Word, Excel, or any other app, OneDrive auto-syncs to ensure your data is saved and you never lose them.
Since OneDrive can sync the Desktop, Documents, or any other folder added to it, it only makes sense that when you open File Explorer, you go to OneDrive instead of doing to This PC or Quick Access.
Make File Explorer open to OneDrive in Windows 11
Making File Explorer open to OneDrive is easy if you run the latest Windows 11 version. But in case you are not, there is also a workaround. And you can find both of them below:
File Explorer options
Open from the system tray
Note: Windows doesn't allow Apps or shortcuts to be pinned to Taskbar, so there is no way to open it from there.
1] File Explorer options
Windows does allow you to open File Explorer to OneDrive. Even not just OneDrive, the feature now works with other cloud storage services like iCloud or Google Drive. However, make sure to add them to your PC first.
First, launch File Explorer.
Click on the three dots icon and select Options.
Now under the General tab, use the Open File Explorer dropdown menu to select Your Name- personal.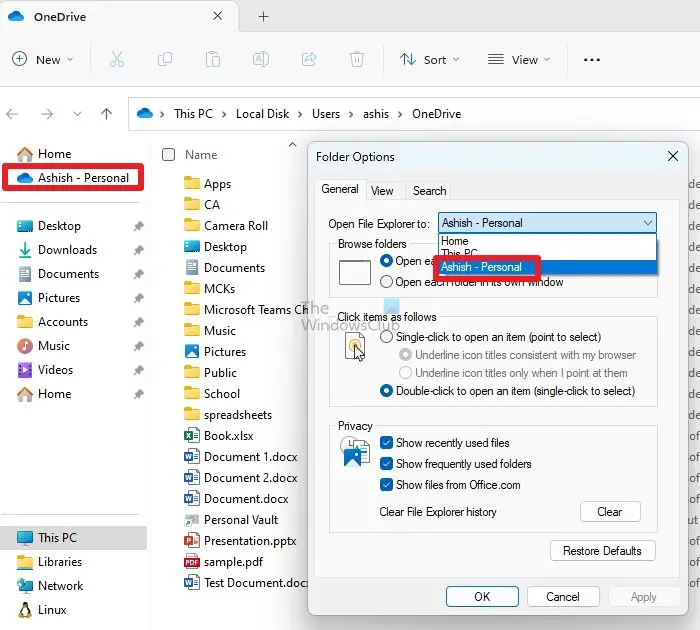 Finally, click on Apply > OK.
Once done, relaunch File Explorer and it should open to OneDrive.
OneDrive sets the name as UserName-Personal for personal accounts and UserName-Business or UserName-Organization Name for business users. There is no way to change this name.
Read: OneDrive is missing from File Explorer in Windows
2] Open OneDrive Folder from the System tray
Alternatively, you can access OneDrive from your system tray. Of course, it takes a few extra clicks. But it allows you to launch OneDrive separately rather than making your File Explorer launch it. Also, it is a workaround for users still using Windows 10 or any of the older versions. To do this, follow these steps:
First, press Windows Key + I to launch Settings.
From the sidebar, click on Personalization > Taskbar.
Over here, expand the Other system tray icons.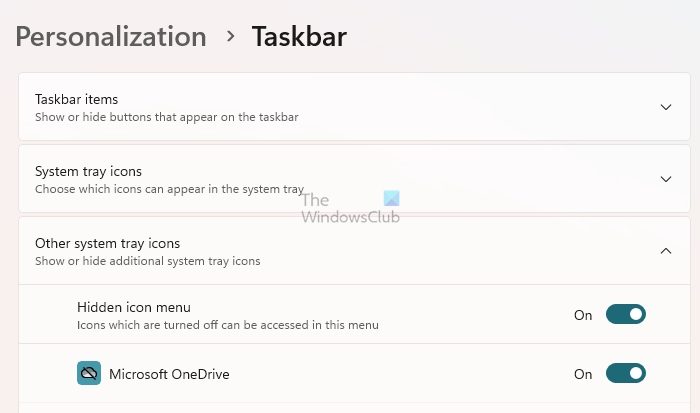 From here, enable Microsoft OneDrive, which will be added to your System tray.
To access your OneDrive from the Taskbar, double-click the OneDrive icon on the System Tray, and it will open in File Explorer.
Read: System Tray icons do not work in Windows
Conclusion
OneDrive integrates well with Windows, making it easy to work with Office files. The above two methods are the only way to open File Explorer to OneDrive in Windows 11. While the former allows you to go to OneDrive using File Explorer, the second method is for those who don't want to change the default behavior of File Explorer and still want a quick way to open OneDrive in it.
Read: Best Windows 11 File Explorer Tips and Tricks
You can also download and install the OneDrive app from the Microsoft Store and pin it to your Taskbar to easily access your cloud files.
How to make File Explorer open to This PC?
You can also make File Explorer open to This PC. Open File Explorer Options (earlier called Folder Options) and under the General tab, you will see Open File Explorer to. From the drop-down menu, select This PC instead of Quick Access. Click on Apply and exit.
Why is OneDrive not showing up in File Explorer Windows 11?
If OneDrive is not showing up in File Explorer on Windows 11 try reinstalling and updating your OneDrive app to resolve the problem. Outdated versions with software bugs can also cause this issue. Keep your OneDrive up to date for seamless integration with File Explorer.