Most of the time, when a user launches an application, they make it full screen. When in full screen, users get the maximum benefit and work area when required. Instead of doing it manually every time, you can choose to launch some of them as full-screen applications. This post guides on how you can make all windows open maximized always in Windows 11/10
Make all windows open maximized or full-screen
Before we start, the Full Screen of any application means you don't see any buttons or address bar on the top. All you see is the content of the application. So, even if your app or window is taking all the screen, it is still not full screen.
Launch Program using a Shortcut
Use Maximize Always tool
Keyboard shortcut
1] Launch Program using a Shortcut
This method works only for applications for which you can create a shortcut.
Find the program in the Start
Right-click on it > More > Open File location
Once you find it, right-click on it, and select Send To > Desktop (Create Shortcut)
Now right-click on it, select properties.
Under the Shortcut tab, click on the dropdown next to the Run section in the Properties window.
Select Maximised and then apply the changes.
Once done, when you double click on the shortcut, the program will launch maximized.
This method will work with most of the applications, including Microsoft Office products. However, it would help if you created the shortcut by finding the original EXE file. It also means it will not work with the Microsoft Store application.
2] Use Maximize Always tool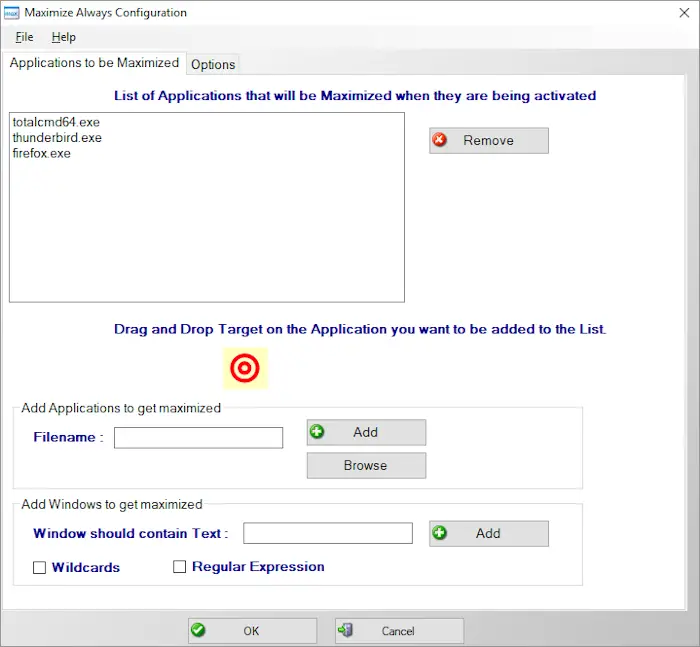 Maximize Always is a free tool that can launch almost any application in the full screen once you add it to the list. Once installed, you can name the application and then add it to the program. Once done, you can right-click on the application in the system tray and select the program to launch.
So that's the only downside of the process. Every time you want to launch an application in full screen, you can use this. If you do not want to do that, launch it from the Start menu or Taskbar.
You can download it from 4dots-software.com.
3] Keyboard shortcut
If you want to have more control over your application on how it opens, then a single key on your keyboard can make any window or at least supports the Maximize option. Press F11 on the keyboard and any application will go completely full-screen.
If you are using a laptop or keyboard which comes with a special Function key (Fn), then you may need to use Fn+F11.
For your information, you cannot have two full-screen applications side by side on one monitor. But you can split the application to run it side by side. Tools such as PowerToys come with a split-screen feature, and you can use them for free.
Related: How to run Microsoft Store apps in full-screen mode.
Bonus Tips: 
To minimize all the open windows, you can use Win+M.
Press Win+Shift Key+M for maximizing them all.
If you only want to minimize the current window, hold down Windows Key and press the down arrow key.
If you want to maximize the same window, hold Windows Key and press up arrow key.
I hope the post helps you open applications in full-screen mode when you launch it.