In this tutorial, we will show you how to make a YouTube video with Microsoft PowerPoint.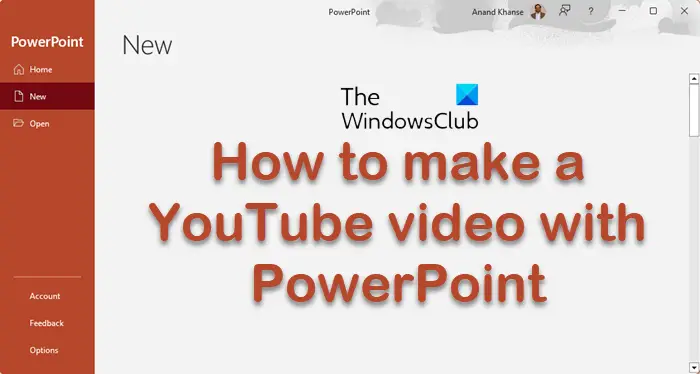 YouTube is an amazing video-sharing service that would enable you to upload videos and a perfect online platform to share your imagination with the world. However, to create a professional-looking video one may think of downloading heavy and complex video software which may require users to undergo profound training on how to operate them. While turning your imagination into eye-catching videos can be a daunting task, you can make use of Microsoft PowerPoint which lets the user create attractive videos effortlessly in a few minutes.
To create a video in a PowerPoint, all one has to do is gather some amazing visuals and insert them into the slide. PowerPoint also lets you choose from its vast range of amazing fonts to suit your video best. Additionally, one can also easily add audio to PowerPoint presentations. PowerPoint lets you make transitions like fade in, fade out, bounce the slides, swivel the slides and glitter the slides to create some stunning animation. It also lets you set the rehearse timings to your presentation so that the visuals, textual fonts, and contents are exactly synchronized, and this makes your presentation play on YouTube just like you want.
With PowerPoint, one can also enhance the web-based slide show and record a slide show with slide timings and narration. Once your presentation is ready, you can choose to host the presentation online either by sharing them on the web, or you can choose to upload your presentation video to youtube. Hosting video to youtube is easy and is one of the hassle-free ways of sharing your information with others for free of cost. In this article, we explain how to publish your PowerPoint slideshow as a video to YouTube.
How to make a YouTube video with PowerPoint
Once you finish making presentation files, go to File menu and Save the presentation in (.pptx) format.
After saving your PowerPoint presentation slides, You need to create a video file from your slide show presentation by saving your presentation in a video file format (.wmv or .mp4).
To Create a video, Go to File and select Export.
Next, click on Create a Video and select the appropriate video quality from the drop-down menu.
You can choose a standard video quality for displaying on portable devices. HD quality is used for displaying videos on the internet and DVD. Full HD and Ultra HD is used for displaying videos on large monitors as well as HD screens.
It is important to note that the larger the video quality resolution is, the file size will be larger and one may have to determine what suits best for their needs. To know which one best suits for your work, you can test the quality with every video resolution for converting your presentation into a video.
Now give the file name for video and choose an appropriate folder where you want to save the file.
In the Save as type, choose the video file format either Windows Media Video or MPEG-4 Video.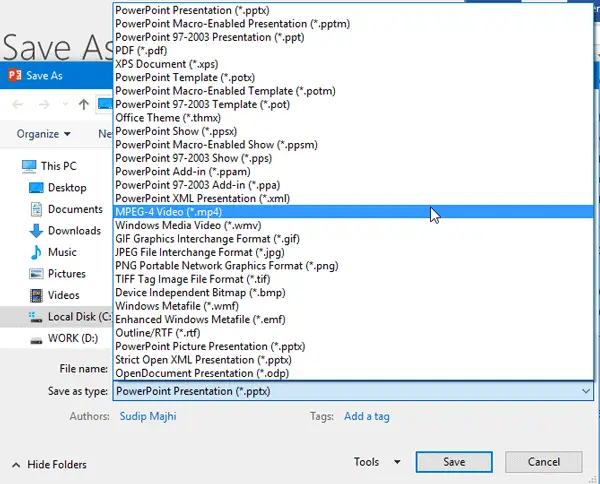 Now to host your video to YouTube, Open YouTube, and sign-in with your account.
On the top of the homepage, click on Upload video button and select the video file you want to upload.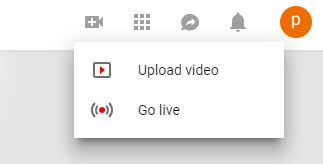 Give the details like description, title, and tags which you want to add for your movie.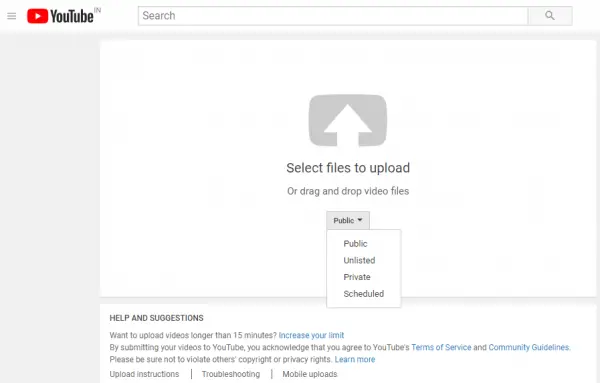 You can also choose to customize the privacy settings. You can set the video to the public which can be searched and viewed by anyone or you can set the video to private which can be viewed by only the viewers you delegate.
Once done, click on Publish button to host your slideshow as a video on YouTube.
That's all!
Read next: How to add YouTube videos to PowerPoint presentations.