A quality presentation is not always centered around text and pictures on a PowerPoint slide. At times, the best way to get your point across is to use a video, one from YouTube, to be exact. From our years of experience using Microsoft PowerPoint, we can say for certain that it doesn't take much to add YouTube videos to a presentation.
How to insert YouTube video into PowerPoint
In fact, there are a few ways to get the job done, and it has nothing to do with downloading videos, so you do not have to worry about having a 500MB file sitting in your presentation. Let us see how to add or embed a YouTube or any other video into a PowerPoint presentation.
When we're done with this tutorial, we expect that you'll be an expert in adding YouTube videos to your presentation. Be sure to direct your friends and families to where you learn how to do it in the first place.
Open a PowerPoint presentation
Click the Insert tab
Embed videos via Online Video option
Add videos via YouTube embedded code
Let us look at this from a more detailed perspective.
1] Open a PowerPoint presentation
To begin the process, you will be required to open the relevant presentation document. Find it wherever it is on your hard drive or OneDrive, and fire it up.
2] Click the Insert tab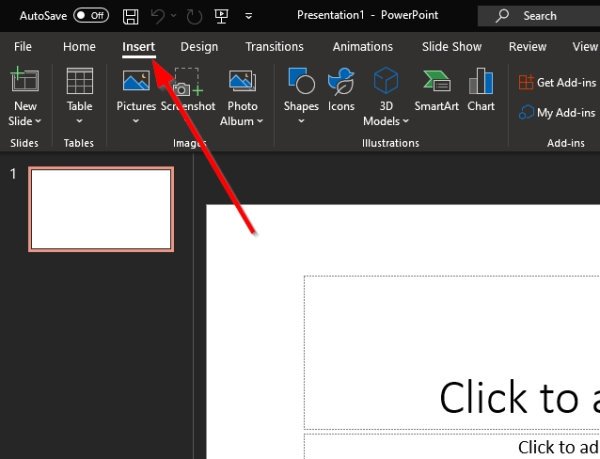 After opening your PowerPoint presentation document, we suggest selecting the Insert tab that is located on the Ribbon above.
3] Embed videos via Online Video option
The next step is to click on the arrow below the Video icon and select Online Video. From here, you can paste the URL of the YouTube video into the box, then hit the Enter key on the keyboard to have it added to a slide.
Read: How to make a YouTube video with PowerPoint
4] Add videos via YouTube embedded code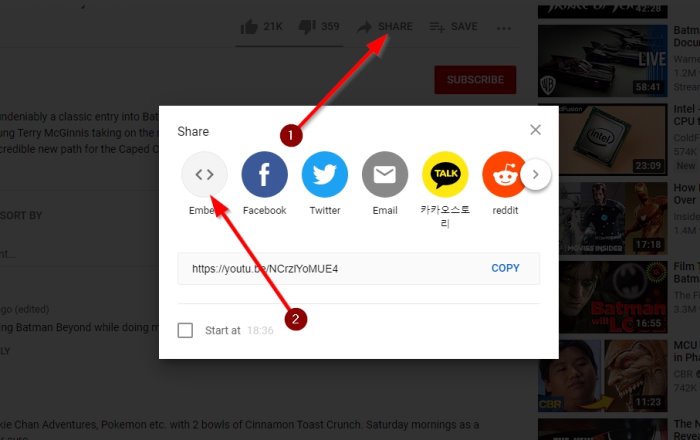 Okay, so the next best step is simply copying the embedded code from the YouTube video and adding it to your presentation. This is done by visiting the video link, and from there, click on Share.
You should now be looking at several buttons, but the only option to choose from here is Embed. Select it, then copy the embedded code to the right and paste it into your PowerPoint slide.
As you can see, no matter which way you've chosen to add videos to your PowerPoint presentation, the task is always a simple one to accomplish. Just be sure to do your best in avoiding videos that are copyrighted by the creators or that could get you in a bit of trouble.
Read next: How to make Animated Charts in PowerPoint.