Now-a-days, people prefer to use desktop email clients instead of logging in directly into the web interface of their email accounts. This is very convenient as, if you have multiple email accounts, you get to read all you email at one interface. Once you enter your credentials, you can simply forget about it. You email client will pull your mail as and when it arrives and inform you about it. But what would happen if you were to forget your passwords? To tackle such situation, freeware like Mail Password Decryptor can help you. This is a tool that helps you recover email password for different email accounts from applications like Windows Live Mail, Thunderbird, Microsoft Outlook and so on.
Recover email passwords from mail client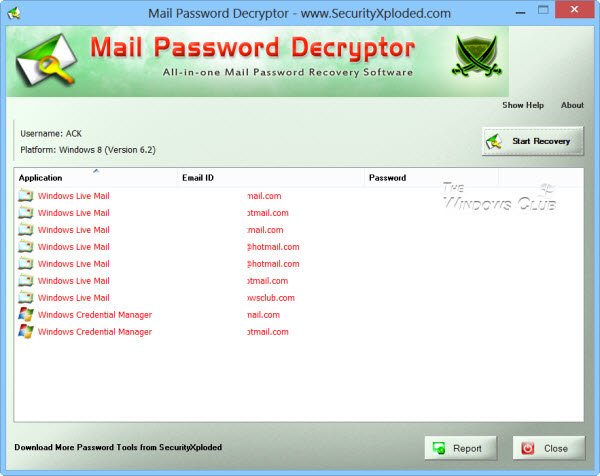 Mail Password Decryptor is extremely easy to use. To understand the functioning of this software, first let's see how the email clients function. The email clients store all your E-mail account information, along with the password, in a local file in the encrypted format. In order to recover email password, the software scans the whole PC and recovers any password it finds on its way. It is capable of recovering password of any complexity and length. You can export the scan result to the local file in HTML, XML or Text format.
It can help you recover passwords from the following programs:
Microsoft Outlook Express
Microsoft Outlook
Mozilla Thunderbird
Windows Live Mail
IncrediMail

Foxmail

Windows Live Messenger
MSN Messenger
GTalk
GMail Notifier
PaltalkScene IM
Pidgin (Gaim) Messenger
Miranda Messenger
Windows Credential Manager
Features
There are several products in the market which are capable of decrypting and recovering email passwords. However, the best thing about Mail Password Decryptor is that, it is capable of recovering password from various email clients as well as desktop applications.
It automatically detects and decrypts the encrypted password that is stored in the email account. Hence, process to recover email password becomes easier.
Mail Password Decryptor offers both command line version and user-friendly GUI interface.
The recovered password can be saved to HTML, TEXT or XML file.
It automatically detects profile path.
Users get support for local Installation as well as uninstallation of this software.
Mail Password Decryptor download
Mail Password Decryptor is a very useful tool and is available free. With this freeware, the process to recover email password becomes hassle-free. Its installation process is also equally easy. You can install the software locally on your PC with the help of Mail Password Decryptor's installer for regular usage. Its setup wizard smoothly guides you through a series of steps to complete the installation. If you wish to uninstall the software from your system, you can do so via the Control Panel or you using its Uninstaller located at C:\Program Files\SecurityXploded\MailPasswordDecryptor.
You can search for this tool on securityxploded.com. Let us know your take on this email password recovering software.
UPDATE BY ADMIN: While our security software did not raise any warning, Jotti and VirusTotal scans are not completely clean and both show mixed results. You may want to have a look at them. They could be false positives … so use your discretion. Please read the comments. Thanks Mark.