If you're encountering Logitech Setpoint runtime error on your Windows 10 computer, then this post is likely to help you. When you encounter this issue. you'll receive the following full error message-
Runtime Error!
Program; C:\Program Files\Logitech\SetPomtP\SetPoint.exe
This application has requested the Runtime to terminate it in an unusual way.
Please contact the application's support team for more information.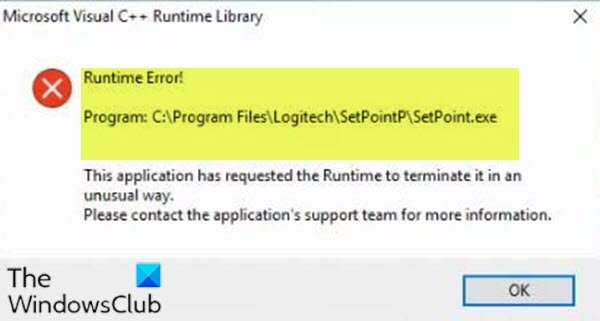 You might encounter the issue due to any of the following known causes:
Irregular entries in the Registry.
Incorrectly configured System settings.
Missing libraries of Runtime Components of Visual C++.
SetPoint is customization software for Logitech mice. Logitech SetPoint software lets you customize your mouse buttons, keyboard F-keys, and hotkeys. Use SetPoint to control tracking speeds and configure other device-specific settings. It can also notify you of our device's battery status, and whether Caps Lock and Num Lock are on.
Logitech Setpoint Runtime error
If you're faced with this issue, you can try the following fixes:
Refresh msvcp110.dll file
Reinstall Microsoft Redistributable Package
Set a Boot Entry option manually
Run Logitech SetPoint in compatibility mode
Troubleshoot in Clean Boot state
Uninstall and reinstall SetPoint
Let's take a look at the description of the process involved concerning each of the listed solutions.
1] Refresh msvcp110.dll file
If the reinstallation doesn't work for you, then presumably the msvcp110.dll file may be causing this error. You need to terminate the Setpoint process from the Task Manger and then delete this file via File Explorer from the directory stated below.
C:\ProgramFiles\Logitech\SetPointP\msvcp110.dll
Consequently, when you start Setpoint again after you must have restarted your computer, it will automatically detect the DLL files is missing and will replace it with a fresh copy.
2] Reinstall Microsoft Redistributable Package
One of the reasons why this Logitech Setpoint runtime error occurs can be the fact that you are missing libraries of Runtime Components of Visual C++. In which case, try to uninstall the Microsoft C++ Redistributable package and reinstall the latest version.
3] Set a Boot Entry option manually
Do the following:
Press Windows key + R to invoke the Run dialog.
In the Run dialog box, type cmd and then press CTRL + SHIFT + ENTER to open Command Prompt in elevated mode.
In the command prompt window, type the command below and press Enter.
Bcdedit /set IncreaseUserVA 2800
This command will configure specific boot entry elements, such as kernel debugger settings and memory options. Windows Installer creates a standard boot entry option when you install it on your system. You can also create an additional, customized boot entry for the operating system by editing the boot options.
After the command executes, restart your computer and see if the error persists. If so, try the next solution.
4] Run Logitech SetPoint in compatibility mode
This solution requires you to run Logitech Setpoint in compatibility mode and see if it is resolved.
5] Troubleshoot in Clean Boot state
Runtime errors can arise from conflicting programs. In which case, you can try to troubleshoot in Clean Boot State and see if that helps to resolve the issue.
6] Uninstall and reinstall SetPoint
If none of the above-mentioned solutions worked, as a final resort, you will need to uninstall Setpoint from the Programs and Features applet in Control Panel and then download and reinstall the software on your system.
Hope this helps!