If you are away to attend something important and there are kids around your working desk, I am sure you won't leave your PC keyboard unguarded. It can invite trouble! While you can always Lock your computer, there is another way – and that would be to use a Keyboard and Mouse Locker software for Windows 11/10.
Free Keyboard & Mouse Locker software for PC
There are a few good software that offers the user the freedom to lock their Keyboard or Mouse individually. Have a look!
BlueLife KeyFreeze
Mouse Lock
Keyboard and Mouse Locker
Kid-Key-Lock
ScreenBlur
KeyboardLock.
Let us see their highlights!
1] BlueLife KeyFreeze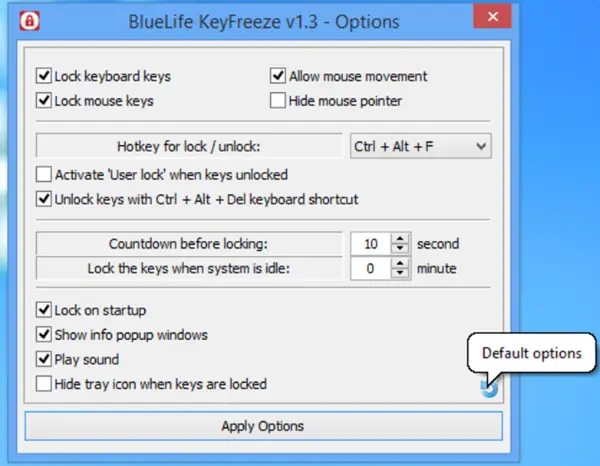 BlueLife KeyFreeze is a free Keyboard and Mouse locker for Windows PC. Its use is very straightforward. Once downloaded and installed, press 'Ctrl+Alt+F' and you'll notice the mouse clicks and keypresses are disabled, effectively.
To unlock them, simply use the keyboard shortcut 'Ctrl+Alt+F' again.
If you would like to explore more options, right-click the Keyfreeze icon in the System Tray. Here, you can choose to lock the mouse or keyboard with a single click and customize settings by selecting 'Options'.
This setting lets you change the lock/unlock keyboard shortcut, disable sounds and popup windows, allow mouse movement, and other settings.
2] Mouse Lock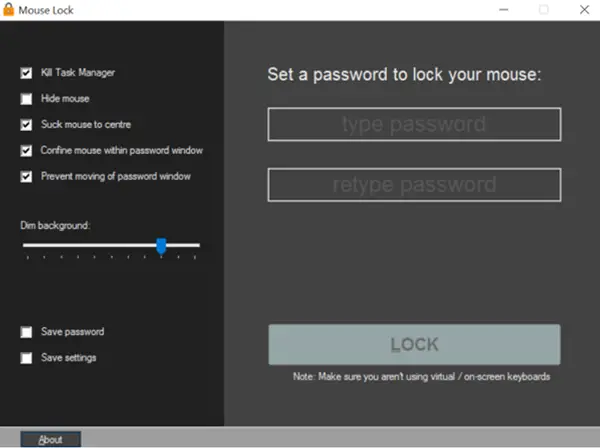 As the name suggests, Mouse Lock is light in weight capable of offering protection to your PC by locking the mouse cursor at one place in your absence. When activated, the freeware program locks the mouse movement with a custom password and dims down the rest of your screen.
Another highlight of this free tool is that it is a portable program. As such, it doesn't leave any traces in the Windows Registry or interferes with it.
3] Keyboard and Mouse Locker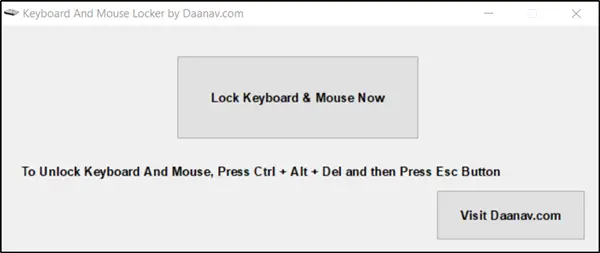 Keyboard and Mouse Locker is designed to help Windows users to lock their keyboard and mouse using a single button. When you first download and install the application, you are welcomed by a clean and intuitive design displaying some configuration options. To lock the mouse and keyboard,
Press the 'Lock Keyboard and Mouse Now' button visible on the screen.
To unlock the Keyboard and Mouse lock, press Ctrl+Alt+Del simultaneously and then press Esc button.
Please note that you cannot activate the locking mode for the Keyboard and mouse separately. The freeware is by default, designed to lock keyboard and mouse together.
All the options are self-explanatory and therefore, the tool has no help manual.
One shortfall about Keyboard and Mouse Locker – there's no way to change or configure the hotkey, other than the one provided. The positive side, it eats up minimal CPU resources and so the overall performance of the computer is not affected. You can get it for free from here.
TIP: You can restrict Mouse Cursor to a specific part of the screen.
4] Kid-Key-Lock
This free utility locks specific keyboard and mouse functions and so is well suited to keep away the toddlers that may accidentally press unwanted buttons.
Upon installing and running the application, you are prompted to choose the restrictions you wish to apply. All of them can be readily configured through the program's intuitive window.
Also, when Kid Key Lock is running, an indicator icon will appear on your system tray. When you click on the tray icon a pop-up menu will appear. All program functions, including the setup dialog box are made accessible from this menu.
5] ScreenBlur
ScreenBlur is an innovative lock screen to lock your Windows Desktop. The interface is pretty cool, and you will not have any difficulty in learning any of the functions, as everything has been laid out systematically.
6] KeyboardLock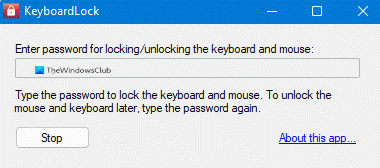 KeyboardLock is another free simple tool that can lock/unlock both, the keyboard and mouse on Windows PC. You can password-protect this tool. Download it from Softpedia.
I hope you find these tools useful.