In the earlier days, we had dial-up connections at home. But with the advent of modern connections and infinite usage plans, we do not care about turning off the internet on our devices. We have a FUP (Fair Usage Policy) offered by most of the telecom companies, especially in India, due to which we have to suffer low internet speeds, after a fixed amount of usage. In order to extend that high-speed period, all we can do is use our data judiciously. Using a freeware like InternetOff for Windows PC can help you turn off your Internet connection in a single click from the system tray, and thereby help you extend your data usage.
InternetOff allows you to quickly turn off or turn on your Internet connection so that you can quickly go offline or come online. You can even enable the internet a specified period of time, password-protect the connection, and schedule
InternetOff Review
InternetOff is a simple freeware that lets you toggle or turn off the internet connection on your computer with just a click. One would argue that it can be simply done by manually going into connections and disabling the wireless adapter or disconnecting a connection. But if you want a simple little shortcut with few extra features, then you must install InternetOff.
Other than this you can also use InternetOff to simply cut yourself from the world full of distractions offered by Facebook, Twitter, or any other social media or website that you want to avoid.
Or you can install InternetOff to save data if you are not on an unlimited data plan.
Turn Internet connection On or Off quickly
InternetOff runs in the background as a service and ensures the state of the internet connection, as decided by you. You can disable the internet by simply hitting the small globe icon and then hitting the 'Turn Off' button and that is all.
While turning on the connection, you are offered five options namely: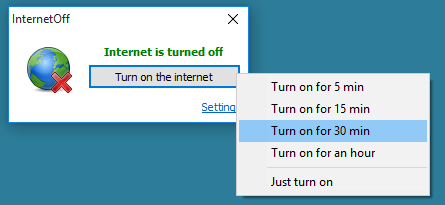 Turn on for 5 min
Turn on for 15 min
Turn on for 30 min
Turn for an hour
Just turn on.
You can appropriately select an option and the time remaining to disable the internet connection would be displayed in a small label which can be moved around as per ease.
You will also see a small Settings link. Here you will be able to change settings like:
Display Internet Time Left box
Start with Windows
Check for Updates
Set a password
Enable a Schedule.
You can easily disable the "Internet Left Time" box from the Settings and tweak a few other options. To prevent someone else from enabling the internet you can choose a password but there is a workaround as anyone who really needs access to The Internet could break apart this security by killing the InternetOff service from the task manager and then manually enabling the internet adapter, but that is enough to keep the majority of people away.
InternetOff is a simple and specific tool that solves the purpose of fast enabling and disabling of internet connection. It is a tiny (under 2 MBs) tool that is free to download and offers a few extra features.
Click here to download InternetOff. It may not have been updated in the last few years, but it worked fine on my Windows 10.