Safe Mode is one of the best ways to troubleshoot problems in Windows. If installing a particular update can fix your problem, and you cannot do it in normal mode, then you should install Windows Updates in Safe Mode. You can also choose to uninstall an update in Safe Mode if it is causing an issue.
Should you install Windows Updates in Safe Mode?
The simple answer is No. But Microsoft recommends you to do it only when you cannot start Windows normally. The reason why it is not recommended is that in Safe Mode, specific drivers and components are unavailable. So if Windows Update needs to update a particular service or a component, and it is not able to find it, because it's disabled, it will not update it. When you restart, you may experience some errors related to intermittent file errors or registry errors. Windows may throw an error saying:
ERROR_INSTALL_SERVICE_FAILURE
1601 The Windows Installer service could not be accessed.
Contact your support personnel to verify that the Windows
Installer service is properly registered
How to install Windows Updates in Safe Mode
Since we need to have a network connection or internet access in Safe Mode, we need to make sure networking is enabled with Safe Mode. You can boot Windows 10 into Safe Mode in multiple ways.
1] Using Recovery Method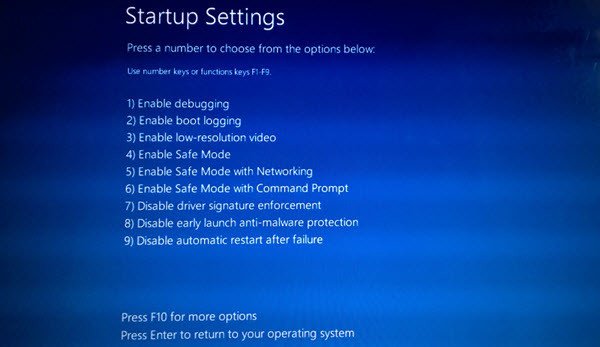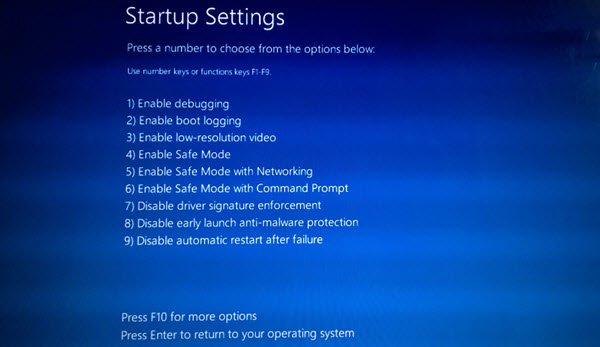 Open Windows Settings and navigate to Update > Recovery.
Click on Restart Now button under Advanced Startup to boot into Advanced Recovery mode.
Now go to Troubleshoot > Advanced Options > Startup Settings.
Click on the Restart button
It will then bring you to the Startup Settings, where the fifth option is to Enable Safe Mode with Networking.
Press F5 to boot into it.
Tip: If you hold down the Shift key when restarting the computer from the menu, it will directly boot you into the Advanced Startup option.
2] Using MSCONFIG
Open Run Prompt (WIN + R) and type "msconfig" followed by pressing the Enter key
Switch to  Boot section, and under the Boot options, check  the box next to "Safe Mode."
Then select Network from the radio button options.
Click Apply, and then reboot the computer.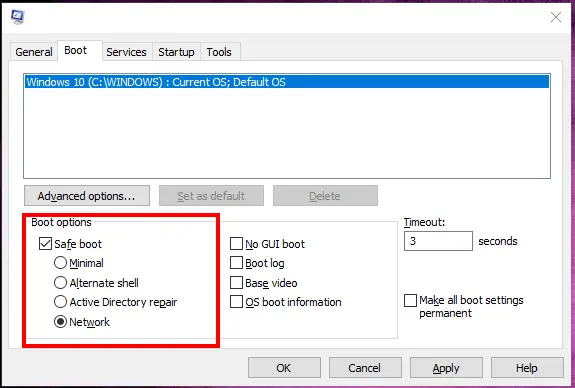 Once in Safe Mode, Go to Settings > Update & Security and run Windows Update. Install the available updates.
Microsoft recommends that if you install an update while Windows is running in Safe Mode, immediately reinstall it after you start Windows 10 normally. You may have to follow the manual method if the updates are not listed again. The reinstallation will make sure to iron out any bugs which appeared during Safe Mode.
Can you uninstall Windows Updates in Safe Mode?
You can also choose to remove Updates, Service Packs, and Hotfixes in the same way. However, you will not face any issues, unlike installing new updates. The reason you will not receive any error is that it will make a record of what has changed, and apply it when the computer boots normally. The same doesn't happen during the installation of an update as the system will assume the components to be missing.
Read: How to run Windows Update in Clean Boot State
Download offline Windows Updates & install in Safe Mode
There is another way to install updates in Safe Mode if you do not have access to the internet. It is similar to how you update Windows in offline mode. You will have to figure out which updates should be installed and then use the application to download.
If you prefer to download them directly from Microsoft's website, you can search using the KB number of the update and download.
Can updating Windows 11 cause problems?
Updating Windows 11 does not cause problems. Microsoft recommends users keep their systems up to date because Windows updates add new features and security patches to their systems. If you do not update your system, you will not only miss new features but also make your system more vulnerable to attacks. Sometimes, Widows Updates cause problems. In such cases, users have the option to uninstall the problematic Windows Update.
I hope the guide was easy to follow, and you were able to install Windows Updates in Safe Mode.