In this post, we will show you how to clean install Windows 11 without bloatware or bundled third-party apps like Netflix, Candy Crush, Spotify, TikTok, Instagram, Facebook, Twitter/X, Disney, ESPN, etc., based on your Region. When you follow this trick, Windows 11 will be installed without bloatware!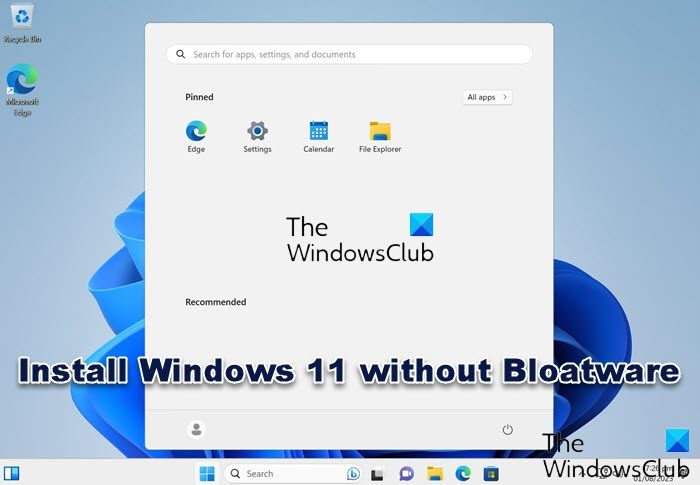 How to install Windows 11 without Bloatware
To clean install Windows 11 without Bloatware, boot your PC with the Windows 11 USB drive and press any key to continue. When Windows Setup asks you to select the Time and Currency format, from the drop-down menu, select English (World).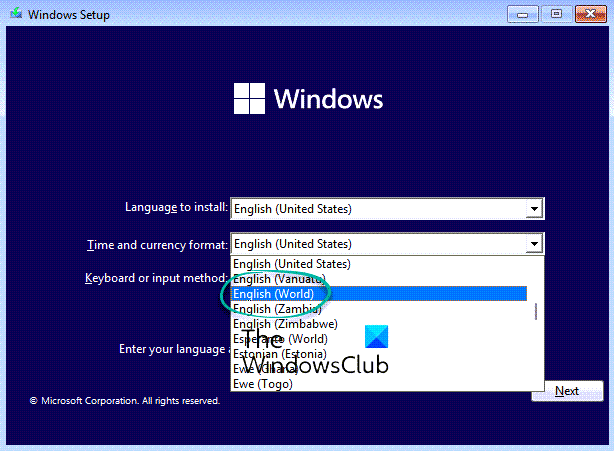 Click Next, and follow the usual steps to install Windows 11.
That is all! Windows OS will be installed without the bloatware.
You should know that this does not stop Windows from installing built-in Microsoft apps like Mail, Calendar, Calculator, Teams, Microsoft Edge, etc.
Once the installation is complete, you may open Windows Settings and change your  Language, Region, Time, and Date settings.
Does Windows 11 Install bloatware?
Windows 11 installs less bloatware compared to Windows 10. If you want to enhance performance and free up space on your C drive, you can use only one of these free Bloatware Removal Tools.
How do I get rid of best Windows 11 bloatware?
To get rid of Windows 11 bloatware, PowerShell is a powerful tool. It can be used to remove bloatware and unnecessary software and apps. By leveraging PowerShell, you can efficiently get rid of the best Windows 11 bloatware without much hassle.
Read: Tips to avoid Crapware & Bloatware on your Windows PC.