Google Guo is a video calling app that allows you to make one-to-one calls. It also allows you to create a group for your family and friends and initiate a video call with them. You can use this guide with both Microsoft Edge and Chome.
Can you use Google Duo on Windows 11/10?
The Google Duo app is not available for Windows 11/10. But Google has released a web app for its voice and video calling service. With the power of Progressive Web Apps, Google Duo can also be installed using Edge browser on Windows 11 and Windows 10.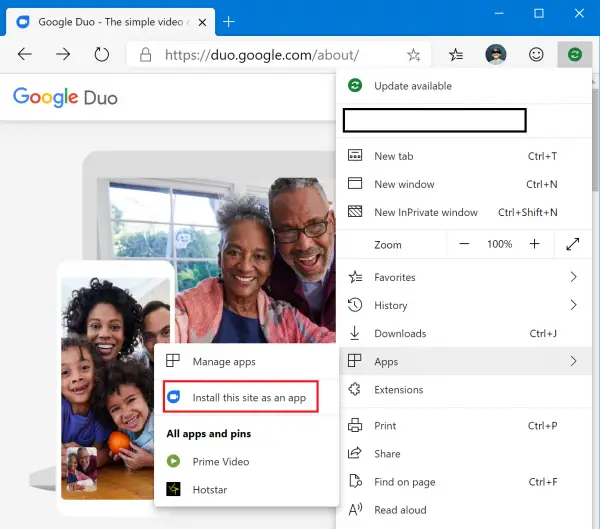 Install Google Duo on Windows 10
The Google Duo app on Windows 11/10 can be installed and used in the best possible experience. You can do this by using only the new Microsoft Edge browser based on Chromium.
Open the Google Duo website on the new Chromium-based Microsoft Edge browser.
When the website loads, select the menu button on the top right corner denoted by three horizontal dots.
Select Apps > Install this site as an app.
The browser will install the Google Duo website as an app with a XAML shell on your Windows 10 computer.
You will also find an entry for it in the All apps list in the Start Menu.
If needed, you can create a shortcut for it on the desktop, pin it to the taskbar or pin a tile.
It is worth noting that this app won't get all the features immediately, unlike its Android and iOS counterparts.
That's the default procedure to install a website as a PWP on the new Microsoft Edge browser.
Is Google Duo a spy app?
There is a special Google Duo tracking spy application called AddSpy that allows tracking calls – both received and dialed.
Is Duo free for international calls?
Like any other video service app, Google Duo is a free voice and video calling application. It uses the internet to get your video and audio to the other side—the better the bandwidth, the better the quality of both audio and video.
Does Google Duo have a time limit?
Unlike Zoom, there is no time limit on either a group call or a one-to-one call. You can call as long as it is possible, and you have a stable internet connection. If that gets interrupted, then your call may drop.
Is Duo better than Skype?
It is a difficult comparison to make. While the Duo app may be available right on your phone, The Skype app needs to be installed. In the end, both are video calling services that help you connect with people. We would suggest you try both, and then get an idea which will work for you.
I hope you found our helpful tip.