Before you start using Google Meet, make sure you have all the necessary equipment and access you need. If all things are in place, you are good to go. A little guided training experience from us about Google Meet tips might help you get the best out of the service.
Google Meet Tips and Tricks
Google Meet saves you time, keeps you organized, and allows you to connect and collaborate instantly. Overcome the learning curve & manage to stay productive with these Google Meet Tips & Tricks. We will walk you through the features & options of Google Meet.
Switch to new adaptive meeting layouts & live captions in Google Meet
Share Your Screen in Google Meet
Modify video resolution
Allow Notifications from Meet
Record video meeting
Send chat messages to video meeting participants
Remove a participant from Google Meet
Let's take a tour of the Google Meet (Hangouts Meet) service!
1] Switch to new adaptive meeting layouts & live captions in Google Meet
Google Meet automatically switches the layout in a video meeting to display the most active content and participants. If required, you can switch to a different layout if you want.
By default, Google Meet offers 4 options. These include-
Auto – Lets Google Meet to choose the layout for you.
Tiled – As the name suggests, switches to a tiled interface with 4 video feeds in equal size when there is no presentation. If you are in the presentation mode, then, it fills the window with up to 3 participants on the side.
Spotlight – Puts the focus of the presentation on the active speaker, or pinned feed fills the window.
Sidebar – Makes the active speaker or presentation visible with additional participants on the side.
To change the layout, point the mouse cursor in the lower-right corner of the Meet screen, click 'More' and then select 'Change layout' option.
In the Change layout box, select the layout that you want to use on your computer.
2] Share Your Screen in Google Meet
If you are interested in giving a more interactive and engaging presentation, you can use Google Meet to present your entire screen or a specific window in a meeting to share documents, presentations or spreadsheets. Here's how!
In the bottom-right corner, select 'Present now'.
Select Your entire screen, A window, or a Chrome tab. If you choose the last option (Presenting a Chrome tab) Google Meet will share that tab's audio by default.
You can change source at the bottom of your screen to present a different tab.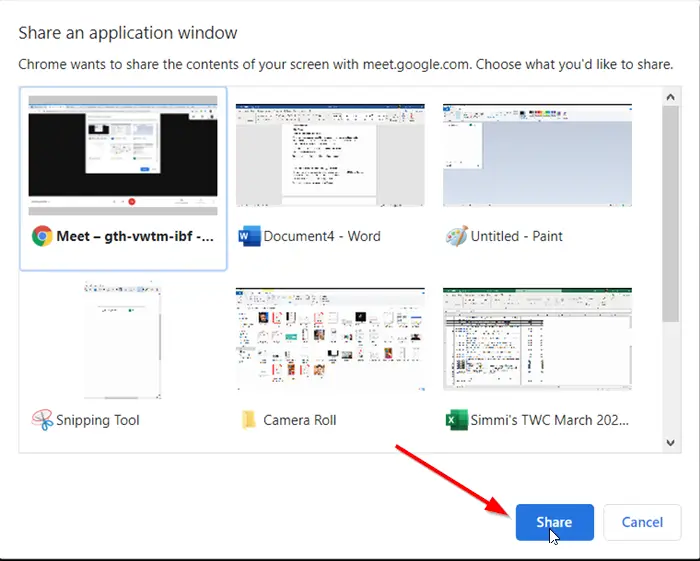 When done, select the content you'd like to share and hit 'Share' button as shown in the image above.
If someone is presenting, confirm that you want to present instead.
3] Modify video resolution
At the bottom of your Google Meet screen, click 'More options' (visible as 3 vertical dots) and choose 'Settings'.
In the window that appears on your computer screen, switch to 'Video' tab.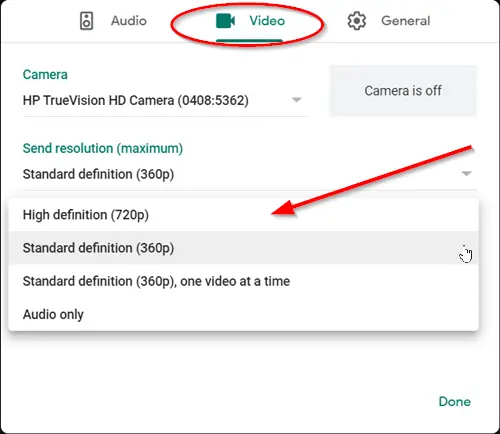 Here, chose a setting that you would like to change or modify. The following settings are available –
Camera – Select your camera device. If your camera is working, to the right of Video, you'll see your video feed.
Send resolution – It is the image quality that is visible to you from other participants. By default, it is set to Standard (360p), since it uses less data. However, your camera will then send a lower quality picture to others. You can change this to High Definition (720p) to enable a better- quality picture.
Send resolution – It is the image quality from your device that others see. Its configurations remain the same as above i.e., High Definition (720p) and Standard-definition (360p).
4] Allow Notifications from Meet
To receive notifications from Meet, configure your browser settings to allow notifications. For this, go to 'More' menu of your browser and select 'Settings'.
Scroll down to the bottom and click 'Advanced'.
Then, under 'Privacy and security', choose 'Site settings'.
Next, click 'Notifications'.
Now, choose 'Meet' entry > 'More' and then 'Allow'.
5] Record video meeting
You can record video meetings for other people to watch later. However, this feature is only available with the computer version of Meet. Mobile app users just get notified when the recording starts or stops but cannot control recording. To record a video meeting, join the video meeting first.
Then, click 'More' > 'Record meeting'.
6] Send chat messages to video meeting participants
Google Meet is also designed for multi-tasking. So, if you would like to chat with someone while attending the video call, it's possible!
Access 'Chat' option in the upper right corner.
Enter a text message and hit the 'Send' button.
7] Remove a participant from Google Meet
A participant from the domain that organized the video meeting can remove another participant, if any unruly behavior is observed. This can be done by navigating to video meeting, click the 'Back arrow', choosing the person and hitting the 'Remove' button. Similarly you can choose to mute the microphone of a participant if you're experiencing any background noise during a video meeting.
Hope this helps!