If you need to insert curved text in PowerPoint, you can take the help of WordArt functionality. It will allow you to curve the text in any slide and you can insert as many curved texts as you want. The best thing is that you can use any font family, size, color, etc.
WordArt is an in-built functionality of PowerPoint and some other Office apps. It helps users to add a different styled text in any slide and anywhere in the slide. Sometimes you may need to display a rounded text, apply the waving effect, etc. so that you can differentiate something from others. At such a moment, WordArt can help you since it offers some handy designing presets for the users.
How to curve text in PowerPoint
To insert curved text in PowerPoint, following these steps-
Open a slide and select a location.
Go to Insert tab.
Click on WordArt in the Text section.
Select a design as per your requirements.
Write the text and select the position where you want to display it.
Go to the Shape Format tab.
Expand Text Effects in the WordArt Styles section.
Go to Transform and select a design.
Adjust it accordingly.
To know all these steps in detail, keep reading.
At first, you need to open a slide in the PowerPoint where you want to show the curved text. After that, go to the Insert tab and click on the WordArt option, which should be visible in the Text section.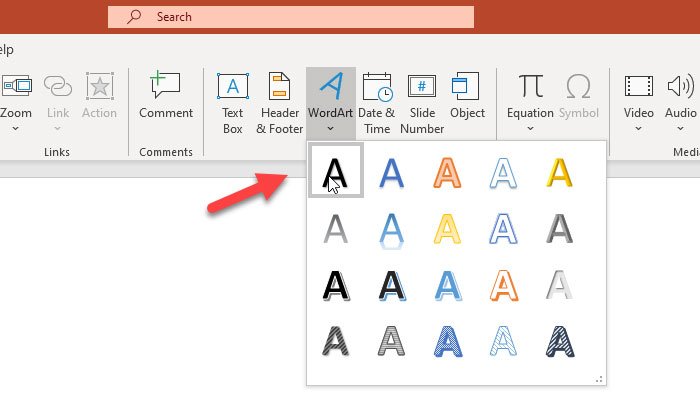 From here, choose a design. It may not be the permanent design as you can change it afterward. Write down your text after selecting the style. Now, a new tab, Shape Format, should be visible. If so, you need to switch to this tab and expand the Text Effects option from the WordArt Styles section.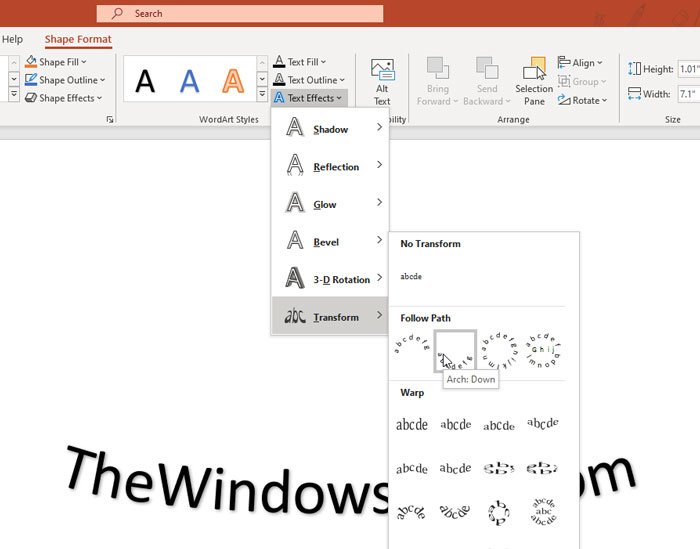 Then, go to the Transform menu and select a design as per your requirements. Your custom text should be changed immediately, and you can check the preview as you hover your mouse.
In case you want to change the overall style of the text, you can expand the Shape Fill, Shape Outline, and Shape Effects options from the Shape Styles section and choose a style that suits your needs. However, the curve-style may not work if you insert a box around your text.
For your information, you can repeat the same steps to add more than one curved text in a PowerPoint slide.
That's all! I hope this tutorial will help you.