Windows 10 Action Center keeps a stack of all notifications that arrive from different applications. When an application sends out a notification, it is displayed for 5 seconds, and then it disappears. While five seconds are enough to draw your attention and help you get a glance about the message, sometimes you wish it stayed a little longer. In this post, we will share how you can decrease or increase the Windows 10 notification display time.
Increase Windows 10 notification display time
The best way to reach out to missed notification is to click on the Action Center. It will reveal all the notifications grouped by the applications. It also means that if you have too many of them, it becomes difficult to find the one you were looking for. If you are in such a situation, it is best to increase the time for which notifications stay on the screen. Here is how you can change it:
Use Win+I to open Settings.
Navigate to Home > Easy Of Access > Display
Scroll to the end till you find the dropdown to change notifications—Show notifications for
Here you can change time from the default 5 seconds to 7, 15, 30, or go for even longer 1 minute or 5 minutes.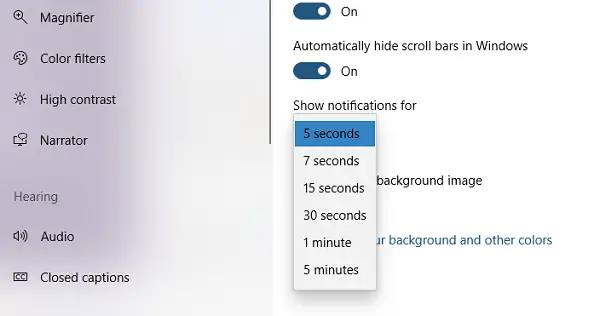 Done that, notifications will stay longer, but here is a small warning. Choose the length wisely. If you have notifications from multiple apps, the screen will be filled with notification cards.
The option to change the notifications display time is also available with our in-house free product— Ultimate Windows Tweaker. Search for it and change it. It will automatically make the changes in the background for you.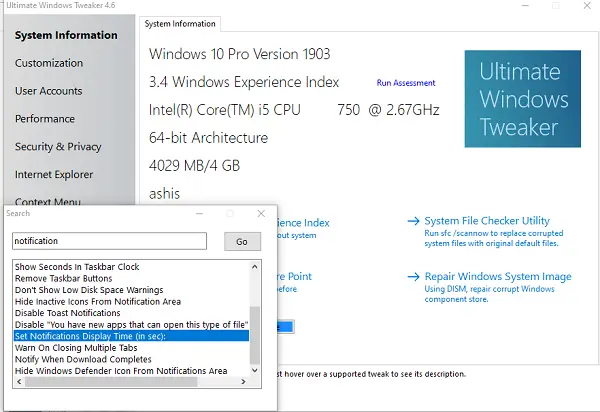 Lastly, make sure you manage notifications in Windows 10 effectively so it's not a distraction for you.
You can also turn off notifications from apps that are of less priority. You can tweak them directly from the Action center. Right-click on any notification, and configure it accordingly.
Let us know what your choice of Windows 10 notification display time is.