The Action Center is a notification center where you can view, interact with, and dismiss all Windows 10 notifications. The Action Center lists items requiring attention, such as updating software, incoming mail alerts, Windows security information, etc. In this post, we will show you how to pin Action Center as a sidebar (that is to always keep it open) in Windows 10.
Normally, to open the Action Center, you have to press Windows key + A or just click the Notifications icon on the system tray on the taskbar – the Action Center pane closes automatically when you click another window or as soon as you click anywhere else on the screen.
However, you may want to pin Action Center as a sidebar by keeping it always open so that you can quickly check new notifications as well as access quick action buttons. To do that you'll need to perform a registry tweak.
Pin Action Center as a sidebar & keep the pane always open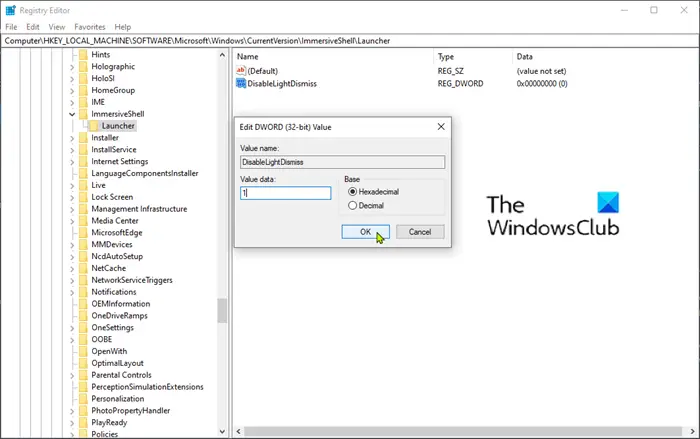 To pin Action Center as a sidebar, do the following;
HKEY_LOCAL_MACHINE\SOFTWARE\Microsoft\Windows\CurrentVersion\ImmersiveShell\Launcher
Then right-click on an empty space on the right pane.

Select New > DWORD (32-bit) Value.

Name the key DisableLightDismiss.
Double-click the newly created key and set the Value data to 1.

Click OK.
Now you can press Windows key + A or click the Action Center tray icon to open the pane. If you click somewhere else, open a folder or program, you will notice that Action Center stays open.
To close or hide the Action Center pane, you'll need to click on its icon on the notification area on the right end of the taskbar or press Windows key + A key combo.
PS: This post will help you if you want to disable the Notification and Action Center in Windows 10.