If you always find that your Windows 10 device's battery lasts for a shorter time than you expected, you can optimize Windows 10 for better battery life – especially while watching videos and movies on battery power.
Improve Battery Life when watching Movies & Videos
Let's take a look at these four methods that will help you optimize and improve your computer's battery life while watching movies & videos:
Reduce Screen Brightness
Turn on Battery Saver
Optimize Battery Life via Power Options
Improve Battery Life via Settings.
1] Improve Battery Life by reducing Screen Brightness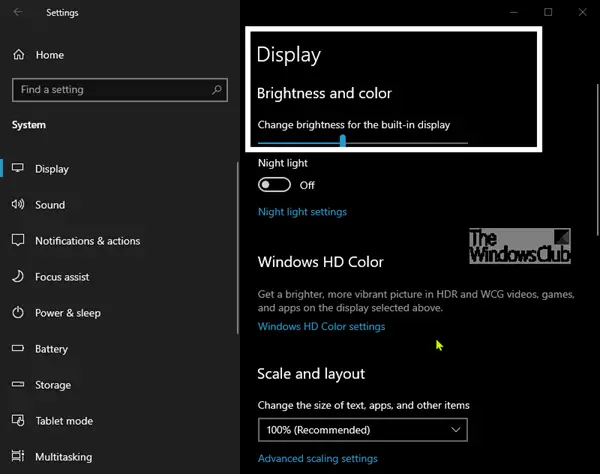 You can easily increase the battery life while watching movies, videos or doing any other work by reducing the screen brightness. That doesn't mean that you need to reduce the brightness to the lowest but make sure that your screen is not set to full brightness. You can either use hotkeys on the keyboard or navigate to Settings > System > Display to accurately adjust the screen brightness.
2] Turn on Battery Saver
The built-in Battery Saver feature helps you extend Windows 10 battery life while watching movies and videos by limiting background activities and push notifications.
By default, the Battery Saver feature in Windows 10 kicks in when the battery level drops to 20%. You can temporarily turn on the Battery Saver while watching movies for better battery life.
3] Improve Battery Life via Settings
This setting will affect all users on the PC that use the same power plan. Open Settings, and click System.
Click Battery on the left side. Scroll on the right side, and click Change battery settings for playing video.
On the Video Playback settings window that opens, scroll down on the right to Battery options section and select either Optimize for battery life or Optimize for video quality in the When watching movies and videos on battery power drop-down menu.
You can now exit Settings.
4] Optimize Battery Life via Power Options
Right-click Power icon in the notification area on the taskbar, click Power options, click Change plan settings link to the right to open the advanced power settings for your current chosen power plan.
Click on the + sign for Multimedia settings to collapse it. Click on + sign for Video playback quality bias to collapse it. Now set On battery to what you want, and click OK.
When optimized for battery life, Windows 10 will play HDR movies as SDR videos. Otherwise, it will play them as HDR videos but drain your battery faster.
I hope you get more battery life while watching Movies & Videos on Windows 10.
Read next: Laptop Battery Usage Tips & Optimization Guide for Windows.