If you want to edit videos at the very basic level, but do not want to spend money on a video editing software, you should opt for Icecream Video Editor. It is a free video editing software for Windows, and it supports 4K video editing. If you are looking for a basic video editing software, you can take a look at the features of this freeware and see if it suits you.
Icecream Video Editor for Windows PC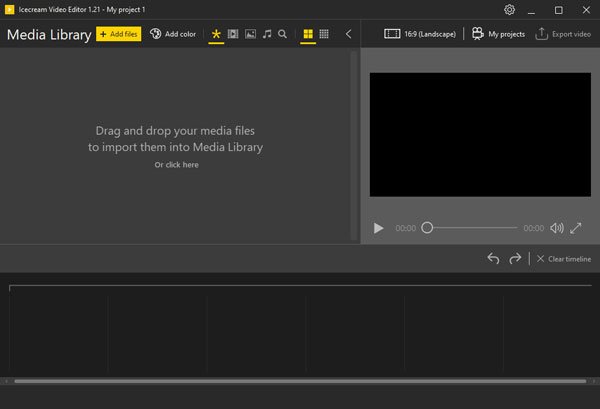 Icecream Video Editor is for those who do not have much knowledge of the video editing process. It offers some basic functionalities so that a newbie can understand all the features on the first day.
Talking about available features, here is a list that you should check out.
Timeline: Like all the standard video editing tool, you can find the timeline option so that you can manage all the footages.
Title maker: Many so-called excellent video editing tools do not have a Title maker, which is quite essential while making a short film or something like that. You can find a title maker in Icecream Video Editor.
Video trimmer: It is possible to trim a video. Many times, we do not need all the frames of footage – you can use trim option to cut down the unnecessary frames.
Speed adjustment: If you want to make a time-lapse video or slow-motion video from normal footage, you might find this option quite handy.
4K support: Nowadays, everyone uses 4K content. If you have 4K footages, and you want to keep that resolution, you can use this option.
There are more other features available in this tool. You need to use it to get them all.
After you download and install it, open it.
The Add files option will let you import footages that you want to edit. Following that, you need to follow the options based on what you want to do. The General tab contains all the basic options such as brightness/contrast/saturation adjustment, speed controller, etc.
To edit the sound of your video, you need to switch to the Audio tab. If you want to add a title at the starting of your video, you can go to the Text tab, write down the text, select a font, and the position.
You can also add a transition between two footages. To do that, you need to click the plus (+) sign visible between two footages on your timeline. After that, you can find some transitions on your screen.
To export a video, you need to click the Export video option visible on the top-right corner. You need to give it a name, a location where you want to save, choose a file format, select the resolution, and quality.
Considering everything, this is a quite handy video editing software for Windows 10. If you like, you can download it from the official website.
Some other free video editing software that may interest you are Shortcut and Express Animate.