There are tons of free video editing software for Windows you can download and start editing raw video files. However, only a few have the proper 4K video support, and Shotcut is one of them. It supports very low-resolution videos as well as high-resolution videos. Although feature-wise, it is not very powerful, it can suffice your need if you want a free video editor with 4K support and you are about to start video editing for the first time.
Shotcut: Free video editor with 4K support
As mentioned earlier, the highlight of this tool is you can edit 4K videos with the help of this software. Apart from that, you can find the following functionalities or supports-
It supports almost all standard image formats, including BMP, GIF, JPEG, PNG, SVG, TGA.
Timeline – that lets you check all the editing on one go.
Capture video with the webcam. Not all the video editors have this option, but it does.
Audio capture – you can record audio while editing videos. In other words, you can add voiceover.
Audio editing – this is not only a video editing software but also an audio editor. You can adjust the balance, bass, treble, high pass and many more with this tool.
Network streaming
Filters – you can add various filters like adjusting brightness, color grading, and many more.
Export video – you can export video in a standard video format. For .mp4 to .wmv, all the formats are there in this tool.
How to use Shotcut video editor to edit videos
To get started, download it to your machine. You can download the portable version as well, which doesn't require installation. Once you launch the program you will see this window-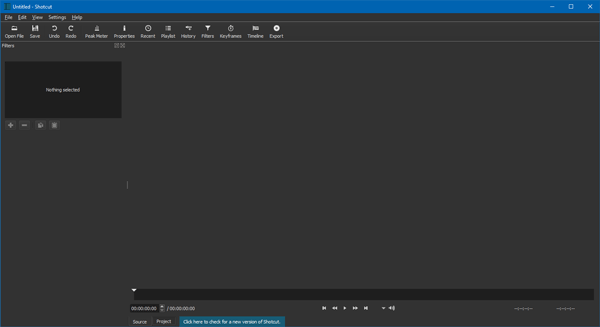 Compared to others, it is much easier to use Shortcut than many other similar software. As it comes with fewer functionalities, you would not have to spend much time to understand everything.
The most useful option in this tool is Filters, where you can find all the essential options. For audio editing, there is an option called Peak Meter.
To open or import any video, click the Open File button. After opening, you can click the Filters option, which contains the following functionalities-
Brightness
Colour grading
Contrast
Fade In Audio
Fade In Video
Fade Out Audio
Fade Out Video
Gain / Volume
Mute
Overlay HTML
Rotate
White Balance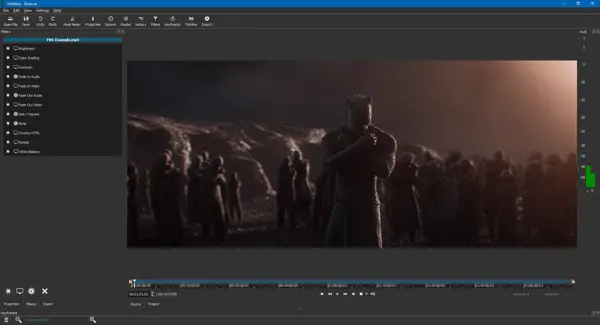 You can see the following options in the Timeline-
Cut – Copy – Paste
Append to the current track
Remove current clip
Remove current clip without affecting the position
Overwrite clip into the current track
Split
Toggle snapping
Ripple trim and drop
To export a video, you need to click the Export button visible on the top menu bar. Following that, you will get an option to choose the video format, video resolution, frame rate, scan mode, audio channels, codec, rate control, bitrate, and many more.
If you like to use this tool, you can download it from shotcut.org.