Wi-Fi also known as Wireless Location Area Network, WLAN, is the most popular device used for connecting the internet to the computer in homes, schools, and small business units. Wi-Fi network is made compatible with the computer with the help of Wi-fi network drivers. The network drivers are the source of communication between the operating system and the wireless network. In this post, we will guide you on how you can view Wi-Fi network driver info on your Windows 11/10 computer.
The Wi-Fi network drivers consist of instructions respective to the Wi-fi device connected to the system. It can be installed from the internet. Compatible network drivers can be easily downloaded for the internet, it is very important to choose the right driver for the smooth functioning of a wireless device. The below process will help you in getting detailed information regarding the wireless devices connected to your computer
View Wi-Fi Network Driver information on Windows 11/10
If you are an advanced user, there must be multiple wireless devices connected to your system. If you want to dig deeper, you may wish to view Wi-Fi network driver info on Windows 11/10. So, to check the Wi-fi network driver info on your computer, follow the below suggestions:
Once you're in, type the following - netsh wlan show drivers
Press the Enter key and you're done.
If you need, you can now see the above steps in detail.
To get it started, first of all, right-click on Start and select Run to open the dialog box. Then type cmd in the text box and press Ctrl+Shift+Enter to open the Command Prompt with admin access.
If User Account Control (UAC) prompts and asks for your permission then click on the Yes button to continue.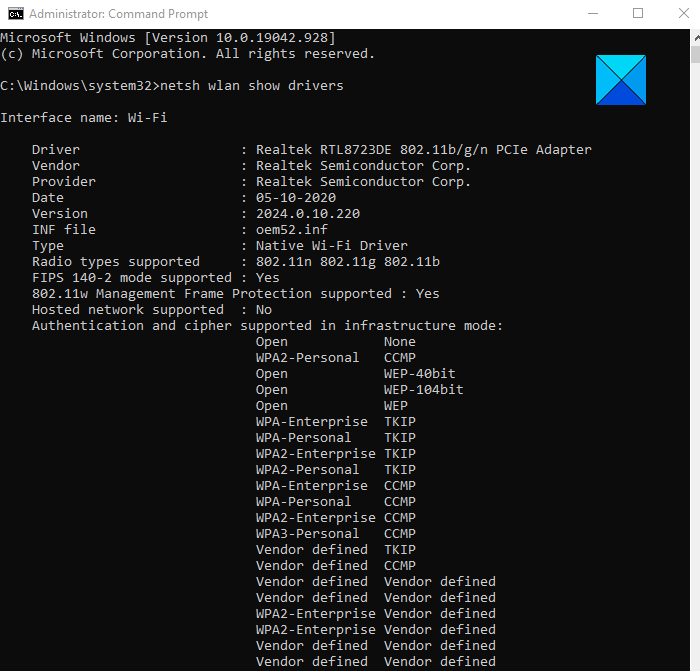 In the Command Prompt window, type the following and hit Enter:
netsh wlan show drivers
The required information will be displayed.
Read: How to generate a WiFi History or WLAN Report.
Check the adapter capabilities
If you want to check the adapter capabilities, then type the following command and press Enter:
netsh wlan show wirelesscapabilities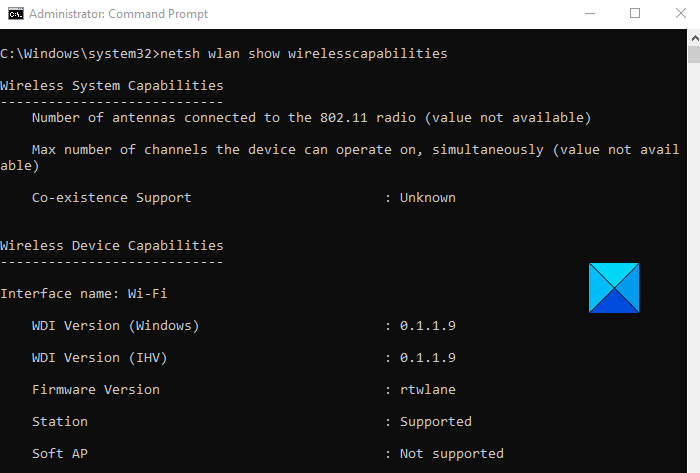 This will give you the list of wireless devices connected or not connected to your operating system. It helps in segregating the desired wireless device and unwanted connections to your operating system.
The information will also provide the version and details about the device for a better understanding of the driver and the genuine support of the adapter.
That's it. Hope it helps.