In this post, we will show you how to use the Start Menu Search Features in Windows 10. But if you do not use it, if you wish, you can also turn off or disable Windows 10 Start Menu Search in the latest version. The earlier method does not work; you need to follow these steps if you wish to use or disable Bing Search in Windows 10 v2004 and later.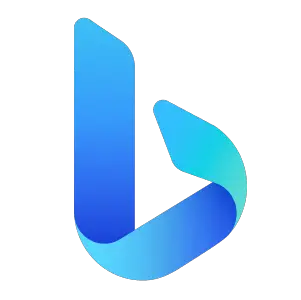 Windows 10 Start Menu Search has evolved year, and it is integrated with the Windows 10 Timeline with the Windows 10 v2004 Feature update. In this post, I am sharing some of the important features that you should know and use when searching from the Start Menu. The Start menu has few features which depend on the server, and if you arent seeing them right away, Microsoft is still turning them on for all computers.
Windows 10 Start Menu Search Box Features
When you click on the search box or use Win+S, you get the enhanced search box, which offers two features upfront. Quick access to Top apps and quick searches. The later include weather, news, market, and so on. Here is the list of features included:
Timeline Integration
Spell Correction
Related Searches.
As of now, there is no direct option to hide or remove parts of the user interface. We will have to rely on Registry changes or Group Policy settings to remove them or change their behavior partly.
Timeline Integration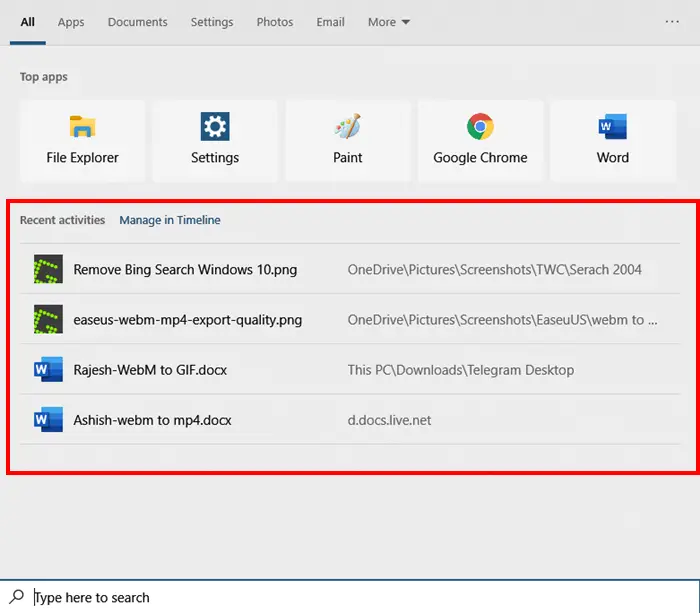 Right in the middle of the Start Menu Search, notice the listing of five recent activities from the TimeLine. You can also click on Manage in Timeline to review and remove any of the recent activities right away.
Spell Correction
Improved spell correction for Apps & Settings searches make sure typoes also return matching results. Available for English as of now. So if you type PINT instead of PAINT, it will still show Paint in the Taskbar search result.
Related Searches
Apart from offering the Best match result, Microsoft has worked on adding related search results. If the algorithm thinks that the Best match result isn't an exact match for your search, a "Related:" line will be included below the result to help clarify why this result is appearing.
Disable Bing Search in Windows 10 Start Menu Box
If you want to completely disable Bing Search in Windows 10 Start Menu i.e. and remove the See web results section under the Search the web, it is possible, you can use the Group Policy or Registry Editor. Follow the steps on Windows 10 v2004 and later. Do note that your User Account has to be a member of the Administrator group.
Using Registry Editor
Open Registry Editor
Navigate to:
HKEY_CURRENT_USER\SOFTWARE\Policies\Microsoft\Windows\Explorer
Find or create DisableSearchBoxSuggestions DWORD 32-bit
Set the value to 1
Restart the computer.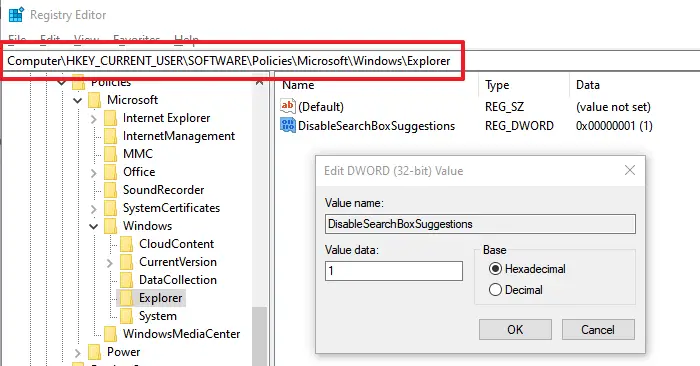 Now when you search for a keyword that can find results on the web, it will not be there at all. From all the types of Search, notice that the Web section will be missing. However, there can be a couple of drawbacks.
Bing related features like Weather, Stock prices, Currency conversion, and other one-click features will not be available anymore.
File Explorer will not show suggestion pop-ups as users type into the Search Box.
Recent searches will not show any more as they will not be stored.
Using Group Policy Editor
Navigate to:
User Configuration> Administrative Templates > Windows Components > File Explorer
Find the policy which says Do not allow web search
Enable it and restart the computer.
The policy clearly says:
Enabling this policy removes the option of searching the Web from Windows Desktop Search.
When this policy is disabled or not configured, the Web option is available, and users can search the web via their default browser search engine.
These are a few things we have noticed, and there can be more.
PS: Cortana is now a regular Store app. Here's how you can enable or disable Cortana and prevent it from auto-starting with Windows 10 at startup.