If you want to use the Quick Launch Toolbar on Windows 11 computer, then this post is sure to help you. Quick launch toolbar (or Quick access toolbar or Taskbar toolbar) helps to access or launch frequently used programs, files, folders, desktop, links, etc., from the taskbar (just before the system tray). In Windows 10, this is a native feature and you can easily create a custom toolbar to access a folder, program, etc. But, this functionality is removed in Windows 11 OS. Still, it is possible to create and add a taskbar toolbar of your choice that lets you access programs, folders, and files from the system tray of Windows 11.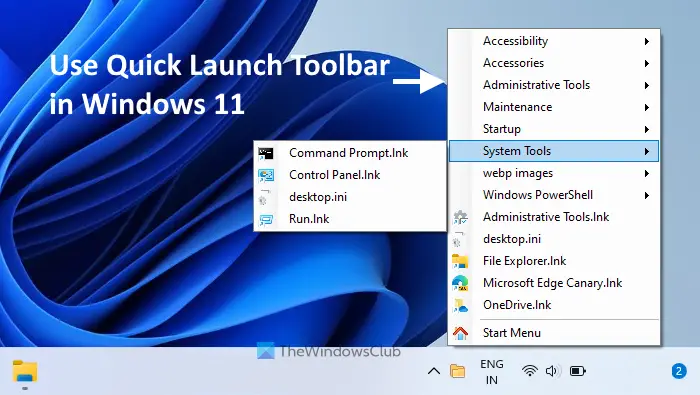 While natively it is not possible to use a taskbar toolbar in Windows 11, this can be done using a free tool named TrayToolbar. Its system tray icon lets you access programs or items added to the quick launch toolbar created by you. You can see an example of a custom toolbar added to Windows 11 in the image above.
How to use Quick Launch Toolbar in Windows 11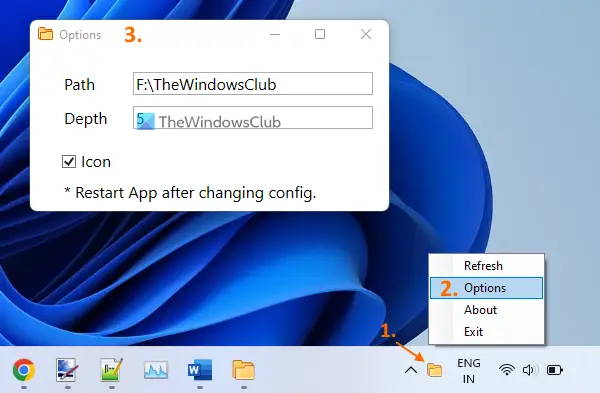 Use the following steps to use the quick launch toolbar on a Windows 11 computer:
Grab the ZIP file of this tool from github.com
Extract the ZIP archive into a folder
Run the TrayToolbar application file from the extracted folder. This tool will start running in the system tray. Microsoft Windows Desktop Runtime is needed to run this tool. If it is already installed on your computer, then you can use this tool directly. Otherwise, this tool will prompt you to download and install it
Right-click on the tray icon of this tool and select Options. A separate Options box will open
In the Options box, there is a Path field. In that field, provide a path where your frequently used program shortcuts are stored. Or else, you can first create a folder on the desktop or somewhere else, add shortcuts, files, and folders in that parent folder, and then provide the path of that parent folder. That will be more helpful to quickly access all the needed items
Just below the Path field, a Depth field is present that lets you set scan depth for the nested folder. The explanation of this option is not clear and you might not get what this option is used for, but as per the developer, it is recommended that the depth value should not be greater than 5
An Icon option is also present below the Depth field. You can toggle this option to show/hide icons for files that will be visible when you will access your quick launch toolbar
When Options are set, close that box
Right-click on the system tray icon of this tool
Click on the Exit option to close this tool
Re-launch the tool by running its application file
Now, left-click on the system tray icon of this toolbar and all the items present in the folder path provided by you will be visible to you. That is your quick access toolbar. You can access a sub-folder present in that toolbar and items stored in it will be visible to you. Clicking on a file or item will open it with the associated program.
TIP: If you add or remove items from the path provided for the quick launch toolbar in this tool, then it will not update the list automatically. For that, you need to right-click its system tray icon and click on the Refresh option.
So, that is how you can configure this tool and use a quick launch toolbar on your Windows 11 computer.
This tool is not a replacement for the original quick launch toolbar feature because it doesn't let you create multiple custom toolbars and it may not show all the items from the Programs folder. However, since Windows 11 don't have this feature or it might not come ever, you can have the similar functionality of that feature using this tool.
Related: How to backup and restore Taskbar Toolbars in Windows.
Is Quick Launch available in Windows 11?
No, the quick launch feature that helps to add and access commonly used programs/folders from the taskbar is not available in Windows 11. This feature is available in Windows 10 OS. And, there is no news if Microsoft will bring back or add a similar feature in Windows 11. If you want to access frequently used programs or applications from the taskbar, then all you can do is pin those programs to the taskbar. This is the only native feature that lets you open your favorite or frequent programs from the taskbar.
How do I get the quick access toolbar in Windows 11?
Quick access toolbar or quick launch toolbar is not a part of Windows 11 OS. Still, if you want to use a custom taskbar toolbar in Windows 11, then you can use a free and third-party tool called TrayToolbar. This tiny tool provides functionality similar to the quick launch toolbar. You can provide a path to a folder that includes program shortcuts, files, sub-folders, etc., and then access all those items from the taskbar with the help of this tool. We have explained everything related to this tool in the post above.
Hope it is helpful.
Read next: Show or hide Toolbars option in Taskbar right-click menu in Windows.