Windows 10 Taskbar gives quick access to many apps in Windows 10. One new functionality that has been added to the Taskbar in Windows 10 is the 'People Bar'. Let's see how to enable/disable People Bar and add Contacts.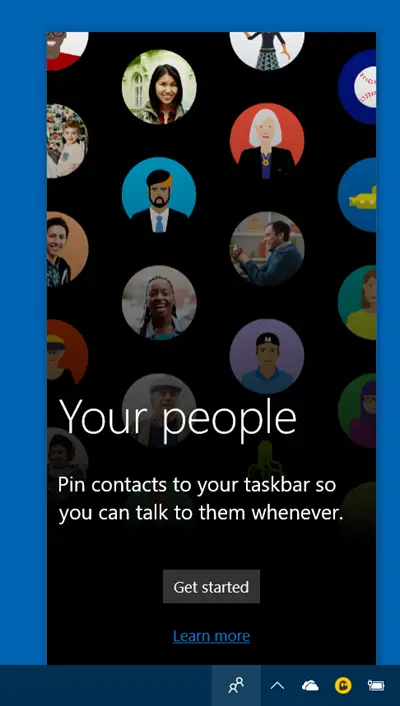 People Bar in Windows 10
After updating to Windows 10, you will find the People Bar turned on by default, and you can see its icon in the taskbar. Clicking on 'Get started' will open the following panel.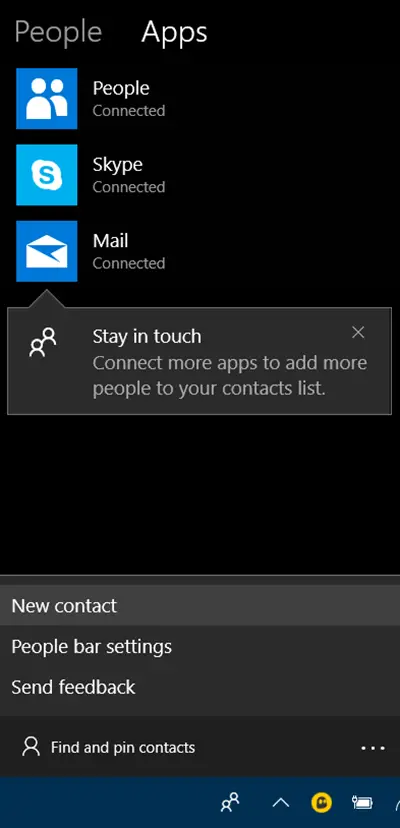 It will allow you to pin certain contacts on the taskbar.  You can click on 'Find and Pin contacts' field to find the desired contact. The feature sorts contacts in alphabetical order. A maximum of 3 favorite contacts can be pinned to the taskbar for fast and easy communication.
Another way is to select the desired option (mail, Skype or People) and search for the contact you would like to pin to the taskbar. Once found, you will notice an option, 'Pin to taskbar' or 'Pin to start' as shown in the screenshot below. Here I selected 'Pin to Taskbar' option.
People icon missing from the taskbar
If you find People icon missing from the taskbar following Windows 10 Fall Creators Update, you can add it by following these simple steps. It puts your best friends at your fingertips!
Click on 'Start' button of Windows 10 and choose 'Settings.'
Next, open the 'Settings' app and choose 'Personalization' icon.
After that, select Taskbar to open all taskbar settings.
Under it, find People section, turn on 'Show people on the taskbar' to show the People bar from the taskbar. Likewise, turn the same option to 'off' for hiding People bar on the taskbar.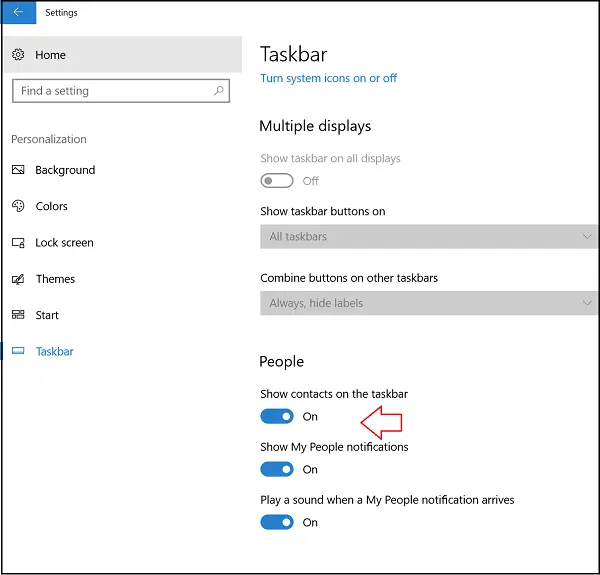 If you don't mind different apps occupying taskbar space, you can use the feature very effectively.
Hide People button in Taskbar
If you do not have any use for the People icon in the taskbar, you may right-click anywhere on the taskbar and uncheck the Show People button option.
The People app in Windows works as a social app where you can stay in touch with your Skype contacts and Outlook contacts at one place.