PCPartPicker can assist you in your PC-building journey. It can help you to find the right component and create a PC that's not bottlenecked. In this post, we will learn how you can use PCPartPicker to build your computer.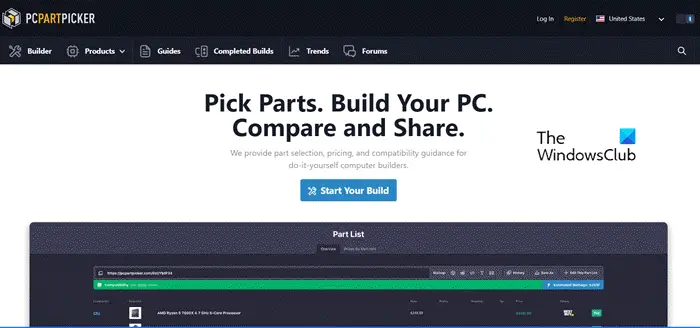 Use PCPartPicker to get the right components for your PC
PCPartPicker is one of the most popular online platforms that you can use to choose the correct components for your system. They can assess hardware and create a program on how to create your computer. The website hosts information about various hardware pieces on their database, such as motherboard, CPU, GPU, memory, and more. You can check the price, reviews, and specifications of a particular component before you decide to buy it.
Create PCPartPicker account
The very first thing you need to do to use PCPartPicker is to create an account. You can follow the steps mentioned below to do the same.
Open your browser and go to pcpartpicker.com.
Now, click on the Register button from the top right corner of the screen.
Enter your details and then click on Register.
You will get an email to your registered Email, just go there and activate your account.
Once your account is activated, log in and then change your country, if required, from the right corner of the screen.
This way, you can set up your PCPartPicker account.
Build your PC
To get started, you need to go to the Build Guides option. Here, you can see ready-made PC builds created by the PCPartPicker team so that you can get an idea.
If you want to see builds that other users like yourself created using this tool, go to the Completed Builds section.
You can make changes to these builds and save them for yourself. To do the same, go to any prebuilt PC now, navigate to View full price breakdown > Edit This Part List, make the needful changes, and then click on Save as.
Now that you have an idea of how things work, let us see how to select parts. To do the same, follow the steps mentioned below.
From the homepage of the website, click on Builder.
You will see various categories; just get started with any one of your choices.
Now, analyze different products in that category based on the price, rating, and other parameters mentioned there.
If you want to add a particular product, click on the Add button. In case you want to add multiple products, select them and click on Add From Selection.
You can use various components from different categories and then check them for Compatibility.
In case, after selecting various products, you feel like something is missing, click on the + Add Additional… option.
You will see various links, including +Add Custom Part which can be used to add items that are absent from the website.
So, that's how you can create your build.
Save and share your build
Now that we have created our build, it's time to save it and if you are like me, then flaunt your computer know-how. To do the same, follow the steps mentioned below.
After adding all the components, click on Save as.
Now, you need to fill in all the mentioned fields, select all the parameters, and then click on the Save button. This can be viewed from the Saved Parts List option present on the home screen.
From the Choose Your Parts, you can copy the link mentioned on top of the Compatibility symbol to share it with your friends.
Hopefully, this guide has helped you start your PC-building journey. If you want to know more, go to pcpartpicker.com.
That's it!
How to add custom parts to PCPartPicker?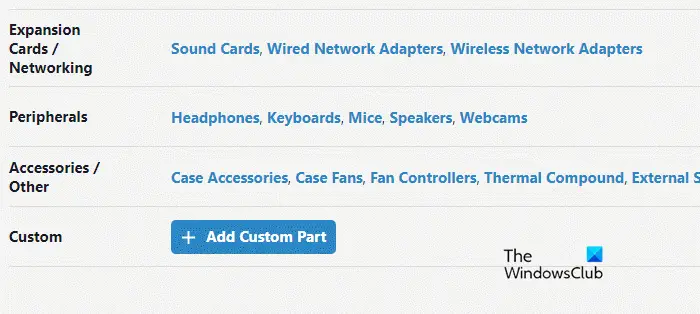 When you are on the Choose Your Parts screen and have added components, scroll down, and there you will see a button called +Add Custom Part. You need to click on it, paste the link of the component that's not present on the website, and then add it.
Read: Branded computers vs Assembled or DIY desktops.
How does PCPartPicker work?
PC PartPicker has an enormous database of various computer components that one can look into, and add to a section to compare their compatibility. It mentioned the tentative price of the products so that anyone, with whatever budget can build a PC there.
Read: Pre-built vs Custom PC for Gaming; Which is better?
Can I trust PCPartPicker compatibility?
PCPartPicker compatibility can be trusted as most of the time, their compatibility is dead accurate. However, if you are still in doubt, build a PC using the website, and then show the result to any subject matter expert. Let them analyze and see if the PC will be compatible or not.
Also Read: DIY PC: Build your own Computer using these online tools.