Gaming PCs are not just for gaming but because of the powerful processor they pack in, they can be used for all kinds of stuff, including coding and editing. However, any buyer, when thinking of buying a gaming computer, goes through this dilemma, should I get a pre-built one or should I get a custom PC? In this post, we will solve this dilemma and see which one is better. We will be comparing Pre-build and Custom PC and see which one is better for you.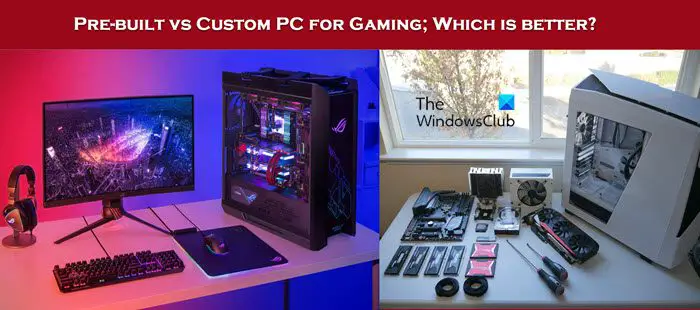 Pre-built vs Custom PC for Gaming; Which is better?
In this comparison of Pre-build and Custom PC, we will discuss a few factors to consider. So that, you can compare them by yourself and get the perfect one. Following are the few factors we will compare Pre-build and Custom PC on.
Easy of use
Customization
Aesthetics and Build Quality
Pricing
Support, warranty, and software
Let us talk about them in detail.
1] Ease of use
Let us first talk about convenience. Even though using both systems are pretty easy courtesy of Windows, there are a lot of prerequisites involved in the pre-build PC realm. When getting a custom PC, one needs to know not just the latest released processors and graphics cards but also their predecessors to compare and get the right one. You must also search the marketplace to find the best deals and buy genuine equipment. And finally, you should have the know-how on how to assemble everything and optimize the operating system.
If you are an amateur or are not aware of the market trend, there is a high possibility that you will mess things up and end up either making a worse system or not making one at all.
However, a little knowledge of CPU, GPU, and other computer components can get you a decent Pre-built PC. So, when it comes to convenience and ease of use, the Pre-built PC wins hands down.
2] Customization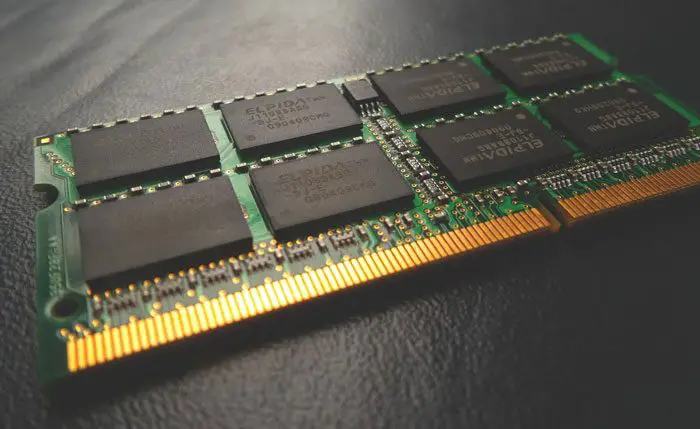 Next up, we need to talk about customization. The whole point of a Custom PC is getting what you want. You can add whatever you want or need and leave whatever you think is unnecessary.
However, it is slightly more interesting than what we expected. When you go through the catalog of pre-built PC, you will notice that almost all manufacturers provide you with options. Every manufacturer wants to appeal to customers from various price brackets and various needs. Having said that, they still can not compete with the flexibility that one gets with a custom PC.
Read: ATX vs EATX Motherboard differences explained
3] Aesthetics and Build Quality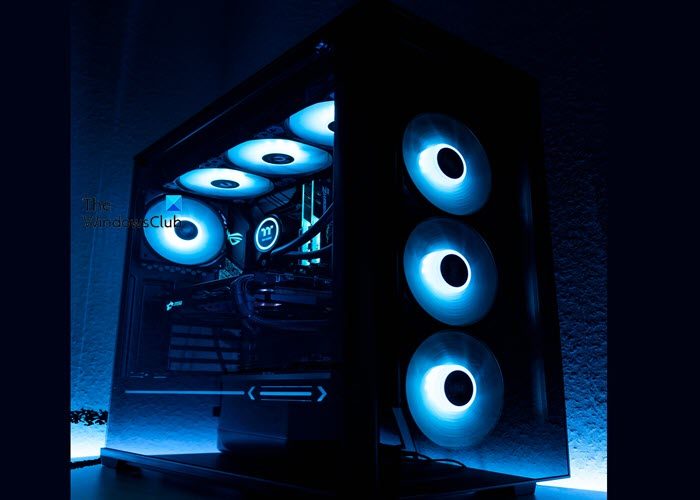 Since we are not comparing two products, it would be really tricky to choose a winner here. But we will try to give you all the perspectives needed to make the right decision. When getting a custom PC, you get to decide how many RGB lights you want and what kind of case you want.
However, a lot of manufacturers want to stand out, so, they are trying to make the right sort of gaming computer to attract buyers. Having said that, all manufacturers want to do cost-cutting and one of the very first things they save some money on is the build quality. So, if you have a decent sense of aesthetics or have a design in mind, go to the custom route, but, in case, you are not sure what to get, go for the pre-built one.
4] Pricing
Let us know talk about something that can dictate our decision. Back in the day, a custom PC was actually cheaper than the pre-built one as it doesn't have the markup that comes with the latter.
However, once Graphics Cards started being used to mine crypto, they went through a price surge. Due to this, the overall cost of building a custom PC will increase. Having said all of this, if you have a great knowledge of not just components but also the market, you can build a custom PC that can shatter any pre-built one when it comes to price-to-performance ratio.
Read: Gaming PC vs Gaming Laptop: What's best for gaming
5] Support, warranty, and software
Tech support, warranty, and software are the few things that make pre-built computers slightly more appealing to the masses. Most of the time, your pre-built computer won't come preinstalled with an operating system, Windows in most cases. Not only that, if you face some issues in the long run, you need to do all the troubleshooting by yourself if your system is a custom one. In case, you have bought a pre-built computer, it is the responsibility of the manufacturer to get you a subject matter expert and resolve the issue. And since they want to keep you as a customer, they try their best to solve your problem.
The only positive thing about a custom PC is that, at times, you get a decent deal and warranty on RAMs, CPU, and GPU. But a pre-built PC will get this round.
I hope you have all the knowledge required to make the right decision.
That's it!
Is prebuilt or custom PC better?
We have laid out every single factor and parameter on which a buyer needs to compare the two builds. After boiling down everything, we can say that if you have knowledge of computer hardware, you will get the best price-to-performance in custom PCs. However, you will get better tech support, and software and don't have to assemble the system yourself in pre-built ones. So, depending on what prefer, make the right decision.
Read: Should I buy iPad or a laptop? Benefits of both discussed
Is it better to buy or build your own gaming PC?
It depends on what you need. If don't want the trouble to get the right component and assemble them and want tech support, then buy a pre-built PC. However, someone who has knowledge of computers and hardware and can do basic troubleshooting on their own should buy a custom computer as you get better performance for the same price.