In this tutorial, we will show you how to use Bionic Reading in Firefox on Windows 11/10. Bionic Reading (invented by Renato Casutt) is an interesting method in which the most concise parts of words (called artificial fixation points) are highlighted that help to guide your eyes over the text. In simple words, the first few letters (say 2,3, etc.) or different parts of the words available in a text or paragraph are made bold (like The Windows Club) to focus on reading. So, instead of reading an entire word, your mind can remember the whole word quickly which can also be a bit helpful in speed reading.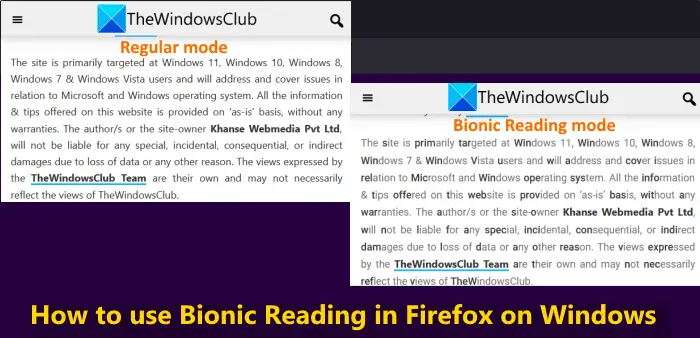 As you can see in the image above, the fixation points or highlighted parts of words help your eyes jump from one word to another to process the text faster than normal reading. Now let's see how this can be done in the Firefox browser. While there is no such option in Firefox to turn on or enable Bionic Reading mode, we will use a free add-on called Bionic Reader.
Is there a Bionic Reading font?
As of now, there is no such font with a Bionic Reading style. So, you need to use some Bionic Reading extension or add-on or an online tool that can turn a webpage or text to Bionic Reading mode. You can use Bionic Reading on Chrome or Edge browser using a free extension. For Android and iPhone users, a Bionic Reading app is also there to use. And those who use Firefox as their main browser can use this Bionic Reader add-on.
How to use Bionic Reading in Firefox on Windows 11/10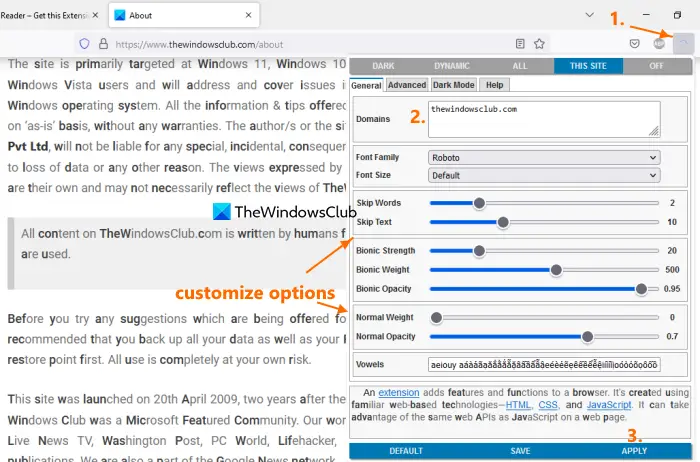 Here are the steps to use Bionic Reading in Firefox on a Windows 11/10 computer:
Open the Firefox browser
Access the homepage of the Bionic Reader add-on from mozilla.org and install it
Open a webpage for enabling the Bionic Reading on that page
Click on the add-on icon available on the top right part of the Firefox browser to open its menu or settings
Add the domain of that webpage that you opened in the available text field or press the THIS SITE option to add it automatically. You can also use the ALL SITE option to enable Bionic Reading for all the opened webpages on your Firefox browser
Press the Apply button
This will refresh that webpage and Bionic Reading will be enabled on that webpage and all other webpages of that site.
Customize Settings of Bionic Reader Firefox add-on
This add-on works well with default settings, but there are some important settings or options to use for Bionic Reading mode. Once you have opened the add-on menu, you can customize the settings of this Bionic Reader Firefox add-on as per your needs. Some of the important settings are:
Skip or exclude words and text from applying the Bionic Reading style. You can set the length for words and text using the available sliders
Set Bionic Strength (more bold characters), opacity, and weight. A separate slider is available for each of these options
Set normal weight and normal opacity level for other letters not including to Bionic Reading style
Change Font Family: Roboto Mono, Roboto, Sans Serif, Monospace, etc., options are available to select
Keep font size for webpages to default or set it to 110%, 130%, etc.
Turn on the dark mode for webpages. Use the DARK button for this
Adjust overlay opacity for dark mode. Switch to the Dark Mode tab and use the slider to set the opacity level
Input different characters for vowels for different languages in the available text box
Use the SAVE button to keep all the settings that you customized
Switch to the DEFAULT settings.
That's it! This add-on is quite useful indeed, but it can be improved further. At first, it doesn't let you preview the changes in real time. You need to use the APPLY button. A preview box is there in the add-on menu though. Secondly, it works after adding the domain only. You can't use it on a particular webpage. Other than that, everything is fine.
Is there a program that will read the text to me?
If you want to read aloud text in Windows 11/10, then you can enable and use the Narrator feature. This is a built-in screen reading and text-to-speech app of Windows 11/10 OS to read the text in a document or on the desktop screen. You can also use some free text-to-speech software like Balabolka, NaturalReader, etc., to read DOCX, PDF, or other documents.
Read next: How to browse in Text-Only Mode in Chrome, Edge, or Firefox.