Most users use Google, which is the most popular search engine, to search for their queries. By default, SafeSearch is OFF on the Google search engine. However, you can turn it ON to filter explicit search results on your system. We have explained the same in this article.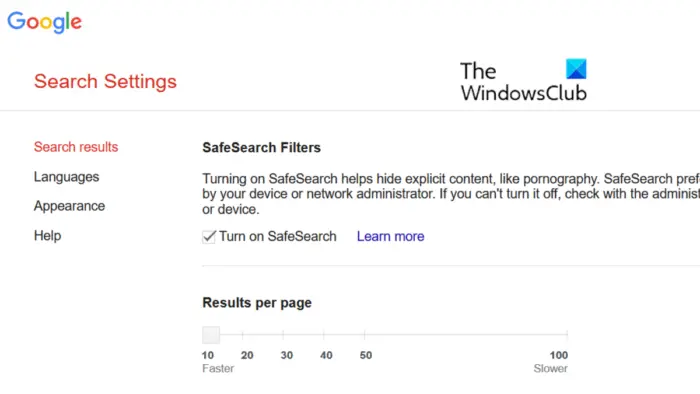 How to turn ON SafeSearch in Google Search
The procedure to turn OFF SafeSearch in Google Search is as follows.
Open Google.com.
Click on Settings at the bottom-right corner.
Select Search settings from the menu.
Under the category of SafeSearch filters, check the box associated with Turn on SafeSearch.
Scroll down and click on Save to save the settings.
Now anything you search will be filtered for explicit results.
Alternatively, whenever you search images, you will notice the switch for SafeSearch at the top-right corner.
What is Google SafeSearch?
Google SafeSearch is a feature that allows users to filter explicit search results. This filter applies to web results, images, and videos. The SafeSearch option is of critical importance for schools, workplaces, and parents. Once this option is turned ON, you can be stress-free about explicit content appearing in the search results.
Is Google SafeSearch foolproof?
Google SafeSearch is not foolproof according to the disclaimer on the official page. However, it is almost foolproof lately. The reason is the rise of artificial intelligence and Google's lead with the same. Bots can analyze any content and filter it out.
Does Google filter secondary search results?
A secondary result would be a page after a page. As an example, if you reach a website that links to another webpage or let's assume you access another search engine through Google. In that case, Google does not filter secondary search results.
If you wish to filter secondary search results, you can try the following.
What to do if I get explicit results despite turning SafeSearch ON?
In case you get explicit results despite using Google SafeSearch, you should report it at support.google.com. It might not do away with the search result immediately but will inform Google who will ethically review the page. It should also be noted that Google doesn't filter explicit content which has "significant artistic, educational, historical, documentary, or scientific value" according to their statement. So, if you encounter such content, the most you can do is ignore it.
How do I turn OFF Google SafeSearch?
The procedure to turn OFF Google SafeSearch is the opposite of turning it ON. Go to Google.com. Select Settings > Search settings. Uncheck the box associated with SafeSearch. If any tab or window was already open while searching through Google, then you can reload it.
Why does Google SafeSearch keep turning ON?
Google SafeSearch keeps turning ON because external settings on your system might be preventing you from accessing explicit content. In this case, you will have to modify the settings of your computer. Also, third-party applications could be preventing the function.