This post will show you how to turn off Xbox Narrator. A narrator is a screen reader that reads text, buttons, and other elements aloud on your Xbox console or Windows device. It is a useful feature, but some might find it frustrating. If you also face the same issue, keep reading this post to fix it.
How to Fix Xbox Narrator not turning off?
The Narrator may not turn off due to controller or input issues. However, it can also occur due to a software glitch. You can follow these suggestions to fix it:
Modify Xbox Settings
Power Cycle Xbox Console
Check the Xbox Controller.
How to Turn off Narrator in Xbox Console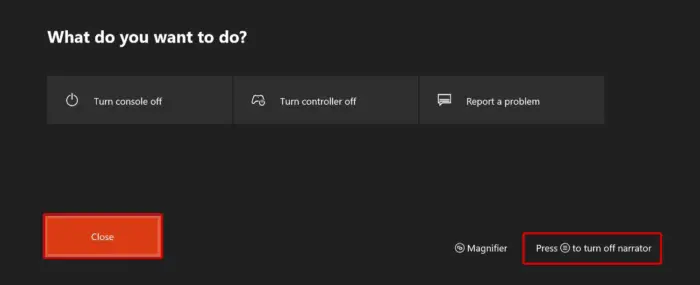 Press and hold the Xbox button till it vibrates
Now, press the Narrator button in the bottom-right corner. Repeat these steps to turn off Narrator.
OR
Open the guide by pressing the Xbox button.
Navigate to Profile & system > Settings > Accessibility > Narrator on to turn it on or off.
How to turn off Narrator in Windows
Press Windows + I to open Settings.
Navigate to Accessibility
Disable the toggle beside Narrator.
Read: How to configure Narrator settings in Windows
I hope this helps.
Why is my Narrator stuck on Xbox?
The Narrator may be stuck if your controller's not working as expected or due to input issues. Other than that, it may also occur if the settings are misconfigured and software glitches.
How do I turn off audio Narrator?
To turn off Narrator, Click on Start and open Settings. Then navigate to Accessibility and turn off the toggle beside Narrator.