Microsoft OneNote comes bundled with Windows 11/10. This means you don't have to purchase a retail copy of Office suite or pay for Office 365 subscription for you to be able to take notes with OneNote. OneNote is a digital notebook that automatically saves and syncs your notes as you work. With OneNote, you can perform actions such as;
Type information in your notebook or insert it from other apps and web pages.
Take handwritten notes or draw your ideas.
Use highlighting and tags for easy follow-up.
Share notebooks to collaborate with others.
Access your notebooks from any device.
We have already taken a look at some useful OneNote features and the basics of using it – now let us see how to use it effectively.
How to use OneNote effectively
This tutorial will show you how to take notes with OneNote & use it effectively for college, university, professional, etc., work on Windows 10. A few programs can solve your math equations, record audio, & embed online videos. OneNote could be the digital notebook you didn't know you needed.
To begin, you'll have to launch the OneNote app. To do so, click Start, type onenote, select the app from the result.
You'll be presented with a Get Started window already signed in with the Microsoft Account you used to logon to your Windows 10 PC. You can change the account to another if you want. This ensures your notes are saved to the cloud and can sync to all your other devices.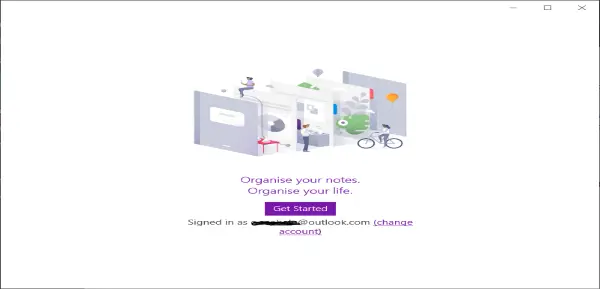 Now click on the Get Started button, and the app opens, ready for you to start taking notes.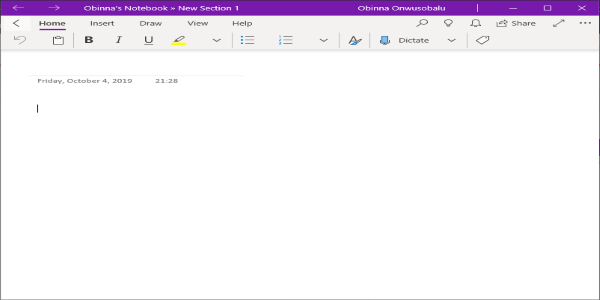 From here, you can type notes, write notes, convert handwritten notes to text, and even record audio notes.
Type a note
Click or tap anywhere on the page and start typing. All of your work is saved automatically.
Move a note
Drag the top of the content box to where you want it on the page.
Resize a note
Drag the side of the content box to resize it.
Handwrite notes
You can handwrite notes with a mouse, stylus, or finger. Select Draw, select a pen and start writing.
Convert handwriting to text
Choose Select Objects or Type Text or Lasso Select.
Draw a circle around the text and select Ink to Text.
Now you can edit the text the same way you edit your typed text.
Use OneNote to record audio notes
Click or tap the page, and then select Insert > Audio. OneNote immediately starts recording.
To end the recording, select Stop.
To listen to the recording, press the Play button, or double-click the audio recording.
Watch the video below, for a quick demo on taking notes with OneNote
If you're new to OneNote, the key is to explore its broad set of features and take the time to build a workflow that works best for you.
There are tons of OneNote tutorials here on this site, and you might especially like these two: