Meta introduced WhatsApp Channel to give users a medium to broadcast their messages. You can subscribe to a WhatsApp Channel of your favorite creators, influencers, and any organization or individual. If you are new to WhatsApp channels and want to know how to do the same, this post is for you.
What is a WhatsApp Channel?
Like the Telegram Channel or any other broadcasting network, Meta introduced WhatsApp Channels. It is nothing more than a broadcast network where the creator can send messages or updates to subscribers, similar to Telegram or Instagram channels. Creators and anyone who has received the update to create a channel can do that and share their channels. Do keep in mind that it's different from WhatsApp groups because only the owner of that channel can send messages or create posts.
How to Subscribe to a WhatsApp Channel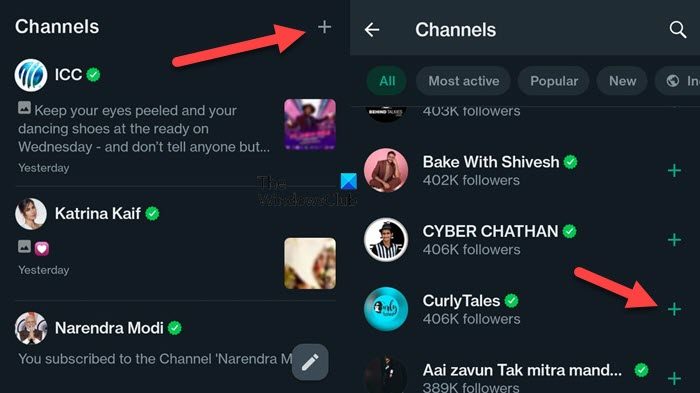 It is pretty simple to subscribe or join a WhatsApp Channel. You can even find channels of your choice and then join them. To subscribe to a WhatsApp Channel, follow the steps mentioned below.
Open WhatsApp on your device, and go to Updates. If you are using WhatsApp web, click on the Channel icon. You can hover over icons to find out which one is that of Channels.
Now, click on the Plus (+) icon and then select Find Channels.
You can look for channels of creators you like and join them.
However, if someone has shared with you the link to the channel you need to join, there is no need to follow the aforementioned steps; all you need to do is either tap on the link or press the View Channel button and then on Follow. You will join a channel nonchalantly.
Read: How to set up a WhatsApp Channel
How to Unfollow or Unsubscribe from a WhatsApp Channel
Sometimes, we may not like the contents of the WhatsApp channel. In that case, you can unfollow that channel and look for an alternative. To unsubscribe from a WhatsApp Channel, you need to follow the steps mentioned below.
WhatsApp on the web
Open WhatsApp on any browser and then click on the Channel button.
Now, click on the Channel you want to unfollow.
Once that channel's page appears, click on the three dots and select Unfollow.
You will be asked to confirm your action, so click on Unfollow again.
WhatsApp on Mobile
Open the WhatsApp application on your mobile.
Go to the Updates tab.
Tap on the Channel you are done with, click on three dots, and select Unfollow.
Confirm your action and you are good to go.
This will do the trick for you.
Read: How to use WhatsApp Communities on PC and Phone
Is WhatsApp channel available in India?
Yes, WhatsApp is rolling out updates in 150 nations including India. However, the update to create channels will not be available to all WhatsApp users at once. You won't be able to create a channel if the update is not rolled out for you, meanwhile, you can subscribe to existing to channels to understand how the dynamic works.
Read: How to create a Sticker on WhatsApp Web or WhatsApp Desktop?
Is WhatsApp Channel free?
Yes, WhatsApp Channel is free just like groups in WhatsApp. It is available with the free app that one can download from their respective app stores and there is no need to pay premium to access the feature.