Messaging is no longer the same where folks are always required to send texts to each other. These days we have emojis and stickers to express our feeling, and surprisingly, such options have become legit ways to communicate. Now, if you use WhatsApp, you'll realize it comes with a sticker feature. You can either use the available options or better, yet create your own.
Can stickers be created on WhatsApp desktop?
Yes, you can easily create your own stickers via the desktop version of the app. We like this because Meta in the past, only allowed basic features for the web and the desktop version of the app. But that is changing since it is even possible right now to make video and voice calls.
Creating your own stickers on WhatsApp is important for those who are tired of the old options. Some folks want to have unique stickers not found anywhere else, and as such, the best way to get these unique stickers is to create their own.
What are the requirements for custom WhatsApp stickers?
According to Meta, each sticker must have a transparent background.
Each sticker needs to be a size of less than 100KB.
When it comes down to pixels, each sticker must be 512 x 512 and no more or no less.
How to create personal stickers on WhatsApp web and desktop
Creating stickers is easier than you might think. If you have the right tools, then you won't be affected by most problems. The information below will help you a great deal, so ensure reading the article carefully.
Download WhatsApp Desktop
Link your WhatsApp devices
Open the Sticker section
Create a Sticker in WhatsApp Desktop or Web
1] Download WhatsApp Desktop or launch desktop
To begin, you must first ensure WhatsApp is running on your computer. If you want the app, go to the Microsoft Store and search for WhatsApp Desktop.
If you're not interested in downloading the desktop app, then use WhatsApp Web via your supported web browser. Visit web.whatsapp.com. to get it done. Bear in mind you'll need to have WhatsApp installed on your smartphone to use either option.
2] Link your WhatsApp devices
After opening either the Desktop or Web app, you must now launch WhatsApp on your smartphone. From there, tap Menu or Settings, and select Linked Devices. Point your smartphone camera to WhatsApp Desktop or WhatsApp Web screen to capture the QR code.
3] Open the Sticker section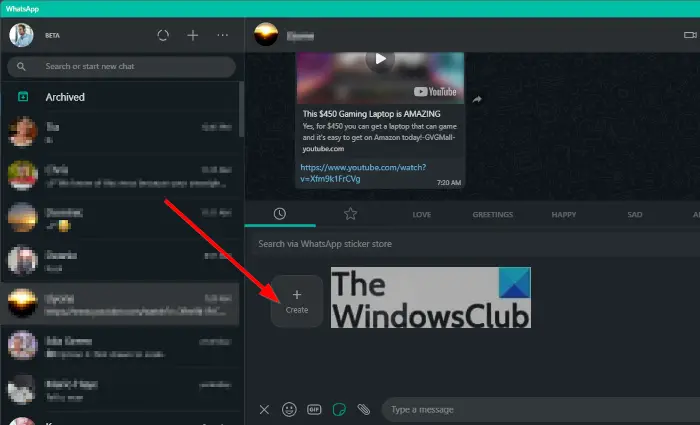 The next step here is to open WhatsApp on your computer, then navigate to one of your conversations. From there, click on the emoji icon, and select the Sticker icon to the right of it.
4] Create a Sticker in WhatsApp Desktop or Web
After opening the Sticker section, you will now want to select the Create button. From there, choose a photo you want to be the primary face of the sticker from File Explorer, and hit Enter or Open. You should now see an image edit section with a toolbar at the top that contains several editing options.
Use them to make changes to your image, and when completed, click on the Done button.
Read: What happens when you Block someone on WhatsApp or Instagram?