Discord has come increasingly in use for a myriad of purposes. Be it streaming gameplay and videos or casually interacting with your close ones, Discord's audio and video services are top quality, and its additional features just take it a notch above all rest. With such abundant use of its services, it can be cumbersome if you are facing issues where the app lowers the volume itself. This is related to the app's Attenuation feature and can be fixed accordingly. Today, we will see how you can stop Discord from lowering the app volume by itself on Windows systems.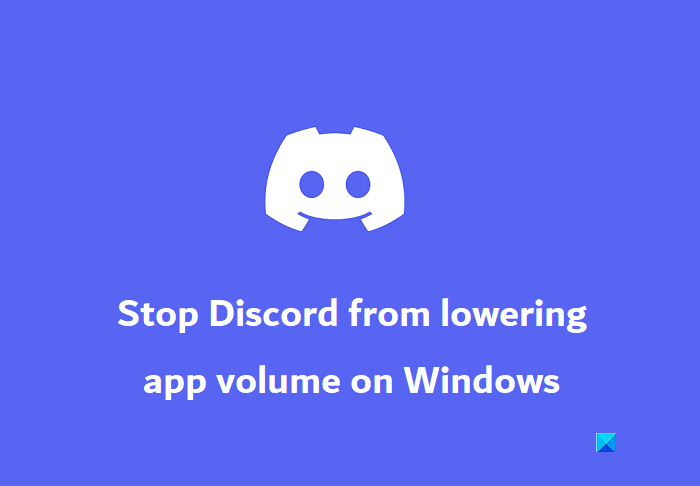 Stop Discord from lowering the app volume
The Attenuation feature can be very handy because it automatically drops the volume of other applications so that you can have clarity in the application you are using at the time. Thinking of it in the context of the problem at hand, if the Attenuation feature on Discord is enabled and working at a high rate, then it might reduce the app volume at times. Here is what you can do about it:
Open the Discord app on your PC
Click on the Settings icon available at the bottom-left corner of the screen, next to your profile icon
Under App settings, select the Voice & Video tab from the sidebar
Scroll down till you get to the Attenuation settings. Use the slider and take Attenuation's efficiency to 0%
Press Esc or exit this menu to save the changes, and thereon, you shouldn't face Discord lowering the app volume on its whim.
Fix Attenutation not turning off on Discord
The only problem you might face here is Discord Attenuation not turning down, in which case you can try one of the two fixes discussed below.
Turn off exclusive control from Sound settings
Disable Windows Communications Activity
1] Turn off exclusive control from Sound settings
If the exclusive control option is enabled on your PC, then any app currently using the sound utilities possesses a high control over them and can lead to some sound configurations not working.
Open Windows Settings and select the System tab
Further, click on Sound and scroll down to open the More sound settings prompt
Right-click on the current sound output device listed in the Playback section and select Properties
Visit the Advanced tab and uncheck the box that says "Allow applications to take exclusive control of this device."
Click on Apply and then Ok to save these changes, after which you should go back to the Discord app to check if Attenuation is configurable again or not.
Read: Discord Stream Stuck on loading or Not loading
2] Disable Windows Communications Activity
The Windows Communications Activity utility administers sound communication on your PC. It is responsible for detecting communication via an application and taking further action accordingly. Disabling it is one of the most common fixes for sound errors on Windows.
Open Windows Settings
Click on System > Sound
Click on More sound settings and from the subsequent options prompt, select the Communications tab
Select the Do nothing option "When Windows detects communication activity" and save this change by Apply > Ok
Any issues you were facing with Discord Attenuation should now be fixed.