Windows 10 allows multiple users to have their own accounts, which is a convenient way to keep settings and files separate for a more personal experience. However, if logged-in users don't sign out, their account will continue to run apps, services, and other processes, which can end up consuming significant system resources that can negatively affect the performance for the user actively logged in and using the device. In this post, we will demo how to sign out other inactive users from a current session.
In a nutshell, a User Account is an identity created for a person in a computer or computing system. User accounts can also be created for machine entities, such as service accounts for running programs, system accounts for storing system files and processes, and root and administrator account for system administration.
Like most operating systems, Windows 10 supports multiple accounts located on the same computer. It simply means that if you do not want someone to log into your profile and view everything you've been up to, then simply create a separate profile.
After the other user has logged into their new profile, they might forget to log-out after they've finished. When this happens, you'll find out that their login process is still running in the background and will no doubt affect your performance.
How to Log off other users in Windows 11/10
In this article, we are going to explain how to sign out other users who are using the same computer in order to preserve resources and keep performance up. There are two ways to do this, and as such, we are going to talk about them. Do note that you have tobe an Administrator to be able to do this.
The best option here is to sign out via the Task Manager due to how easy and efficient it is to get done. Not to mention, many users already have a lot of experience using this tool. The procedure involved is simple:
Launch the Task Manager
Select the Users tab
Locate the User
Right-click and select Sign off.
Apart from this, you can also Sign out other users by using the Command Prompt. Let us look at both these from a more detailed perspective.
To fire up the Task Manager, please right-click on the Taskbar, then select Task Manager from the displayed options. Alternatively, you could just press Ctrl+Shift+Esc to get it up.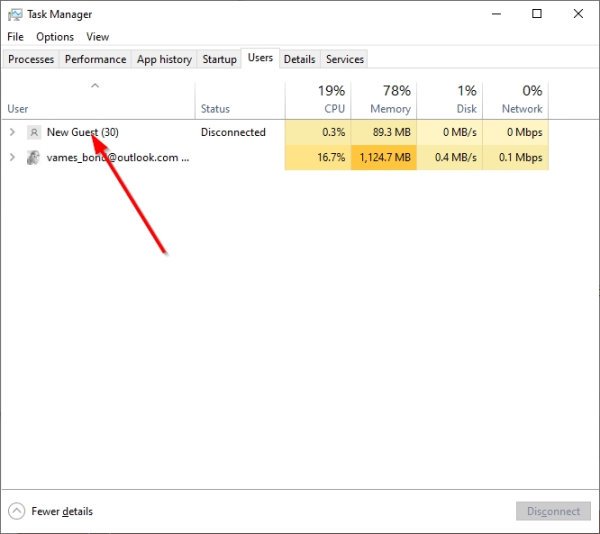 After opening the Task Manager, you should come across a section with several tabs at the top.
The plan is to click on the User tab since that is where you will get to see a list of all currently logged in profiles on Windows 10.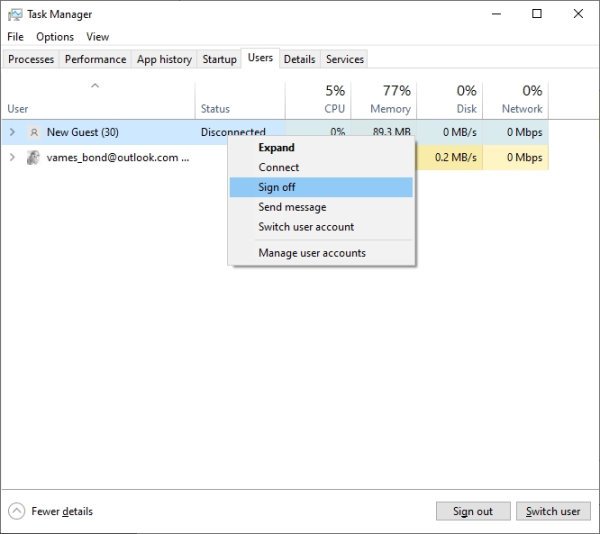 OK, so in order to sign a user out of their profile, you must right-click on the relevant name, then select Sign Off > Sign Out User to complete the task.
Alternatively, instead of right-clicking on the user's name, simply select it then click the button at the bottom that reads, Sign Out.
Sign out other Users by using the Command Prompt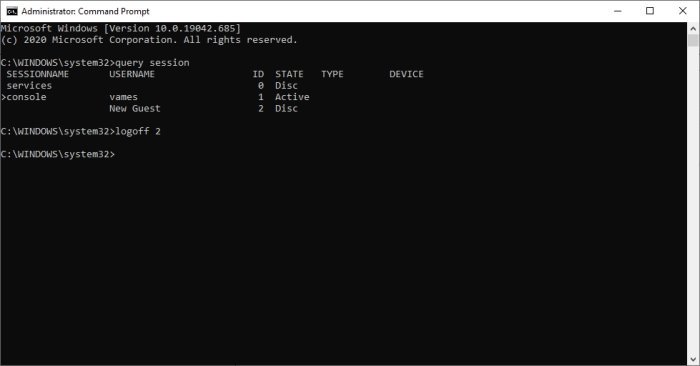 If for some reason the Task Manager doesn't work for you, then the Command Prompt is the next best option.
First, open the Command Prompt by searching for CMD via the search box. From the search results, right-click on Command Prompt then select Run as administrator to fire it up. The next step, then, is to copy and paste the following command:
query session
Doing this should identify all users who are currently signed into the computer. Now, bear in mind that each user has an ID attached, which is very important.
Now, to log a user off, please use the following command, but be sure to replace "ID" with the correct ID number:
logoff ID
So, if you want to sign out the user with ID #2 attached, please type logoff 2 in the Command Prompt, then hit the Enter key to initiate the removal.
Note that when the Command Prompt is used for this task, it does not give confirmation on whether or not the user has been logged off, so make sure mistakes are not made.