A headset or headphone is one of the coolest devices because it gives you freedom from external noise, and deliver an immersive audio experience. While connecting a headset to a Windows 10 computer is not a big deal, its mostly plug and play, but if you want to go through some of the basics, here is the post. We will share how you can correctly set up a headset on Windows 10 PC.
How to set up & use a Headphone on Windows 10 PC
This essential guide is for those who either have a problem connecting the headset to Windows 10 PC or want to learn the basics.
Connect a headset (Wired and Bluetooth)
Selecting the right output device
Recording audio using the headset
Setup Headphone as default output and an input device for apps
Troubleshooting
It is possible that an OEM software might be available for your headset, which enhances your audio experience. If yes, make sure to install and configure it.
1] Connect a headset
If you have a wired earphone, then you should see two ends. The audio one is usually green in color, and the microphone is pink. They also have icons to differentiate between them. Insert the wires into their respective port of your desktop or laptop.
If its a Bluetooth device, you will have to pair Windows 10 with the headphone. Here are the general steps:
Long press the Bluetooth button or the power button on your headset to set it in pairing mode.
Make sure Bluetooth is on. If there is a physical switch, toggle it on.
On your Windows 10, go to Devices > Bluetooth and other devices > Click on Add Bluetooth and another device button.
Click on Bluetooth.
It will then search for the headset, which is already in pairing mode. Once you see in the list, click to pair.
It should then instantly connect.
Play some music, and you should hear the music streaming.
2] Selecting the right output device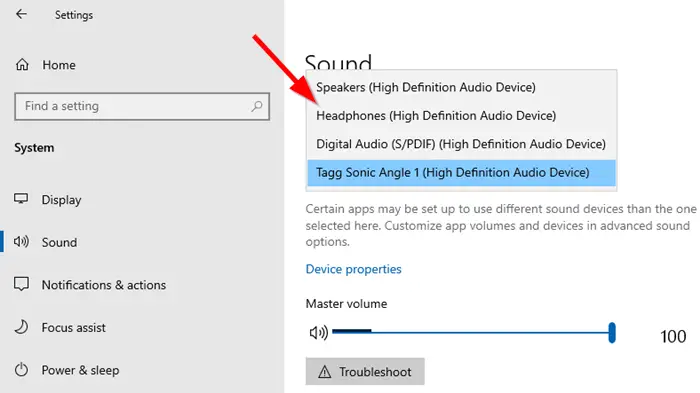 While Windows should automatically switch the output device to headphones as soon as you connect it, if it doesn't, here is how you can change the output device.
Open Windows 10 Settings > System > Sound.
Under Output, select your headphone from the dropdown.
Adjust the volume using the Master Volume Slider.
If that doesn't work, try switching to each of them, and if you hear the audio, then that's your headphone.
3] Recording audio using the headset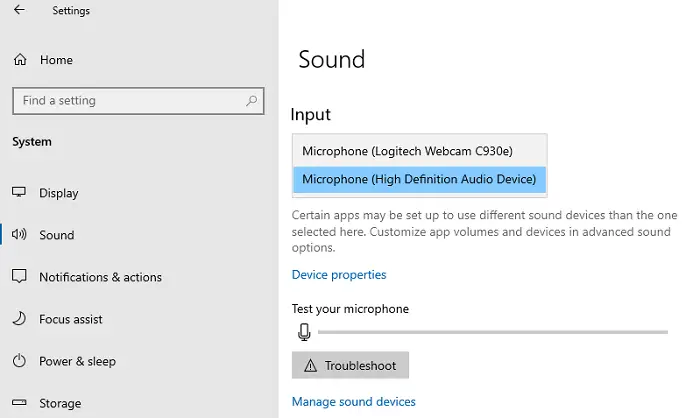 It should work out of the box if your headphones as a microphone. You will need recording software, and choose the headphone microphone as the default mic to record audio.  Like we wanted the default output device, we need to select an input device as well.
Open Windows 10 Settings > System > Sound.
Under Input, select your headphone mic from the dropdown.
You can speak into your microphone to check if the volume is good enough. If not, click on Manage Sound devices to configure it.
You will have to select the microphone for each application manually. If you have multiple microphones (webcam, headphones, dedicated mic), you can switch to what works best for you.
4] Set up Headphone as default output and an input device for apps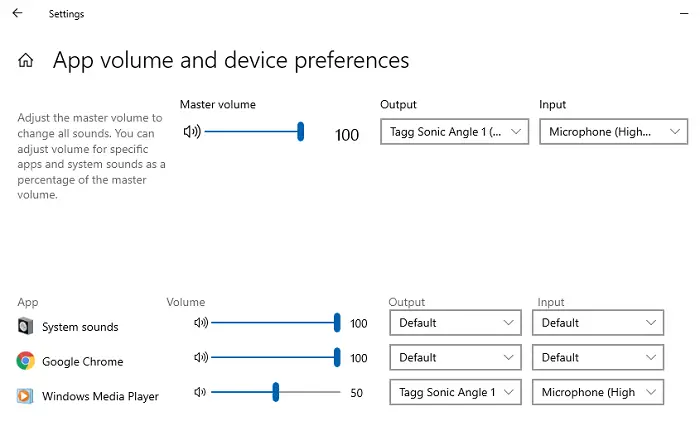 Windows 10 allows you to link the headphone to applications to be used as input and output devices. If you use your headphones for gaming or listening to music with dedicated apps, you can set it up. Post that, you will never have to change it every time.
Open the application for which you need to configure.
Go to Windows 10 Settings > System > Sound > App Volume and device preferences.
Find your app, and then select headphones as your Output and input device. You can also set up the volume level.
If you use multiple headphones, one for gaming, one for video calls, and so on, it is the place where you can configure all of them.
5] Troubleshooting
If you face issues with your headphone or the microphone, then use the Troubleshoot button available in the Sound settings. It will look into various settings that might be causing the problem, and help you resolve it or suggest you take some steps to fix it.
That concludes our guide on how you can setup a headset on Windows 10 PC (Wired and Bluetooth).  I hope it was easy to follow.