Netflix is, without a doubt, one of the most popular OTT platforms in the world and is only getting bigger, with an exceptionally wide user base. As a Netflix user myself, I sometimes want to capture a moment on the screen, for example, a still from a movie or TV show, but Netflix's security policy doesn't allow users to do so. Using the Print Screen option on Windows just yields a black screen, but luckily there are some workarounds in place. In this article, we will look at a few ways in which you can take a screenshot on Netflix without it resulting in a black screen.
Netflix and most other prominent OTTs like Prime Video and Hotstar make your screenshots turn a black screen because of security purposes. It is a very secure way for Netflix to ensure that its content cannot be pirated very easily by unscrupulous users. Netflix has deployed HW-based Digital Right Management (DRM) to stream content on its platform. This links up to the device's secure media path and prevents any captures during the streams.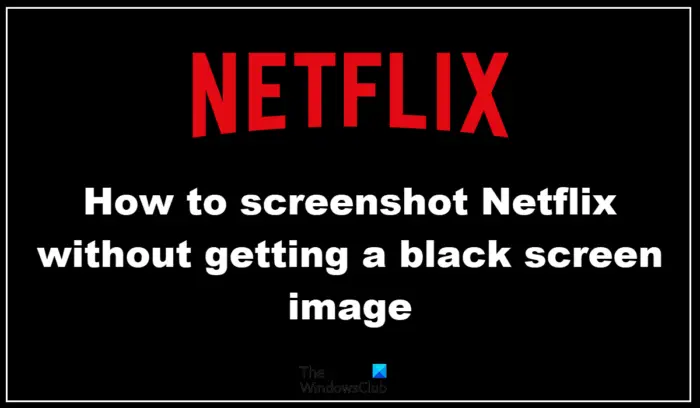 How to screenshot Netflix without getting a black screen image
To get an actual screen grab on Netflix without a black screen, there are several courses of action that you can take. There exist browser extensions, third-party apps, and even some browser settings modifications that can help you with that. We will be discussing three ways to screenshot Netflix below:
Using the Fireshot browser extension
Using the Sandboxie desktop app
By disabling Hardware acceleration
1] How to screenshot Netflix using the Fireshot browser extension
The Fireshot browser extension makes it very easy to take screenshots of your Netflix viewing and provides several options on top of that as well.
Download the Fireshot browser extension from the Chrome web store and install it on your browser
Open the TV show or movie from which you want to take a screenshot
Pause at the moment that you want to capture and click on the Fireshot extension's icon (for convenience, you should pin the extension)
You'll then be given an option to either capture the entire page, the visible section, or some particular part of the screen
Once you've captured the screenshot, you'll be taken to the Save Screenshot page where you can select the picture format or if you want to save it as a PDF
That's how effortlessly you can take a screenshot and avoid facing a black screen on Netflix using Fireshot.
2] How to screenshot Netflix using Sandboxie
An alternative to the Fireshot extension is to use an app called Sandboxie. Available for 32 and 64-bit systems, this app especially comes in handy when you want to take multiple screenshots from the same movie/show.
Download and install Sandboxie (or Sandboxie Plus).
Once downloaded, open your desktop, right-click on the Sandboxie icon, and select Run as Administrator
This will open a window of your default browser with a yellow outline all around it. Now, open Netflix and start streaming the video from which you want to take screenshots
When you're at the moment in the video that you want to capture, simply use the built-in shortcut keys 'Win + Prt Sc'
Since these screenshots can be saved directly, it saves you time and helps you make a bunch of them conveniently.
3] Take screenshots on Netflix by disabling hardware acceleration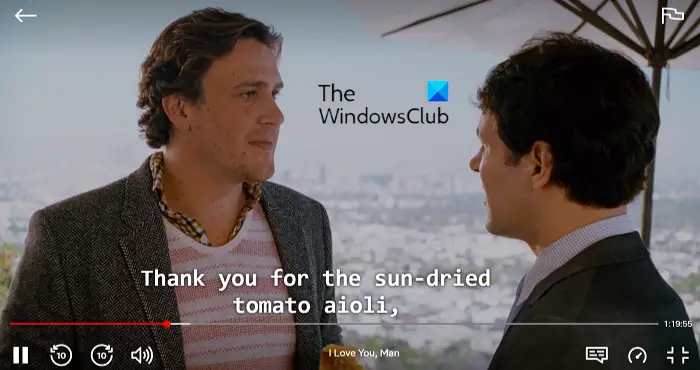 A lesser-known fact among users is that having hardware acceleration enabled on your browser prevents you from taking screenshots on Netflix, or any OTT, without facing a black screen. Thus, a way to override the issue is to disable hardware acceleration before screenshotting Netflix. Since it's a feature available in several browsers, it is disabled differently in each of them. Below, we have shown how you can disable Hardware Acceleration on Microsoft Edge.
Open Microsoft Edge and click on the triple-dotted icon (Settings and more) at the top-right corner
Scroll down till you reach Settings and click on it
Click on the System and performance tab from the list to your left
You'll find a tab that says "Use hardware acceleration when available". Toggle the option off and subsequently restart the browser
It is the easiest and most convenient option out of the ones discussed here, but disabling Hardware Acceleration from your browser robs you of its benefits like improved battery life, performance, and responsiveness. You can also read up on how to disable Hardware Acceleration on Google Chrome and Firefox.
Read: Fix Netflix Blue Screen when watching videos
Why is the screen black when I screenshot Netflix?
Now that we have discussed how you can work your way around the black screenshots on Netflix, it's worth pondering over why this is caused in the first place. Netflix doesn't allow its users to take screenshots under default settings. In trying to do so, they face a "Couldn't capture screenshot" prompt. Similarly, creating screen recordings doesn't work either.
The reason Netflix does this is to prevent pirating of any sort on its platform. If these restrictions are not put in place, then there is very little to prevent users from creating copies of the original work on Netflix and redistributing it. Lucky for you, however, there are some workarounds in place that can help you take screenshots despite Netflix's rigid security policy.
How to screenshot Netflix on Android?
Much like the case on PCs, taking Netflix screenshots on Android is prohibited as well. The default screenshot setting with the Power button and the volume button does not work on OTT platforms like Netflix and Amazon Prime Video. Like Windows too, there exist screen recording and other third-party applications like the XRecorder app to bypass the black screen faced while taking screenshots on Netflix.
We hope that you find this post helpful.