GNU Image Manipulation Program (GIMP) is a free open-source, cross-platform image editing software.  GIMP has a lot of advanced features like some of the top graphic editing software, so it is used by professionals and hobbyists. With is a free alternative to some of the top paid graphic software available. GIMP is also able to connect to your scanner so that you can scan directly to GIMP. It would be good to learn how to get GIMP to recognize your scanner so that you can scan an Image.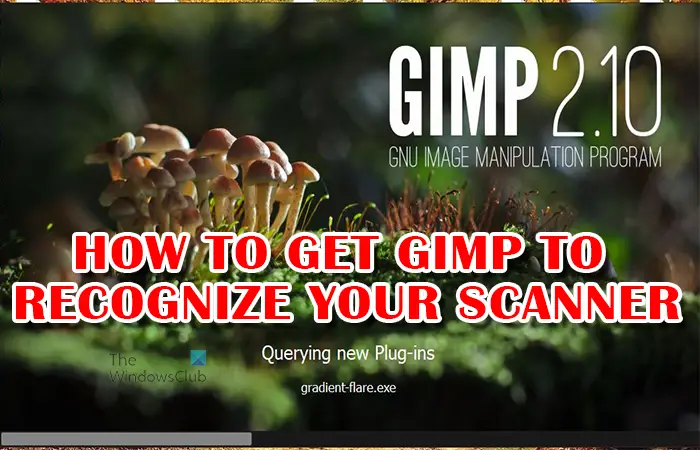 How to scan an Image with GIMP
A cool feature of GIMP is its ability to connect to a scanner. If the scanner has TWIN compliant driver, then it can be connected to GIMP. TWAIN is an application program interface and communication protocols that allow for communication between software and imaging devices such as scanners, cameras, etc. there are a few steps that can be taken to ensure that GIMP will recognize your scanner.
1] Get a TWAIN-compliant scanner
With so many scanners available, manufacturers need a way to make sure that their devices can connect to the software and communicate properly. The TWAIN API goes between the scanner and the software, allowing them to communicate. Whenever you go to purchase a scanner, you can ensure that the scanner is TWAIN compliant.
If you have an older printer that you bought before learning this, you may be able to get a TWAIN compliant software from your scanner's manufacturer's website. The scanner's manufacturer may have updates on their website so you need to update if your current Scanner is not TWAIN compliant.
2] Set up the scanner in GIMP
This is the step that will help when you are ready to connect the scanner to GIMP because you updated your scanner's software, or you have a new TWAN compliant scanner.

To begin the connection, make sure that the scanner is connected to the computer and that it is powered on. In GIMP go to File then Create then Scanner/camera.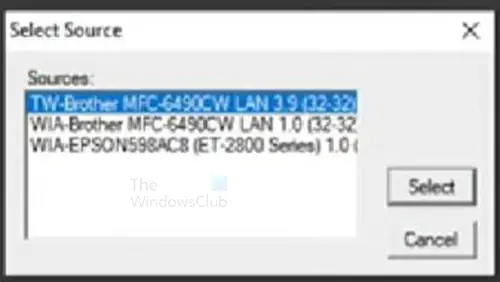 You will see the Select source window appear. You will see the available scanner or scanners displayed. Choose the scanner that you want then press Select.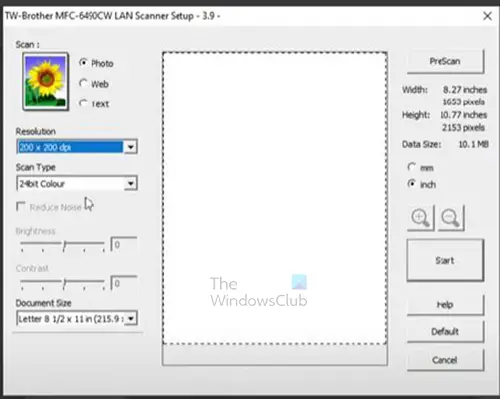 The Scanner setup page will pop up for you to choose the settings that you want for the scan. You can change the Scan resolution of the document by pressing the drop-down arrow under Resolution. You can then select the desired resolution that you want for the scanned document. You can make other adjustments to suit your preferences.
3] Scan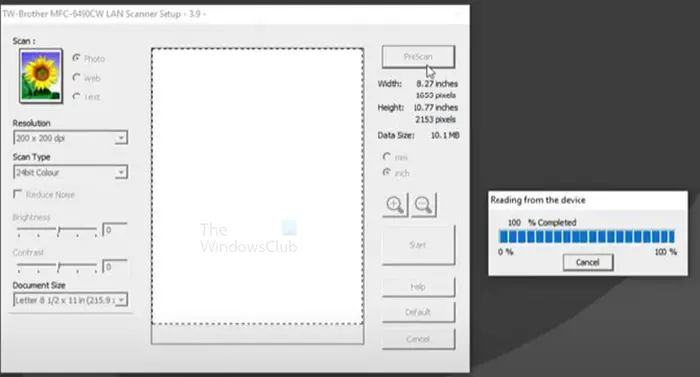 When you are finished with the setup you can press PreScan or Start. PreScan will scan the document, but it will just be a preview so that you can see what the scan result will be, and you can do it over. If you are satisfied with the PreScan, you would then press Start to scan with those settings. The image will be scanned, and the result placed in GIMP. If you press Start without doing the PreScan first, the document will be scanned and placed in GIMP without giving you a preview.
4] Save
The next step is to save the image before doing anything else. This is important as the image could get lost if there is a PC issue. To save the image go to File then Save.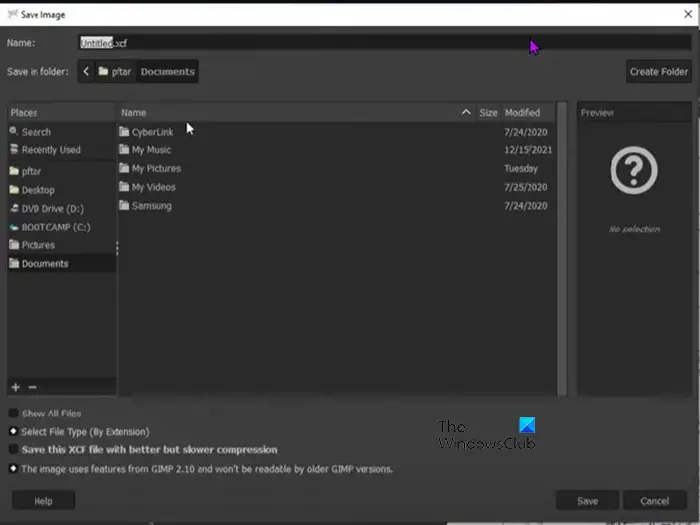 The Save as Dialogue box will appear. name the file and save it as a GIMP file (.xcf).
GIMP is not recognizing my scanner
GIMP may not recognize the scanner for a few reasons. Regardless of whether the scanner is new or used, one of the following could be causing the problem.
The scanner does not have TWAIN compliant driver. This can be addressed by checking if there is a newer version of your scanner's driver on the manufacturer's website. Updating the driver may fix this issue.
Windows may need updating, if Windows does not have updated drivers it could cause GIMP to not recognize the scanner. Fix this problem by updating Windows.
There may be an issue with the cable if the scanner uses a cable or there could be a problem with wireless hardware or software. Make sure that the USB cable is connected properly and is not damaged. Run troubleshooting on the wireless card to ensure that it is working properly. Make sure that the drivers are up to date.
GIMP no longer recognizes scanner after upgrading
If you run into the problem of your scanner no longer appearing in GIMP after GIMP was upgraded, you can try a few things.
Check your scanner manufacturer's website to see if there is an upgrade for your scanner's software. Also, check if there are known issues stated on their website or their community and what is being done to address them.
If there are no updates for your scanner's software, try to uninstall and reinstall the scanner's software.
Check to make sure that Windows is updated.
Read: Create Black-and-White Photos using Desaturate in Photoshop
What is GIMP used for?
GIMP stands for GNU Image Manipulation Program. It can be used for photo retouching, image composition, and image authoring. It can be used for painting, high-quality photo retouching, online batch processing system, mass production image rendering, and image format converter. GIMP is expandable so it can use other plugins and extensions. This allows it to get more features added to it.
Why is GIMP so popular?
GIMP is free and it can be used to do high-quality graphics. GIMP is also popular because it is open source and anyone with knowledge of coding can add their own capabilities to GIMP to make it more comfortable for them.