Let's say you need to resize your open explorer or program window to a particular predefined exact size, and you need to do it frequently! How do you do it? Use freeware Sizer! Here is everything you need to know about Sizer, which is compatible with Windows 11 as well as Windows 10.
At times, you might need to resize a program to a specific window size due to any reason. As Windows doesn't display the size when you resize, it is not possible using the in-built options. That is why you can take the help of Sizer.
Sizer lets you resize Explorer & Program windows to an exact size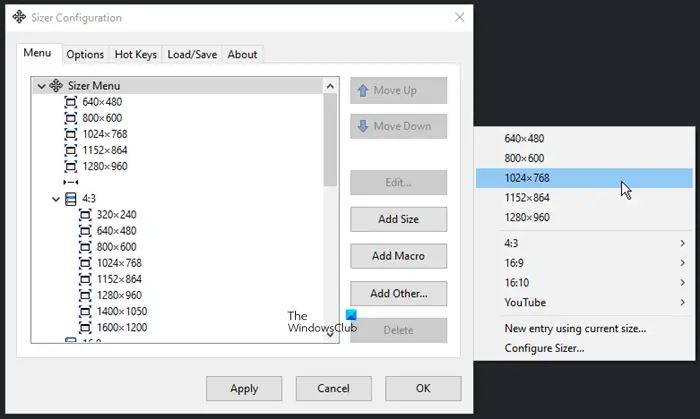 Sizer is a freeware utility that allows you to resize any window to an exact, predefined size from the right-click context menu. It also allows you to re-position the resized window to an exact predefined position if required.
This is extremely useful when designing web pages, as it allows you to see how the page will look when viewed at a smaller size.
The utility is also handy when compiling screen-shots for documentation, using Sizer allows you to easily maintain the same window size across screen grabs.
You can also decide on what sizes you want to resize your windows too along with a few other options, which are available in the program.
Let's say you need screen-shots for a blog post in width of 400, 500, or 600 pixels. Then configuring the sizes and using Sizer will make things really easy for you.
All you need to do is right-click on the open windows and use one of the available size options.
You can download it from brianapps.net.
What is the quickest way to resize or reduce the window?
It is always handy to use the mouse to resize or reduce the window size. No matter whether you use Windows 11, Windows 10, or any other version, you can undoubtedly use your mouse cursor to get the job done. However, if you want to resize a window to a specific size, you need to use a third-party app called Sizer.
How do I move and resize a window in Windows 11/10?
To move a window in Windows 11/10, you need to click and hold on the title bar. Then, drag the window to any location you want. However, if you want to resize a window, you can move your mouse to the edge of the window, click on it, and drag it. The same methods work on almost every version of Windows without any lag.
That's all! Hope it helped you.