How do we restart a computer from a remote location, you ask? We're going to discuss some of the ways you can remote restart or shut down your Windows 11/10 computer via the internet. To get the job done, we're going to discuss how to do it via third-party and Windows built-in tools. Let's go on ahead and discuss how to restart or shut down your computer remotely in the best ways possible.
How to Remote Shutdown or Restart Windows 11/10
Whenever you feel the need to restart or shut down your computer from a remote location, then give these tools a test run to see if they work for you.
Use Remote Desktop Connection
Restart using Windows PowerShell
Restart using Shutdown.exe
Shutter tool.
Let us take a look at them in detail.
1] Use Remote Desktop Connection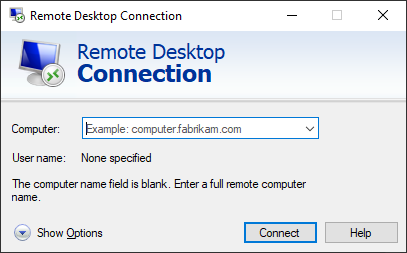 Remote Desktop Connection, a tool built into Windows 11/10/8/7, so there is no need to download anything else. RDP (Remote Desktop Protocol) is a proprietary tool from Microsoft that allows remote access to a computer.
Since it is built into Windows, just search for it by using the search bar and fire it up. Once the tool is running, just simply input the IP address of the computer you want to gain access to, along with the username and password when asked.
After gaining access, use your mouse to restart the Windows 11/10 system in a common way and that's it.
2] Restart using Windows PowerShell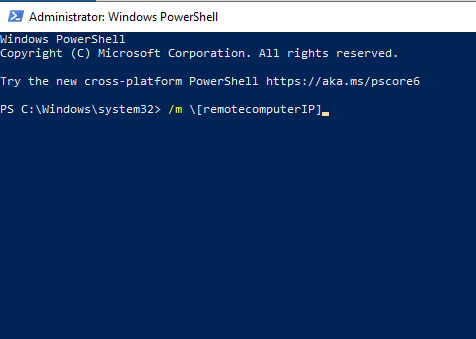 Unlike the other methods mentioned here, this one requires both systems to be on the same network, therefore, it's not a remote restart in the way you might think, but still very much so. With this, you can use one Windows 11/10 computer to restart another in the next room with just a few commands.
The first step is to launch the Windows PowerShell program, then type the command:
/m \[remotecomputerIP]
From there, type /r to force a full restart of the system.
Now, if you want to learn about the other commands, type /? and hit the Enter key on the keyboard.
This post offers a detailed discussion on how to Remotely Restart Windows using PowerShell.
3] Restart using Shutdown.exe
Another great way to remotely shutdown or restart your Windows computer system, is by the use of Shutdown.exe. You don't have to go far for it since it comes pre-packed in the operating system. Now, before moving forward, you must first configure each computer you plan on using. That includes the computer you want to shut down and the computer that will be used to remotely complete the task.
Using the Remote Shutdown Dialog box and the shutdown options available in Windows 11/10, you can remote shutdown, restart or log off local or networked computers, quite easily.
The configuration
OK, so the first thing we will need to do is to perform some configurations to get things going by enabling the Remote Registry service. The service is disabled by default, so let's go on ahead and turn it on, shall we?
In order to enable the remote registry service, please launch the Services Manager. To do this, click on the Start menu, then type Services.msc and then hit the Enter key on your keyboard. Once it is opened, search for Remote Registry in the list. From there, right-click on it then select the option that says Properties.
After doing that, go to the section that says Startup Type, click in the box beside it and a dropdown menu should appear. From the menu, then, please click on Automatic, then click Apply, and follow up with selecting OK.
Open Windows Defender Firewall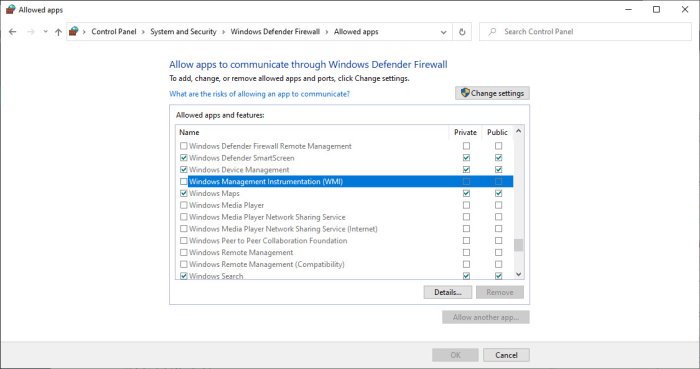 When it comes down to open the required port, we must do this via the Windows Defender Firewall app. In that case, you must fire up the Windows Firewall by using the search option. After doing that, please go to the section that says Allow an app or feature through the Windows Defender Firewall.
From there, scroll down to Windows Management Instrumental (WMI) and allow it to communicate through the Firewall, and that's it. Now, your user account must have administrator privileges or the command to shut down your computer will not work.
Shutdown remotely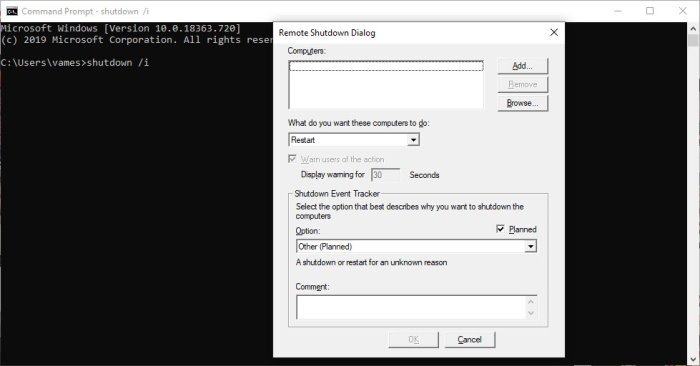 The final step, then, is to launch the Command Prompt then type the following command and hit the Enter key:
shutdown /i
The user should now see a shutdown dialog box.
In the window which opens, click Add. This will let you add the name of the computer that you want to remote-shutdown. You can find the name of the PC by right-clicking Computer and selecting Properties. Alternatively, you can also use the browse button to look for other PC's on your network.
Next, select the command. Once done, click OK.
You can also document the reason for an unexpected restart or shutdown of a remote computer without logging on locally to that computer.
Do note that:
To send commands to other PC's you will have to have administrative privileges on those computers as well
For Shutdown Event Tracker to be able to record information, the Remote Registry service must be enabled on the remote computer
The Remote Administration and Windows Management Instrumentation firewall exceptions must be enabled on the remote computer.
Simply follow the instructions on the screen to either shut down or restart another computer remotely.
This post shows you in detail how to Remotely Shutdown a Windows 10 computer using Command Prompt.
4] Using free Shutter tool

Of course, we would talk about Shutter since we've recently reviewed it. It's a great tool for scheduling events, but it is also perfect for restarting your computer from a remote location or via the internet, in layman's terms.
To get started, open Options > Web Interface> Enable > Select Listen IP > Set your Username and Password > Click Save.
From our experience, the program is easy to use and easy on the eyes. Nothing out of the ordinary here, but do expect that some features may not be super easy to understand. Still, when it comes down to restarting or shutting down your computer, there are no complexities here.
Certainly, there are other ways to restart your computer from a remote location, but the above options are the ones we recommend, so give them a chance.