Skype has been one of the main choices of people in the world. However, it has been facing some serious competition after facing is aggressively pushing video calling capabilities to its services including Instagram, WhatsApp, and Messenger. Microsoft has therefore been repeatedly rebuilding the Skype app for Windows 11/10 to keep it at par with the same app on other devices. It has now brought the most anticipated feature to Record Skype Calls. This new feature is now available on Skype and on all platforms including Windows 11/10, Android as well as iOS. Now, let us see how to make the best use of this feature.
Record Skype Calls natively
Says Microsoft,
Call recording is completely cloud-based and is now available on the latest version of Skype and on most platforms, except Windows 10. Call recording is coming to Windows 10 with the latest version of Skype releasing in the coming weeks. As soon as you start recording, everyone in the call is notified that the call is being recorded—so there are no surprises. If you are on a video call, Skype will record everyone's video as well as any screens shared during the call. After the call, you can save and share the recorded call for the next 30 days.
How to Record a Skype Call
To record a Skype call on Windows 11/10 natively in the classic Skype W32 program, do the following: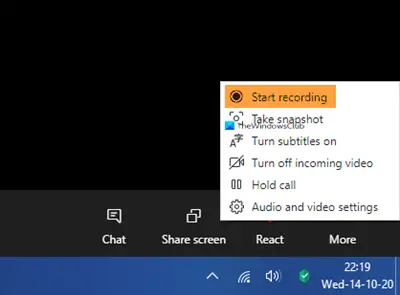 During your Skype call, click the More menu
Select Start recording.
A notification will inform everyone that the call is being recorded
After the call, the recording will be posted to your chat and will be available for 30 days.
You can download and save the recording locally at any time during the 30 days.
How to Save a Skype Call Recording
Once the recording is over:
Click More options
Select Save to Downloads to save the file.
How to Share a Skype Call Recording
Click More options
Select Forward to share the Skype call recording to another chat.
On the Skype UWP app
Make a call using the Microsoft Store Skype app. Then, it is very simple. Just click on the +button on the bottom right corner of the screen. Next click on Start recording. These images, sourced from Microsoft will help you understand.

This will initiate a prompt in the top portion of the screen for all the users currently on the call notifying them that the call is being recorded.
Now, you can carry on your call in the order it was intended to; and also disconnect it when done.
Once you are done, the call recording will be made available automatically to your chat. It will be available for the participants to download for the next 30 days after which it will auto delete itself.
To save this call recording, right-click on the entry in your chat and click on Save as. This will prompt you to select a suitable location to save your file.
You can also choose Save to Downloads to save it directly to your Downloads folder.
Secondly, you can also click on Forward to forward it to any of your contacts outside of that chat.
On iOS and Android
In order to record Skype Calls on iOS and Android devices, you need not do anything much different than that on Windows 10.
First, make sure that you are running the latest version of the app on your device. If you are running Skype Lite, this feature is not yet available there.
When you are on a Skype call, you have to tap on the same + button and then tap on Call Recording in order to start recording the call.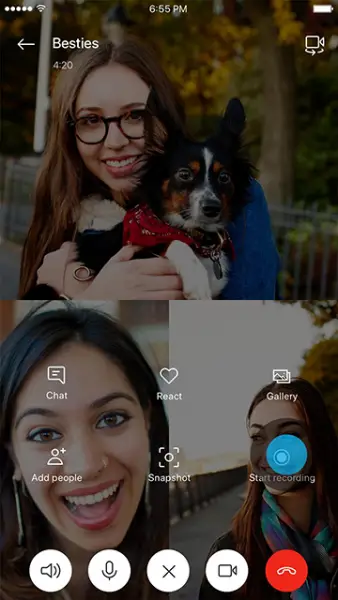 This will again show a notification to all the participants of the call that the call is being recorded.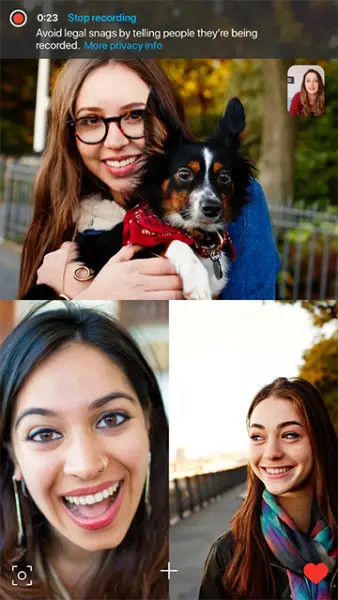 Now, similarly, the recording will be made available on the chat on all the device that the user is signed in to with the same account for 30 days.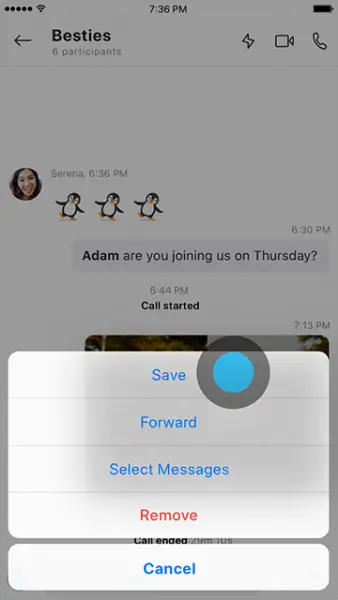 Until then they can either save it as a .MP4 file by tapping and holding on the chat entry and then tapping on Save or just forward it to their other Skype Contacts by tapping Forward.
Verdict
This feature is really useful in many scenarios. You no longer need to use a third-party Skype recorder software. This native feature can be used to record meetings and interviews in the Enterprise. Secondly, it may seem like Microsoft is slowly bringing all the Skype for Business exclusive features to either Microsoft Teams or Skype. This will help them push their services even more aggressively in the Enterprise. However, some of these features including the ability to record Skype Calls are useful for the consumers evenly many times.