You can leverage the digital experience of Skype Meeting Broadcast to engage with your employees in a large-scale meeting service. It's a pretty robust platform and can host up to 10,000 attendees. The feature is available as a service for Skype for Business Online and Office 365 users. When enabled, it lets its users schedule, produce, and broadcast meetings or events to online audiences. In this post, we will learn the way via which you can manage a Skype Meeting Broadcast event.
Managing Skype Meeting Broadcast event
Navigate to the following link and enter your login details (Make sure you have created a work or school account).
Under the Skype Meeting Broadcast, select 'New meeting' option. Enter all the necessary Meeting details. When finished, hit the 'Done' button.
Instantly, a meeting summary page should be visible to you with complete details.
Click Show adjacent to the Join Link and choose the copy icon to copy the meeting join link. Thereafter, simply access your Outlook app > calendar, click 'New Meeting' and paste the event link into the body of your meeting invitation.

Now, to manage Skype Broadcast event on a scheduled date, click the join link in your meeting invitation and choose 'Join the event' as shown in the screenshot below.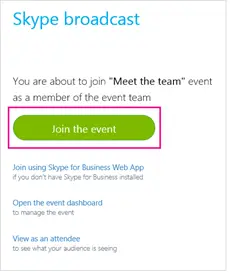 Once things are set up correctly, activate feeds by right-clicking the feed you want and selecting 'Make active video' option. You can configure feeds to your liking. For example, you can have one feed configured to provide audio while another to offer video.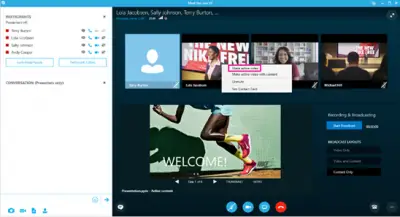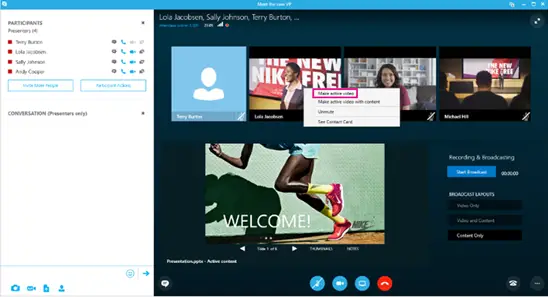 We are dealing here with the former part as such, enable audio on the active feed by right-clicking the feed and clicking Unmute.
Now we are ready to start our broadcast. So, click 'Start Broadcast'. Keep in mind to not stop the broadcast at any time because once stopped broadcast will be stopped completely and not start again.
Having said that, it is possible to switch sources during the event. Just right-click the video feed you want to activate and click 'Make active' video.
When done, right-click the audio feed you want to activate and click Unmute.
At any point of time, if you wish to stop the broadcast, simply hit the Stop Broadcast button and choose OK to confirm.