If you want to add Control Panel to the Windows taskbar, you would probably, right-click on the Control Panel icon in the Start menu and want to click on Pin to Taskbar. But you won't see the option there. The drag and drop method also won't work.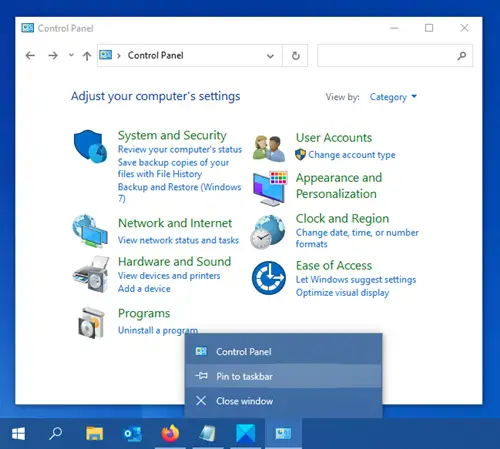 This tip will show you how to pin the Control Panel item or icon to the taskbar in Windows 10/8/7 so that you get easy access to the Control Panel applets.
Pin Control Panel to Taskbar in Windows
To pin the Control Panel icon to the taskbar in Windows 10/8/7, open the Control Panel.
You will see its icon in the taskbar.
Right-click on its taskbar icon.
You will now see an option in the context menu to Pin to taskbar.
Select this option and the Control Panel icon will get pinned to your Windows taskbar.
You can similarly unpin it from the taskbar.