The Control Panel has several useful applets, of which, arguably, the most frequently used one, is the Uninstall or Change a Program; or what is commonly referred to as the Add-Remove Programs. To access it in Windows 10/8/7, you have to click Start Menu > Control Panel > Programs and Features. But you can create its shortcuts in any of the many ways so that you can access it in a click.
Create Shortcut to Control Panel applets in Windows 10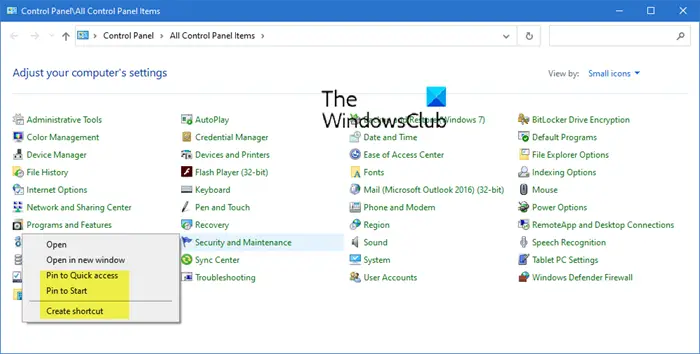 In this post we will show you how to:
Pin to Quick access
Pin to Start
Create a desktop shortcut.
Open Control Panel, right-click on, say, the Programs and Features icon, and select Create Shortcut. It will create a Desktop shortcut.
Alternatively, you can simply drag and drop this applet icon to your desktop.
If you want to create a quick launch bar shortcut, simply drag the Programs and Features icon to the quick launch bar area.
Here you even have the options to Pin the Control Panel applet to Quick access or the Start Menu.
The Programs and Features applet resides in the System32 folder as appwiz.cpl.
Right-click on it > Send To Desktop. This will also create its desktop shortcut. Change its icon to something more appealing.
To pin Programs and Features shortcut to your Start Menu, open your Windows Explorer, say C:\Program Files, and right-click an empty space.
Select New > Shortcut > Type
control.exe appwiz.cpl
Click Next > Name it any suitable name, say, Add Remove Programs > Finish. Give it a suitable icon.
Next, right-click on this shortcut and select 'Pin To Start Menu'.
Your Programs and Features or Add-Remove Program shortcut will now appear in Start Menu, easily accessible.
You can also Pin Control Panel items and folders to Windows Start Menu with PinToStartMenu.
Also check out Handy Shortcuts, our freeware which lets you create tons of shortcuts.