This post will show you how to open a .WPS Works file on a Windows 11/10 computer. Earlier, it was pretty easy to open a WPS file using MS Word (2003 or newer version) with the help of a free tool named Microsoft Works 6-9 File Converter (WorksConv.exe), but that tool is no longer available. Now, if you try to open a WPS file in MS Word 2016 or some other version, it will result in gibberish content. So, what are other ways to open a WPS file? Keeping this in mind, we have created a list of some free tools that can help you open a WPS Works file on a Windows 11/10 computer. Before that, let's learn more about the WPS file.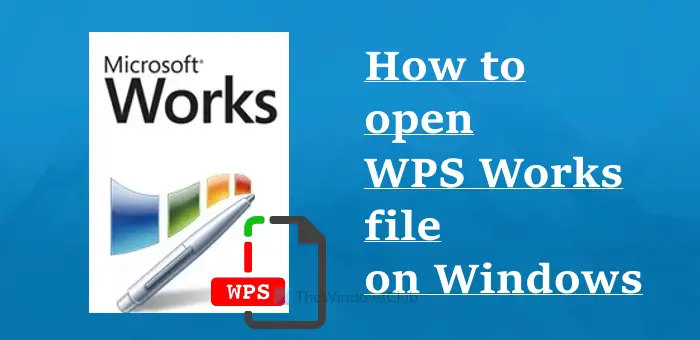 What is a WPS Works file?
A WPS Works file is similar to a DOC file that includes text, clipart, and other content. Such a document is created with Microsoft Works Word Processor (a product of Microsoft Works office suite just like Microsoft Word is a part of MS Office). The file created with Microsoft Works Word Processor is saved in WPS (*.wps) format.
Though a WPS file is good enough for generating basic documents like a resume, newsletter, etc., it cannot contain advanced formatting (including macros) which is possible with a DOC file. In 2006, the WPS format was officially discontinued by Microsoft and replaced with the DOC format. Later on, in 2009, Microsoft Works was also replaced with MS Office 2010. And now, we use DOC and DOCX format Word files.
How to open .WPS Works Files on Windows 11/10
Here is a list of tools that can help you open WPS files created using Microsoft Works on your Windows 11/10 computer:
Microsoft Works
LibreOffice
OxygenOffice Professional
WPS Converter
WPS to WORD Converter.
Let's check how these tools can be helpful to open a WPS file and view its content.
1] Microsoft Works
It is surely a nice option to view WPS format files. Though Microsoft Works is discontinued, you can still grab its ISO file from the Internet Archive, and install and run Microsoft Works on Windows 11/10. Microsoft Works require IE 6.0 to install. If you are able to do that, then Microsoft Works will be installed and run successfully. After that, simply open Microsoft Works Word Processor and import/open the WPS file to view its content.
2] LibreOffice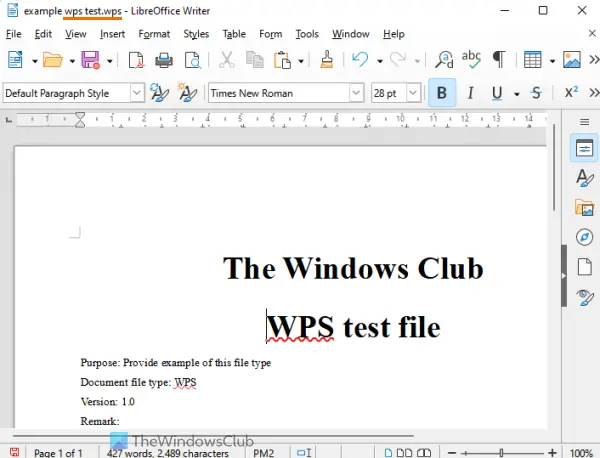 LibreOffice is an open-source office suite and one of the best free Microsoft Office alternatives software. Similar to MS Office, it provides different products or tools like LibreOffice Writer, LibreOffice Calc, LibreOffice Draw, etc., to create and edit documents, spreadsheets, presentations, and more. So many formats are supported by this office suite and WPS is one of those formats.
LibreOffice lets you easily open as well as edit a WPS file. You can also export the WPS file as a PDF document. Apart from that, the option to save a WPS file as DOCX, ODT, HTML, RTF, DOC, or another format file is also there.
Once you have installed this office suite, launch its LibreOffice Writer using the Search box, Start menu of Windows 11/10 OS, or some other way. After that, click on the File menu, and use the Open option. This will help you open a WPS file from the stored folder and then you can view WPS file content on its interface. You can also start editing the WPS file (if needed) but can't save it in the original format. Instead, you can generate a copy of your WPS file in some other supported format.
In order to save your WPS file in some other format or to export it as a PDF document, use the File menu and then click on Save As option or Export As option.
3] OxygenOffice Professional
OxygenOffice Professional is an enhanced version of OpenOffice (or Apache OpenOffice). As its name indicates, it is also an office suite that comes with features very much similar to LibreOffice. It can also help you create documents, generate presentations, open and edit MS Office files, etc., using tools like Writer, Draw, Calc, and more.
This office suite can also help you open WPS files. For this, first, grab this office suite from sourceforge.net. After installation, you need to open its OpenOffice.org Writer. When it is done, use the Open option present in the File menu to add a WPS file.
Apart from opening a WPS file, you can also export a WPS file to PDF or save the WPS file as DOC, ODT, DOCX, RTF, or in some other supported format. For doing this, you need to access the File menu and use the available options.
This tool opens a WPS file successfully but it might create some problems in the content formatting. As an example, while I opened a test file, it automatically applied Strikethrough formatting to all the content. If that happens with you also, then you can press the Ctrl+M hotkey or use the Default Formatting option available in the Format menu to get rid of this.
TIP: If there is some trouble opening a WPS file using these tools, then most likely it is a WPS Writer Document format file that also uses the *.wps extension or file type. In that case, you need to install WPS Office on your Windows 11/10 computer and use its WPS Office Writer to open that WPS file.
4] WPS Converter
WPS Converter is free software available for Windows 11/10. It is not a direct way to view or open a WPS file but handy if you want to get a copy of your original WPS file as a TXT or HTML file to view the content of your WPS file. This tool doesn't let you set formatting, font style, etc., for file conversion but you get a good output quickly.
To use this tool, download its setup from wpsconverter.com. Install the tool and open its interface. After that:
Use the Open button to add a WPS file
Select HTML or TXT as the output format
Click on the Save button to select the output folder or location
Press the Convert button.
The conversion process is fast and it will store the output file in the destination folder set by you.
5] WPS to WORD Converter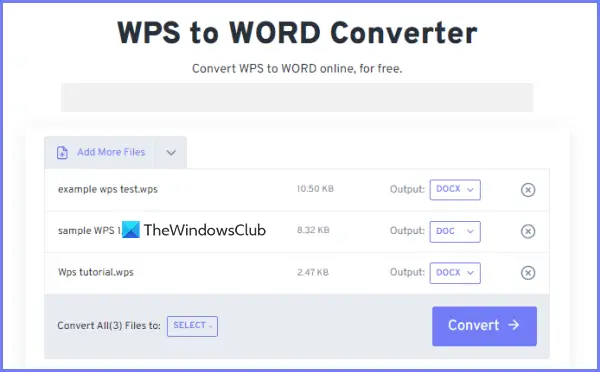 WPS to WORD Converter is a free online tool that helps to convert a WPS Works file to DOCX or DOC format file. So, if you want to open a WPS file in MS Word, then this is a good tool to use as you will get the output in the native format of Microsoft Word.
Using this tool, you can convert multiple WPS files to Word documents. Also, a maximum 1GB size file can be uploaded using the free plan which is more than sufficient.
You can open the homepage of this tool from freeconvert.com. Once you have opened this tool, follow these steps:
Use Choose Files button to add WPS files from your computer. Or else, you can also use the available drop-down menu to add an online WPS file or upload a WPS document from your Dropbox account or Google Drive account
After adding the files, this tool automatically selects output as WORD for each file which means the output will generate in DOCX format. If you don't want that, then you can click on the drop-down menu available for each output type and select DOC/DOCX as the output format
Press the Convert button
The tool will upload and convert the input WPS files. When the conversion is completed, use the Download button available for each individual output file to save them one by one. Or else, simply use the Download all button to save all the output files.
How do I view a .WPS file?
There are a few options that can help you open a WPS file created using Microsoft Works. You can either use an office suite like LibreOffice to open a WPS file or you can convert a WPS file to TXT, HTML, DOCX, or DOC format using free software or an online tool and then open the output file with a supported application. We have created a list of all such tools that can help you open or view a WPS file. Check the list above and see which one is good for you.
Can I convert WPS file to Word?
Yes, you can easily convert a WPS file to a Word document. You will also have the choice if you want to get the output in DOCX or DOC format. For doing this, you can use some free online WPS to Word converter tools. One of such tools is also covered by us in this post above. Just upload a WPS file from your computer or any other platform supported by the converter tool you are using and use the Convert button to process the input and get the output file.
Hope this helps.
Read next: Best free Open Source Document Editor software for Windows.