There are many things we can do in Microsoft Word, and that includes the creation of Bubble Letters. You may be wondering how this is possible since bubble letter fonts are not available in the product. Well, there is at least one bubble letter font in Word, and the rest we will have to grab from somewhere else and add to Word, which is an easy task at best.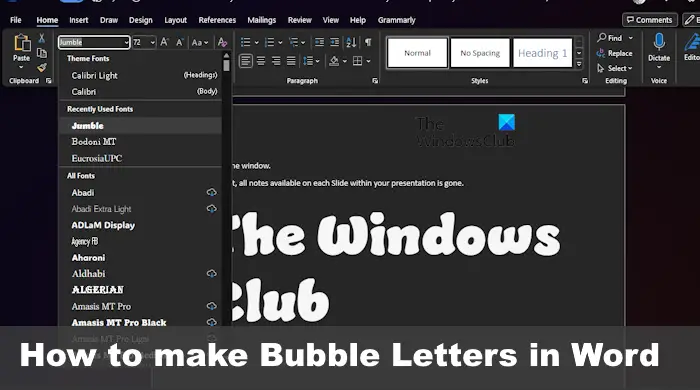 Now, bubble letters are great for creating event flyers, greeting cards, and party invitations, among other things.
For those who have never seen a bubble letter before, they come off as curvy, bouncy even. The style and feel are cartoonish, so in many cases, this type of font is perfect for casual creations and child's play.
How to make Bubble Letters in Word
If you want to create or make Bubble Letters in Microsoft Word, you can use any of the methods listed below.
Use a bubble font from within Word
Download and install Bamew
Download and install BubbleGum
Download and install Alloy Ink
1] Use a bubble font from within Word
The best bubble font in Word, at least from our point of view, is one called Jumble. The font is easily accessible since there is nothing to download.
Open the Microsoft Word application.
Launch into the relevant document or open a new one.
By default, the Home tab should be selected.
Look at the Ribbon for Font and click on the Font dropdown menu.
You can either scroll down until you come across Jumble or search for it.
Once the font is chosen, you can test it by typing a few letters.
READ: How to add fonts to Squarespace & change fonts
2] Download and install Bamew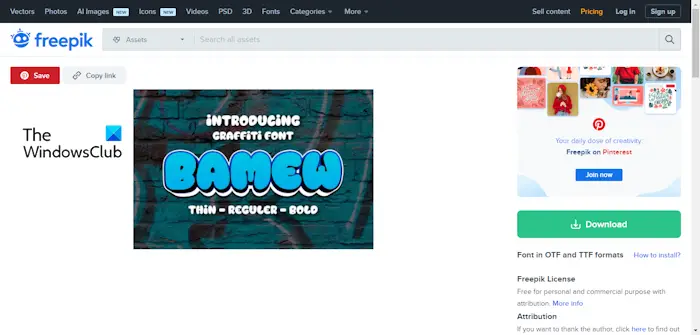 A great bubble letter font you need to try, is one called Bamew. It is a graffiti font that should work great for any creation.
You can download this font via its official page on FreePik.
READ: Microsoft Word Table not going to next page
3] Download and install BubbleGum
Have you ever heard of a font called BubbleGum? As the name suggests, this is a bubble letter font, one that doesn't look very fancy, but it works. It was first brought to the forefront in 1994, but despite its age, we believe it is still relevant today.
You can download BubbleGum via the official website.
READ: How to make Font blurry in Word
4] Download and install Alloy Ink
One of the best-looking bubble text fonts we have seen in a long while is Alloy Ink. The design is that of ink and combine that with a bubbly feel and you have a winner. We can see this being used for party posters, or whatever the user wants.
Interested parties can download Alloy Ink via the official website free of charge.
READ: Best Fonts on Microsoft Word
What Google font has bubble letters?
Google offers a variety of bubble letter fonts, and they are:
Rubik Bubbles.
Rubik Puddles.
Bagel Fat One.
Climate Crisis.
Rubik Spray Paint.
Is there a bubble letter font on Word?
Yes, there is a font known as Jumble, and it is the most known bubble font available for Word on Windows and Mac right now. If the default black color doesn't do it for you, change the color to something more appealing.